One of my favourite quotes, "Above all, try something" was written by Franklin D Roosevelt in a publication called "Looking Forward" in 1933. The full quote is:
"The country needs and, unless I mistake its temper, the country demands bold, persistent experimentation. It is common sense to take a method and try it; if it fails, admit it frankly and try another. But above all, try something. The millions who are in want will not stand by silently forever while the things to satisfy their needs are within easy reach."
Above all, try something
The quote has since been shortened to "Above all, try something." It's something that JS and I use all the time, and when I got some new DMC Coloris to try out at CHSI Stitches, I knew what to use it in! I have a huge list of quotes that I want to immortalise in cross stitch, and this is just the first.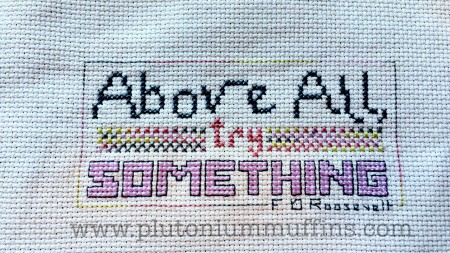 I stitched the piece last week – in the middle of which time, Lavender unexpectedly gave us a new lamb! The full story of this is in the latest Farm Friday video, a new series over on my YouTube channel. Check it out at the bottom of this post.
Someone who saw a photo of the piece asked me to write down the pattern, so you can check that out on Etsy here.
Anyway, I have temporarily framed the piece in a leather frame, which makes it look super classy, if you ask me! I think I'd like to keep it for when I've put a few of my other planned quotes down onto fabric, then make a wall hanging or something similar so that I can have a nice big piece of inspiration hanging in my room.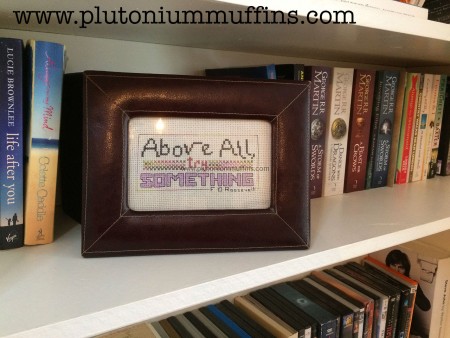 I'm not able to knit at the moment, so I'm using up my time usefully. I'm in London unexpectedly, and hoping to go look at some of the old textiles centres, especially the museums. There's nothing quite like leaving London to appreciate what you used to have.
Much love,
Corrie xx