This is the part two continuation from the previous post about my African holiday! Just to remind you, my brother's incredible photos can be found here, and this is a photo of the African fabric that will make its way into the Birthday Box that can be won here!
Zambia Diary – Day Five
After lunch I sat in the pool reading, which was sooo blissful (although my book got wet when Mrs W jumped in!) I sat there for a while and felt my shoulders burning, so I got out.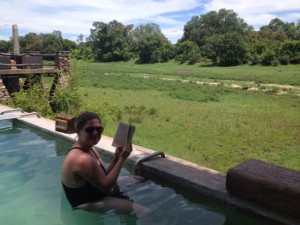 There are some artworks in the lodge that I want to use in a mood board so I sat at the bar with a big glass of water and drew a few of them.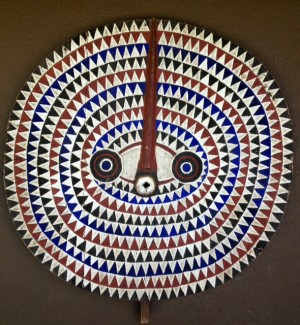 Zambia Diary – Day Six
Mfuwe Lodge and the Bushcamp Company sponsor two schools, one a primary and one a secondary. Wonder-Mum, Daddy and Mrs W (mum's best friend) cycled from London to Paris in 2007 to raise money for the U-Foundation, and the £8,000 they made went to the Zambian schools. They wanted to see the school, so we headed down there.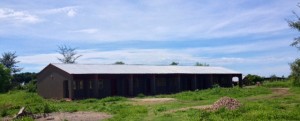 In the last few years they've built a few classrooms, two dorm blocks and an ablutions block. They aren't quite finished – the kids come back to school on the 5th of January so it's unlikely they'll be ready.
It was amazing, though. Having just finished Three Cups of Tea the night before, I was kind of awed.
It would be nice though, there's a side of me that really craves that humanitarian stuff. The key to conservation in this part of the world is education of the people, and I had forgotten how much I love Africa as a whole. Wildlife, poachers and all.
Zambia Diary – Day Seven
It was fairly good. Wonder-Mum and Daddy were cooking dinner for everyone else and we had to be quicker than normal. We saw a couple of ellies, a malachite kingfisher, slender mongoose and a few other 'common' things. It was nice anyway and we stopped for drinks by a small pond. [The Guide] showed us some spoor and spent ages drawing a wild-dog paw-print.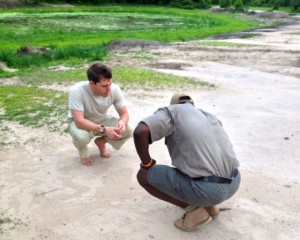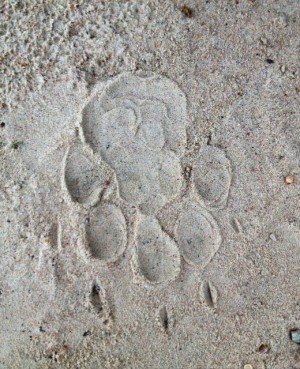 Zambia Diary – Day Eight
We were driving along a road as [the guide] suddenly screeched to a halt. There was a pack of six Wild Dogs lying in a clearing! We had been looking for them, and it completes our big hit-list apart from African Pitta, pangolin and aardvark (in our dreams for all of them).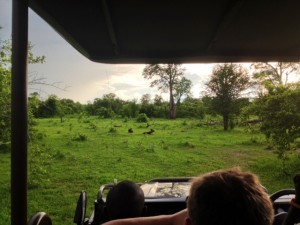 We spent about half an hour watching them, then [the guide] called the other guides and we left. We went for sundowners and got some lovely photographs of kudu, impala and zebra.
Zambia Diary – Day Nine
We went to Croc Valley Farm. I had tea, and BRO and I spent a while taking photos and videos of some very tame vervet monkeys. They were swinging in hammocks and some of the babies were absolutely tiny. They also had an amazing pond with wild fish in it, a dachshund and a cat. Amazing, after I'd been pining after a cuddle with Archie and Norman, that I found someone to cuddle!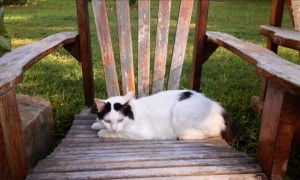 Zambia Diary – Day Ten, New Years Eve
We saw three hyena in full sunlight, a well as a giraffe whose horn had been broken OFF in a fight. It was red and raw and looked very painful!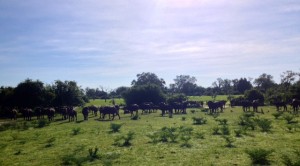 We also passed a huge herd of buffalo. We haven't seen them yet, not in those numbers. Some of them were wallowing in a small pool and they were really cute! [The guide] started pretending to roar like a lion and they stampeded away!
---
My diary ends there. On New Years Eve I was feeling extremely ill and had to go to bed early. We left the next day, and got back to a freezing England! It turned out my illness was tonsillitis, which I'm pleased to say I've now recovered from.
I managed to do some crafting while I was away and I'll take some photos for you over the next few days. I'm quite proud of them!
Much love,
Corrie xx