I had been intending to post a WIP today, but it's become a finished object and is now destined for tomorrow's blog-post…so instead, I'm going to show off my new bags! I have a thing for bags and I was extremely pleased to find the perfect knitting bag that I absolutely had to have.
Knitting Bag from National Trust
I bought this after I'd been to my workshop last week (don't forget to enter the related giveaway!). Wonder-Mum and Super-Dad took me to a gallery opening at Overbecks, a property near Salcombe – they were opening a new gallery of beautiful sculptures.
I found this in one of the museum rooms. What is a knitting stick and what is it used for?!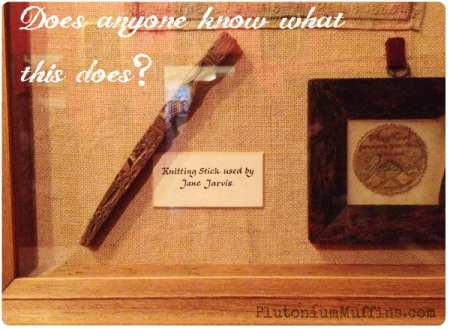 While a wine-tasting was going on, I had a look around the shop and I discovered the gorgeous bag! It has a floral pattern on it, which is *so* not me…but for some reason I absolutely fell in love with it. It has a large inner pocket with a smaller pocket that I can put my needles, stitch markers, yarn money (shh) and other little goodies in. I can fit knitting, books and long needles in the big pockets.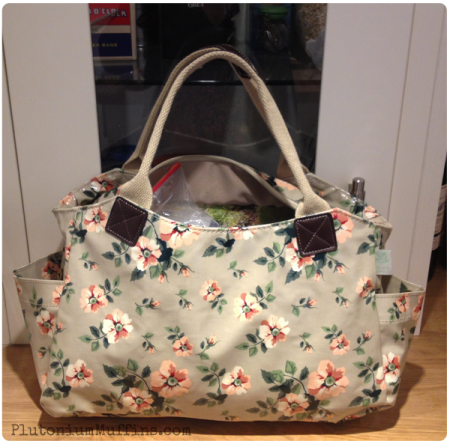 It also has smaller pockets which are perfect for my gorgeous little scissors and  a pen to keep my row count right. Hurrah. It's made of laminated canvas and is waterproof (trust me – I tested this walking in the rain yesterday)!
I've gone into so much detail because you can actually buy this bag yourself. It's available on the National Trust Shop – a polka dot one or my floral one.
I love it. I'm going to be carrying it around with me everywhere and I already have been!
Quilting Bag
Wonder-Gran got back from Africa last Sunday and she brought me this little bag. I absolutely love it – I'm doing a course on the Amazing's at the moment, and it's perfect for all my little bits. You'll hear more about this course soon because I am going to be reviewing it soon, but if you'd like to head over and check it out, there are several online courses here.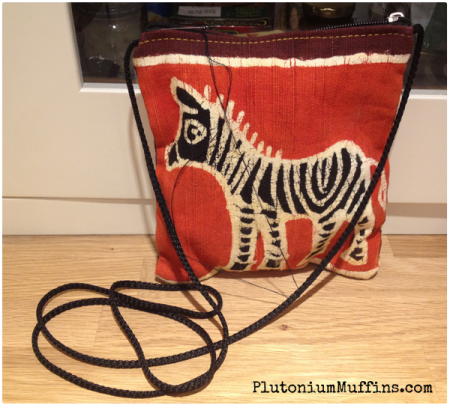 (And, if you use this link, you'll get one of them for free!)
That's all from me for now. I hope you're all good, I'm going to be posting my WIP tomorrow!
Much love,
Corrie xx