So, following @gingerbreadbun's success of finishing the second colour yesterday, I was spurred on and managed the same today! I've managed to sew some of the squares together, as JS and I watched the football tonight. I haven't taken a photo of that, as the pub I'm sitting in is dark – it's also my bedtime, so I'm just going to leave you with one pile of really pretty yellow squares, and will see you tomorrow for Friday Inspirations!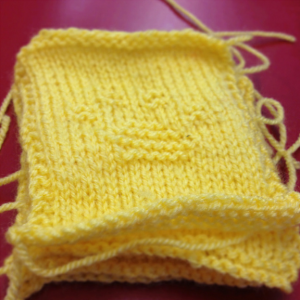 (I edited this photo on "Yarma" a new app that integrates with Ravelry. Its for iOS — you should check out the latest Ravelry blog-post* for apps that work with it – they're brilliant, I've downloaded two already! And they don't only have iOS apps.)
There's still time to join the KAL. I've never been as inspired as I was when @gingerbreadbun put her photo up on Twitter yesterday! If that's not a reason to join, I don't know what is.
Much love,
Corrie xx
Join Plutonium Muffins on Ravelry, Facebook and Twitter!
---
* I can't find a permalink to it, so it's in Ravelry Goodies for the 19th of June. Check it out!