Biscotte & Cie, a Canadian yarn company, sent me some yarn for review, and I am finally going to finish that! It has taken me a very long time to get this out there, because first off, it took me ages to actually knit it, then I moved house and lost my sample, then had to do a load of tests on it…well, the good news is I'm ready.
Note that the company now calls itself "Biscotte Yarns", and the website can be found here. The yarn that I received is from when it was 'Biscotte & Cie".
Biscotte & Cie Yarn
The yarn I was sent was a skein of Felix yarn in the "Hope" colourway (now the Bis-sock yarn). In the skein, it looked gorgeous, although I cannot find a photo of it anywhere on my computer. The skein weighed 100g and was 435 yards (400m) in length. I split it in half and got started on a pair of socks, working two at a time.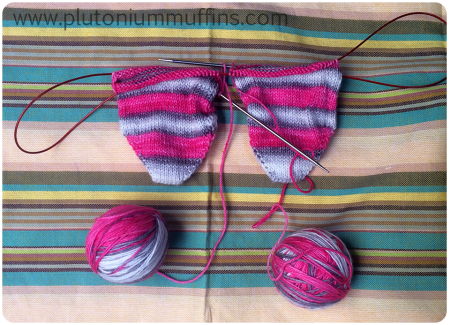 The yarn certainly travelled well! I took it everywhere with me in my bag, from tube journeys to fibre festivals, to trips around the farm in Devon. It flew to Australia, New Zealand and back, and never looked as if it had been as abused as it had. The colours were nice and bright, and John labelled it "female Nemo". I finished my socks with delight, and got ready to do some serious testing of the yarn…what a difficult job, wearing handmade socks a lot!
I knew that there had been a problem with these yarns losing their colour, so I was careful when it came to washing. I very carefully blocked the finished socks after soaking in Soak the first time, and was ever so careful not to let them get anywhere near the washing machine. My typical wash using Soak is a bath in water that is hand-hot, leaving them for half an hour, then squeezing out excess water, rolling in a clean towel and on to the Aga to dry. There were no problems from the outset, no excess dye in the first bath, and nothing from then on.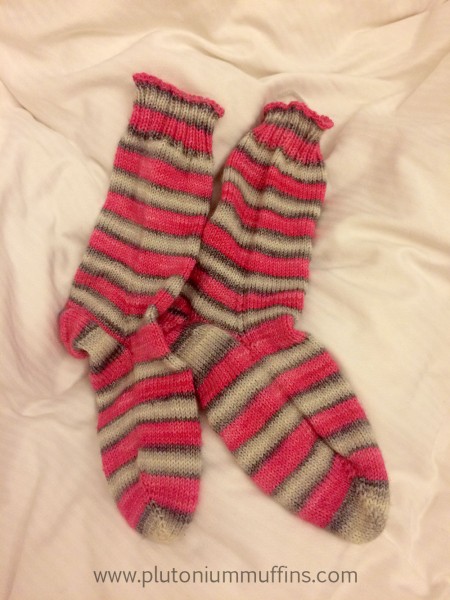 In the meantime, I knitted up a triangle of the scrap for bunting, and that went through at 40°C with a load of other washing, before going on the Aga to dry. This is exactly how all of my clothes get washed, and I waited for the load to finish with some trepidation. The bunting came out fine. In fact, better than fine – the socks have somewhat faded over time (not that you would know to look at the photo) and looking at them in person, the bunting is a little brighter than the socks. I haven't put it through a second time, but I did then decide to wash the socks in the washing machine (because who really has time to hand wash socks?) and they came out just as good as before.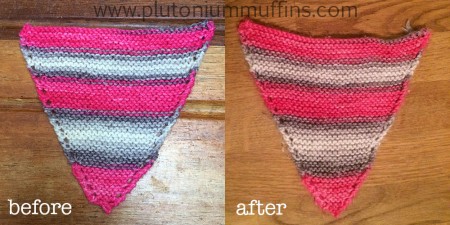 I've been wearing these regularly since October 2015, and I'm pleased with them. The yarn is nice and soft, the socks are comfortable and any problems with them are fit and the knitting rather than the yarn, and I'm really happy with the way it washes up. I would never ever put them through the tumble dryer, although I am debating using my final piece of leftovers just to see…
The colours have faded a bit, but no more than I would have expected. They are still a vibrant pair of socks, and the photos don't really do them justice as we have a lack of daylight at the moment for photography! I'm super pleased, and I've got my eye on my next pair of socks in Biscotte yarn…Tang Fish!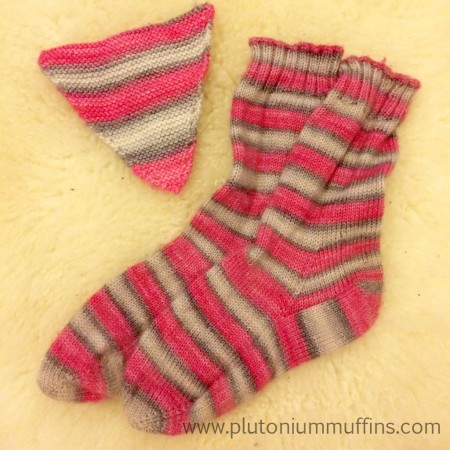 Do you have any experiences with this particular sock yarn? Do you have another brand that you really like for knitting socks with?
Much love,
Corrie xx
I was sent this yarn free to review, but all opinions are my entirely my own, and formed over nine months of testing the yarn, from cast on to present!