Happy December! I've been incredibly, incredibly busy the last few days. Christmas is getting scarily close for a crafter…I know a lot of people will be going "what, it's not for another three weeks!!" If you're a crafter, you understand, right?
Anyway, one of the things I did last week was make an advent calendar for my darling JS. I did it in a night when I got home from work (I know, crazy). I had to do it because that was the 30th of November, so I'd run out of time. I got the inspiration from a book Wonder-Mum gave me last Christmas – "Homemade Gifts Vintage Style".
This book is Incredible. I will fairly regularly sit and flick through it again and again – and I always get inspired when I look at it. Wonder-Mum's present this year is a hybrid of ideas from "Mollie Makes", "Homemade Gifts Vintage Style" and some of the mood-boards that I've been compiling in the last few weeks. You may or may not get to see them…who knows!
Advent Calendar
The advent calendar is basically constructed of twenty-four drawstring bags that are strung between a frame and pegged onto ribbons. I bought a pack of six fat quarters from Hobbycraft (of course) and spent all night sewing up a tube for the string, and the three sides.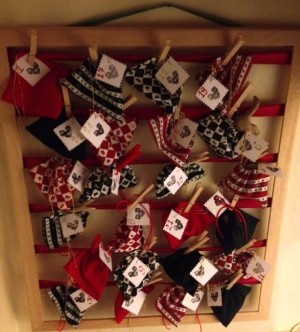 I've put a mixture of things in there – mostly chocolate and a few crafty things. I'm trying to persuade JS to unleash his creativity…he will get there, he's already made a project for me (which I will tell you about in another blog).
I love this, and I think it's one of the best things I've ever made. I'll probably do a tutorial on it at some point next October or November so that you can make your own…or buy the book!
How are you enjoying December? Looking forward to Christmas?
Much love,
Corrie xx