My last post was a blogjack regarding bunting and a dress for a wedding. I am extremely pleased to say that the wedding is over! The dress was finished, the ceremony and party were glorious, and didn't the bride and groom look awesome?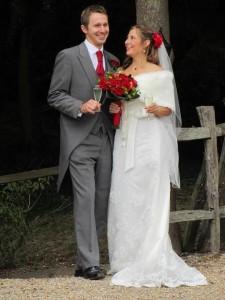 Turtle now has a Mr Turtle, and they are heading on honeymoon tomorrow. Congratulations to them!
The Dress
Unfortunately, owing to the fact that I am now recovering from the wedding preparations and party in Devon with my family, and the fact that I was playing in the quartet and couldn't take any photos/have photos taken, I can only steal them from my friends and the family!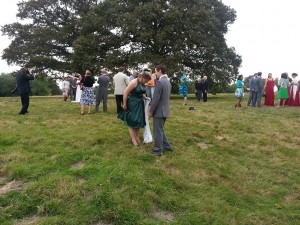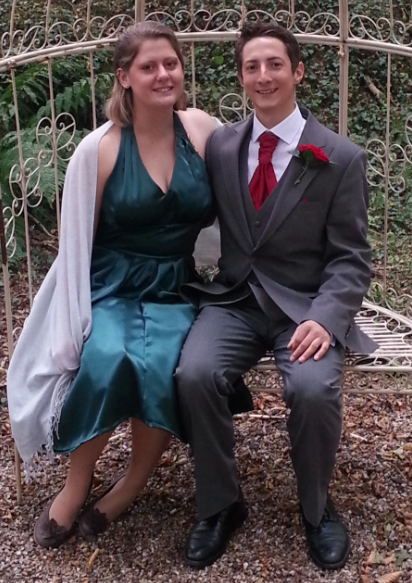 Apologies for the photo quality! I did my hairpiece as well, an hour before the wedding sitting my car and frantically hand-sewing it. I only have a hugely blurry photo of that, so I'm not going to put it up as it mainly just looks gold and green.
The dress came out better than I expected. I did make a test one, which didn't go so well – boning adds the main structure to the bodice, and I didn't put it into the test one as I didn't have enough for both. I can always modify it – but once I'd finished that I was keen to get on with the actual thing.
It felt AMAZING on. The tailoring, especially around the bust area, was slightly wrong. I covered it up and intend to fix it at a later date. I didn't have time before the wedding. The satin, liquid satin from John Lewis, felt absolutely luxurious, and the fact that I'd made it myself made it even more special. I love it.
Frantic sewing and the preparations for the wedding are the reason I haven't blogged for a while! It took me three days to make, and in true Corrie style I left it to the last week.
As I say, I'm now in Devon and am looking forward to needle felting, some fibre preparation, knitting my Towersey Shawl, and, gasp, sleeping.
How have you all been?
Much love,
Corrie xx