I know that this isn't strictly speaking knitting, spinning or any form of fibre art…but my creative heartstrings are being pulled with my "Wreck This Journal" by Keri Smith. I wanted to share my most recent two pages with you because they are super colourful, and I currently need that for my Sunday evening!
Sticky Things
First up were the instructions "Place sticky things here. (honey, gum, syrup, glue, sucker, marshmallow). I wanted to do something crazy complicated and beautiful…until I had an afternoon where I was sitting making up cards (the shop has been updated by the way…) and I needed some light relief. This was the result.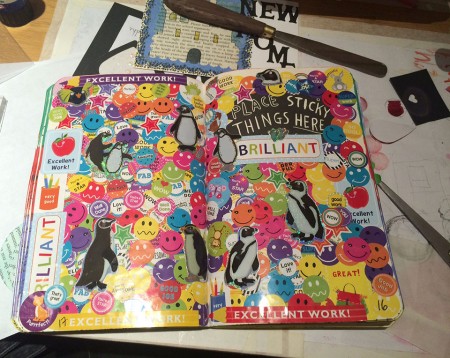 The stickers all came from the pound shop up the road, and they certainly warmed the cockles of my tired heart at the time – there's something therapeutic about carelessly sticking hundreds of stickers onto a page.
Sew This Page
I thought I would really love doing this page, and as my inspiration I used a piece of test felt that I made up when I designed my dad's Rainbow Trout for Christmas a few years ago. The initial plan was to make the right hand side of the spread entirely embroidered – but after the first thread went in, I quickly realised this was not going to be possible because the paper was simply too weak.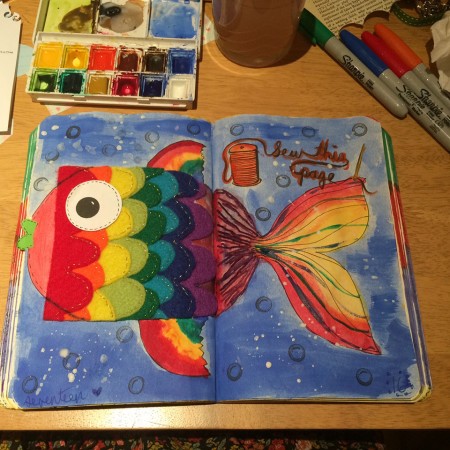 Instead, I did a few sewn strands and then soaked a mixture of blue and red watercolour paint into them. I blotted the threads with a piece of tissue paper and the colour spread onto the blank page beneath – then I completed his little tail, and off we went!
So, that's what has been keeping me sane the last few days.
Normal knitting will resume shortly…I have a HFO for you!
Much love,
Corrie xx