I thought you would all appreciate an update on how Chase (often known as Captain Chaos) is getting on, so here it is! He is now a few days over four months old, and has slotted straight into the household with a maximum of mess, noise and puppy bluster. At least he's finally house-trained…
Captain Chaos at Four Months
Just a quick reminder (your introduction to him is here) – Chase is a collie-kelpie cross and intended to be a working dog in the future. We got him at 9 weeks, and in the two months since, he has become one of the most joyful parts of everyday life!
One of the most adorable…and frustrating…things about puppies is their boundless energy. Playing with them is really nice and fun and lovely…until they decide your arm is nothing more than a massive bone and it must be eaten now! With teething still in full swing, Captain Chaos has been chewing everything he can get his teeth into – the worst victim so far has been mum's bin, although he is particularly fond of bringing in sticks from the outside and shredding them in mums office. In fact, scenes like the one below greet us on an alarmingly regular basis.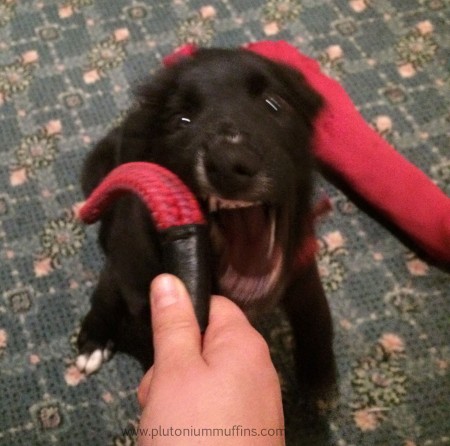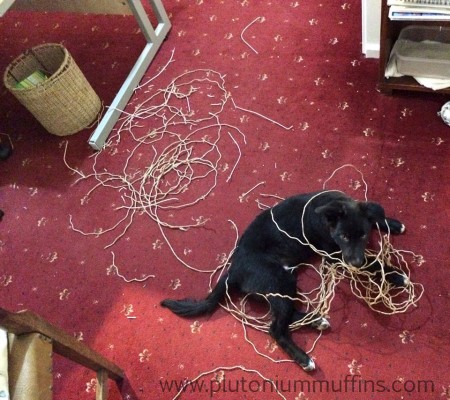 Chase absolutely loves his walks and we are lucky to live in the beautiful countryside in which we do! He is getting about an hour of walking a day, which includes exploring Dartmoor, trips to the pub in the village and back, traipsing down muddy bridle paths, and doing his chores on the farm. He helps us to get the birds in and out in the morning, and is getting the hang of sheep herding, although he still thinks they are playthings rather than creatures to be told what to do. So much of what he does is pure instinct (we are still not really sure what we are doing) and it's remarkable how he knows what to do without even having a trained sheepdog role model to help him along.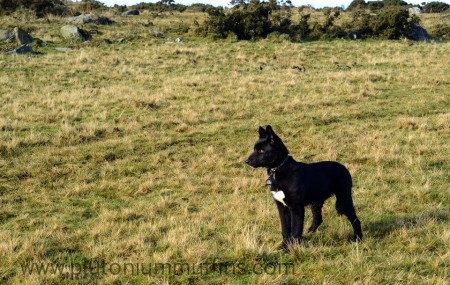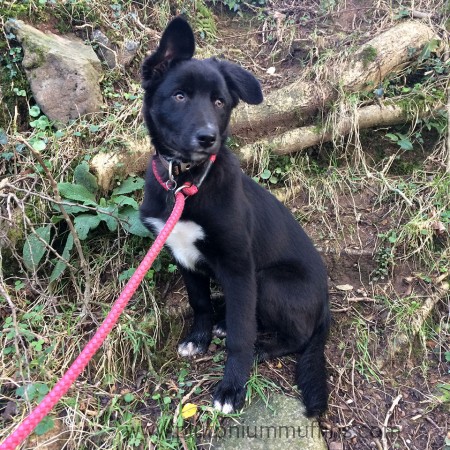 Of course, you can't walk puppies too much, as a lot of exercise and still-growing bones can cause problems. One of our previous dogs was very big-boned (not fat) and he got over-exercised as a result, having to have surgery at eight months old to correct a problem with his knees. Thousands of pounds and a lot of heartache later, we have learned our lesson…unfortunately. We have had just the one day when Chase had a long walk and then was outside for several hours running around the farm. He lay in his crate for a while, and obviously as the muscles cooled they started to hurt, causing a fairly dramatic limp and very sad eyes. Cue lots of extra cuddling, which must be done on the floor, preferably with all parts of Chase off the ground. He's definitely the largest lap dog I've ever seen!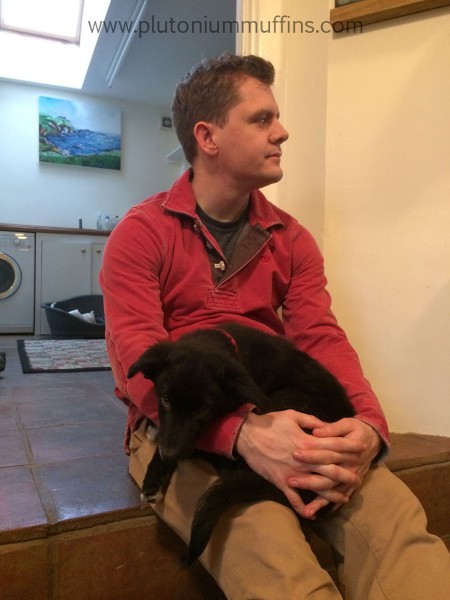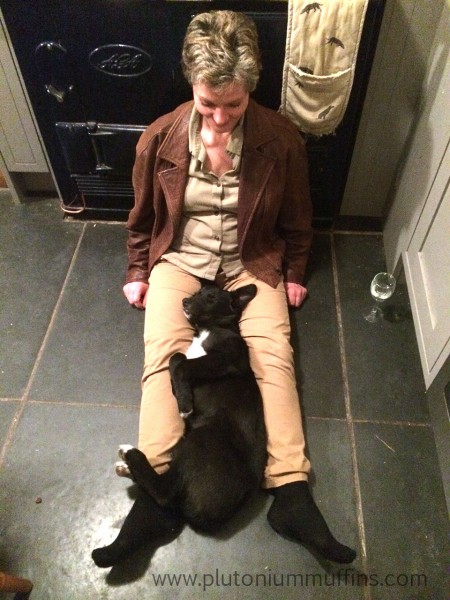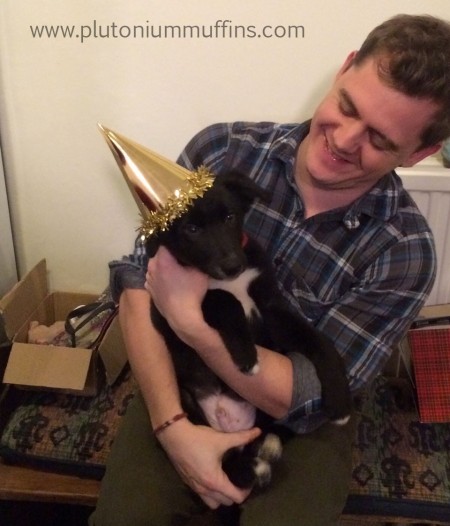 His training is going well! We take him to a class once a week, where he is learning the Kennel Club Code of Conduct. Captain Chaos has so far proven that he can socialise with other dogs, sit, stand, lie down, wait, not snatch food, and walk through doors in a controlled way. We are not so hot on loose-lead walking, and he does have a tendency to get a bit overwhelmed by the number of dogs and people, and get a bit growly. He loves people, and jumps up at everyone trying to get attention. We are working on that…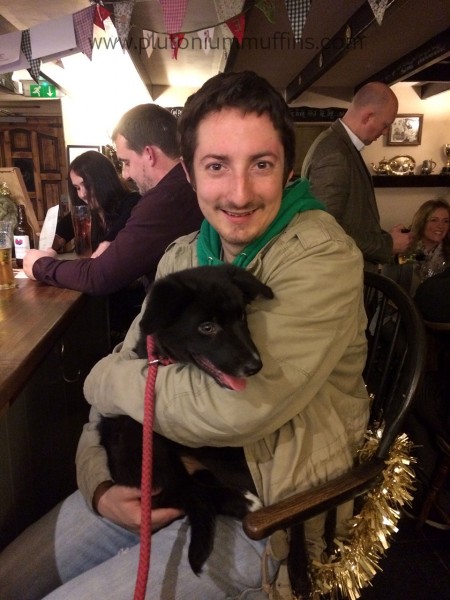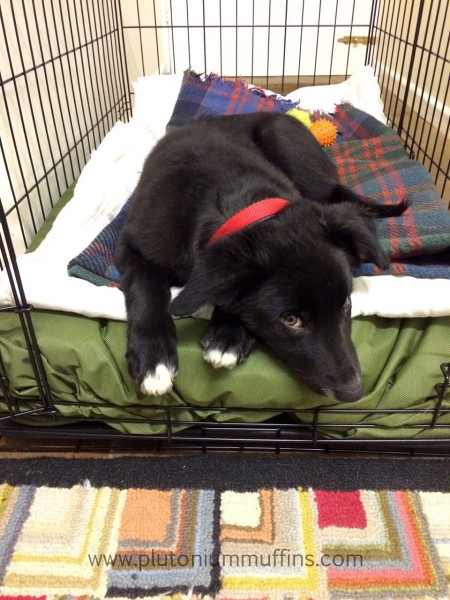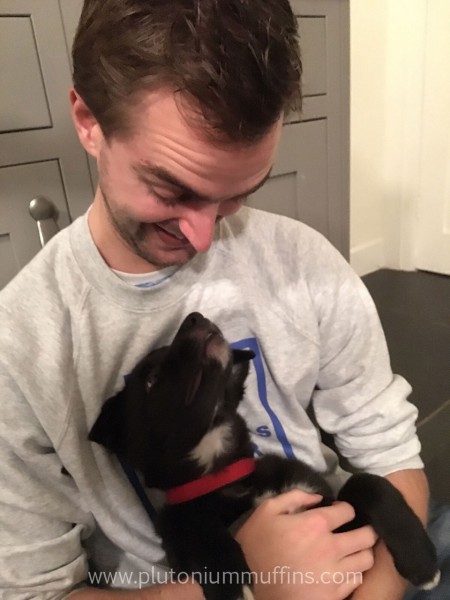 Actual sheepdog training won't start until he is about six months old. We have received some good advice and are doing what we can to ensure he will be a good sheepdog. One thing is for sure: you cannot get a dog of his calibre and not give them a job. He would be a rubbish pet – he has to know what his jobs are, and go out and do them, otherwise all hell breaks lose. I refer you to the Captain Chaos shredded bin photo above…
He has his bad sides. With an entire box of toys that he knows are his, he would still rather chew our feet, slippers, carpets and pieces of inappropriate rubbish that he finds in the garden. Tonks, the cat, is an incredible ratter, and she leaves her kills lying around in the yard and barns. If Chase finds them before we do, he picks them up and rushes around with them, proudly showing off 'his' kill. If we can't get it away from him in time, he crunches them up and swallows them. It is enough to put you off your next meal!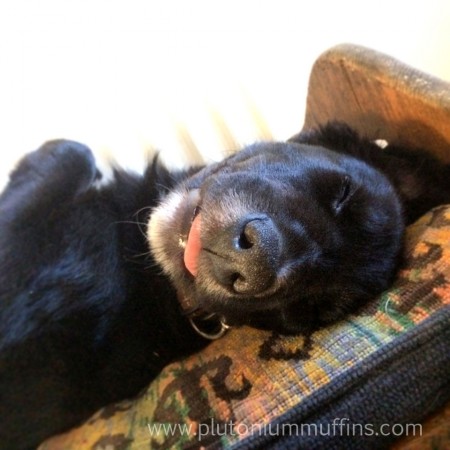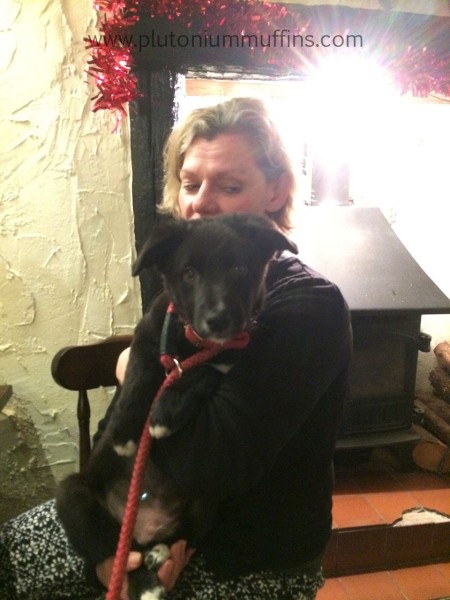 His herding instinct is also a little out of hand. We can't walk anywhere without him trying to herd us, and if there is anything woolly around, he makes a beeline for it. Mum has had to give him a sheepskin rug for his bed, as he made it unsuitable for use in the rest of the house with his chewing, and she has some shoes that he just cannot leave alone. Taking him into my studio presents its own set of problems – I have about thirty fleeces in boxes, waiting to be processed. I turned my back for ten minutes the other day, and when I turned around there was an unholy mix of Hebridean Black, Jacob and Alpaca mixed in with a shredded pompom and bits of wood on the floor. Also, as I say, he jumps up a lot, and his paws are normally muddy! We don't wear white very often anymore.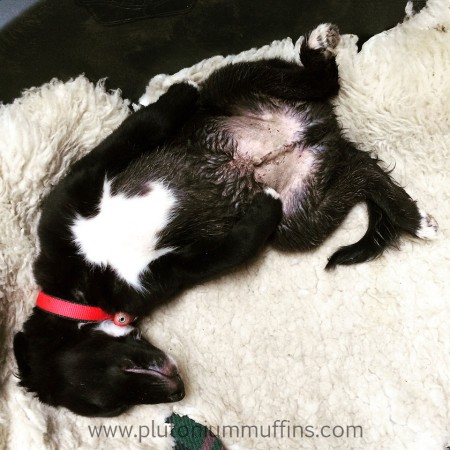 You just can't help but love him, though! He is an incredibly loving puppy, and it is impossible not to be taken in by his beautiful eyes, ears that can't decide if they are up or down, and, unfortunately, those sharp teeth. There is nothing more special than coming home or downstairs in the morning, and being greeted by a tail that is wagging so furiously that he can't stay on his feet. Captain Chaos has managed to earn himself a number of other nicknames, including "Wigglebottom", "Pacman" and "Ratbag".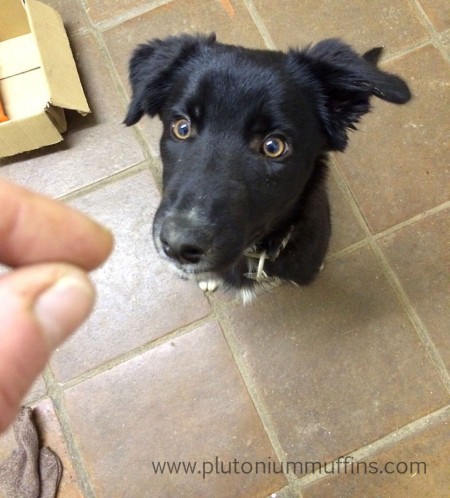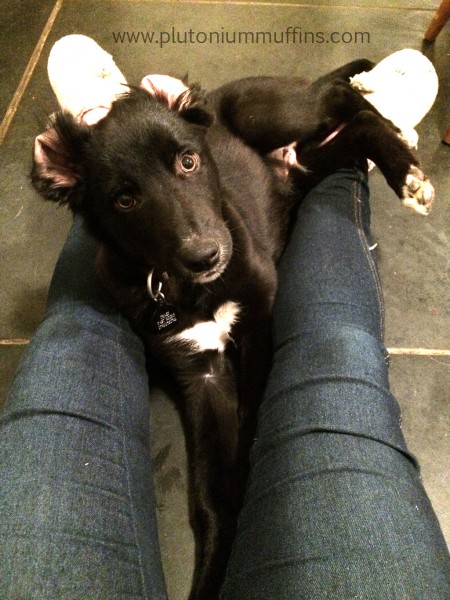 If you have any questions about life with Chase, please feel free to let me know! He has been in a few of my videos, all of which can be found on YouTube here, and he features regularly on my Instagram, here.
I can't wait to start proper sheepdog training. Watch this space…we'll be doing trials soon, mark my words!
Much love,
Corrie xx
Shared with: Sunlit Sunday, Oh My Heartsie Girl, Life with Lorelai