This year, Christmas was all about the hats, in terms of my knitting! I took some advice from a friend, who suggested that I only knit the same item for everyone as it would be more manageable.
This was definitely the best thing I have ever done when it comes to Christmas knitting, as I managed to memorise a pattern and add some changes to keep in interesting, but quick. I'm not sure what everyone will get next year…but items of the same ilk, that's for sure!
Hat No 1 – Snow Hat
I started off with "Pull On Hat" from "Knitting in No Time", a book I bought when I first started reading patterns and not just knitting squares. I made this from Paton's UK Wool Blend Aran, leftovers from the Customisable Gadget Case I made for JS last year.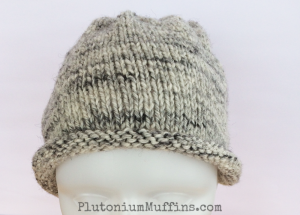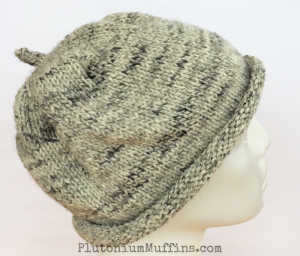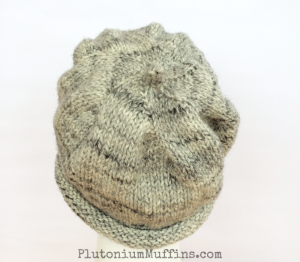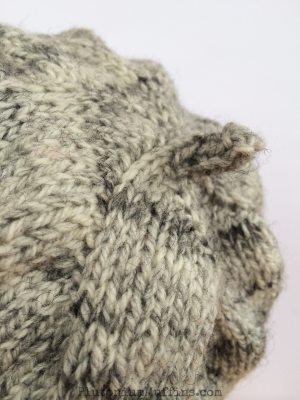 It ended up going to Super-Granny, who is in hospital and in need of some loving. It knitted up fairly quickly – it took about two days – and I loved it generally, apart from the 'nipple' on the top.
Hat No 2 – Rubies and Amethysts
I started changing the initial pattern and added some shaping to make it squidgier and comfier – you can see it gripping the model head a lot better than above! The yarn was James C Brett Monsoon, which I used to make the Susocks and loved so much I wanted another project in the yarn.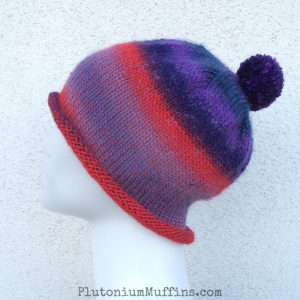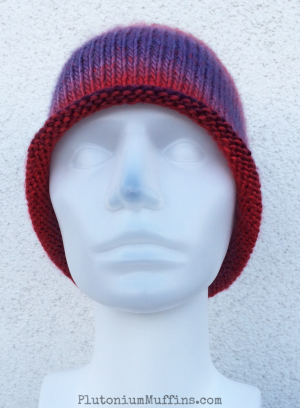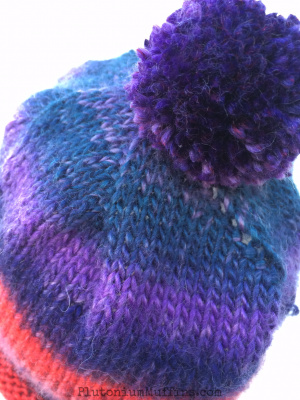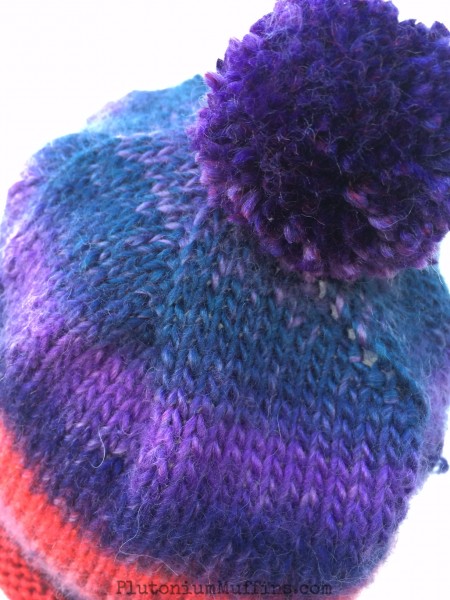 I have been a bit pompom crazy and decided to add one here. I gifted it to Wonder-Gran on Christmas day…and she loved it, which is just as well because I did as well, and debated keeping it!
Hat No 3 – Spiral Hat
Determined to use up my stash, I went back to the UK Wool Blend, of which I had some grey and some black leftovers from the previous project as well as the CGC. I didn't want to just do black and grey stripes, however, so I decided to try out some pattern adaptation of a colourwork kind.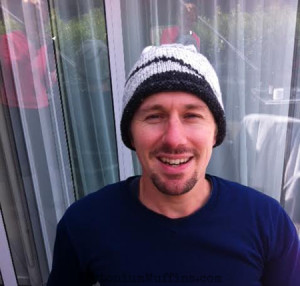 I will write this pattern up, as I absolutely loved it and I think it could be cool to do more for the rest of the family. I would love to see a multi-coloured spiral!
This went to JS' brother-in-law, in New Zealand. I forgot to take a photo of it before I sent it – so this is all we've got, I'm afraid!
That's it for now – I have a lot more Christmas knits to show off next week, but in the interests of having something to write about then, I'm off!
Just two days to enter the Etsy gift card giveaway…!
Much love,
Corrie xx