You've seen my fibre haul – now for the cross stitch I bought while in the Southern Hemisphere! The photos for this post are neither beautiful nor well put together. I've been using the "X-Stitch" app on my iPad and phone, and these are the photos I took for the journal entries in there. However, I have lost my will to take nice pictures, and have decided not to set up my home photography studio in order to show these off, so you'll have to make do with these…sorry for that!
An Australia Map in Cross Stitch, and other things
While we were in Sydney, I went to Morris & Sons, as I've already said a number of times…
My birthday present from our Aussie buddies included not only beautiful yarns, but a couple of bookmark kits. These were both based on Australian animals (in another life I was a veterinarian, I swear) and I have already completed the koala, as you saw the other day. The second is a pelican, which I am really excited to start as it will be my first foray into stitching on linen! When I was in Brighton with Yarn in the City, I bought tons of linen off-cuts to try stitching on…watch this space!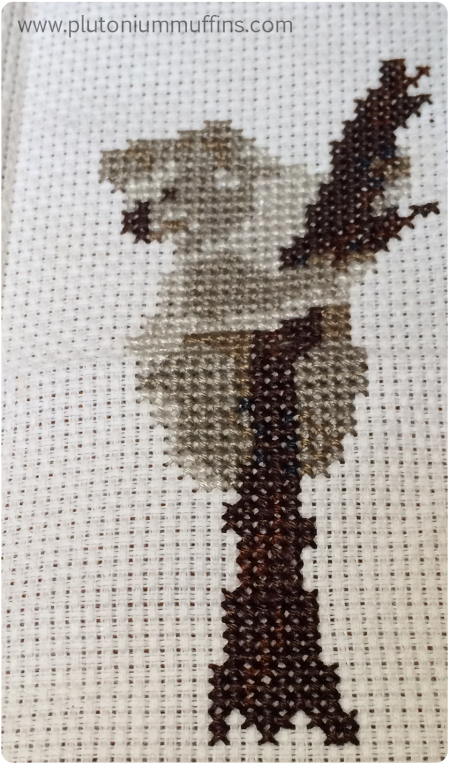 I also found some beautiful cross stitch kits that I fell in love with and decided I must have. The first is a huge map of Australia in shades of brown, with the states and small pictures of representative Australian things in it. It is beautiful, and caught my eye from where it was hanging on the wall in the shop. It is nearly half a metre squared, and will make an incredible souvenir of our trip – when I can get round to stitching it!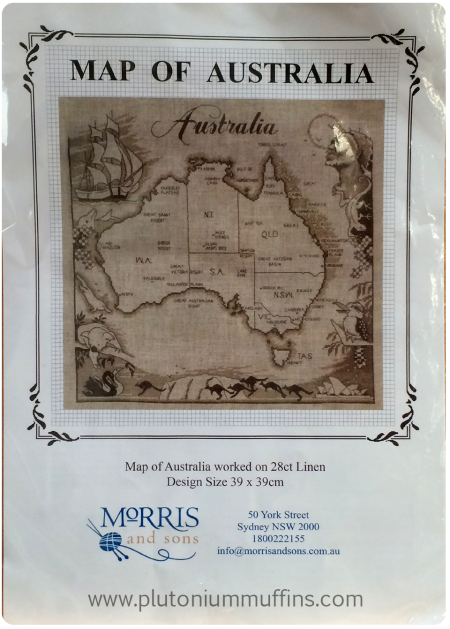 The second one that caught my eye was, of course, the lorikeets! These guys are watching over our lounge with pride. I love 'em.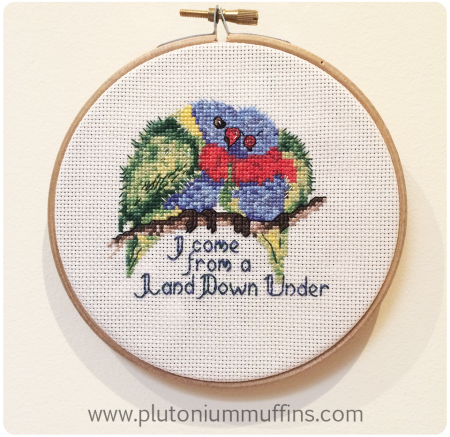 New Zealand Cross Stitch
I managed to hold off buying any more kits until we got to New Zealand. The Stitching Post in Arrowtown was my downfall! I'd been seeing a lot about blackwork on various YouTube channels, and found a small bookmark that I thought would be a good introduction to the technique. With my pelican and koala bookmarks still fresh, I think it may be a while until I complete these…but not too long!

There was also a really cute set of houses on 'vintage blue' Aida fabric. Whatever that means, I loved the picture and I thought it would be a sweet thing to have framed in a hallway…so that found its way to the UK too.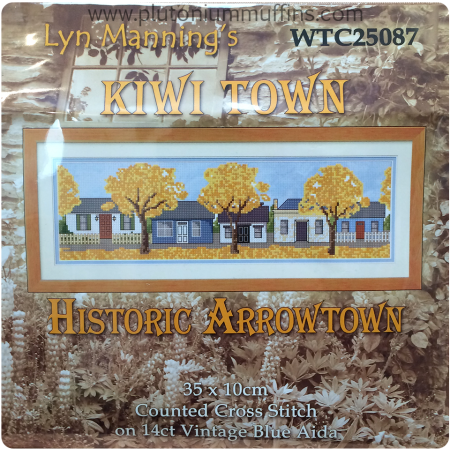 That was it for my cross stitch purchases – a small list on 'paper', but if I have finished all of these in the next five years, I will be surprised…
This marks the end of the stash/haul from Down Under. Fear not, though, there are still shop reviews and other things to come, and no doubt these projects will feature for some time.
Much love,
Corrie xx