I'm back in Kent for a few days, attending a doctors appointment and saying 'bye to a friend who is emigrating to Australia…so I thought I'd show off the flowery apron that I made last week in Devon. I've also got a WIP to show you – I missed WIP Wednesday this week because I was driving to Kent, and I just don't even know what happened yesterday. I was astonished to wake up today and realise it was Friday…where did Thursday go!?

I think I'm going a bit crazy. Anyway!
Flowery Apron
I've been feeling incredibly inspired by the Great British Sewing Bee. Haven't heard of it? It's basically similar to a cooking programme where you get amateur chefs in a kitchen and they cook stuff – except it's with sewers and making stuff! If you are able to, try watch it – it's on the BBC and is incredible. Definitely the highlight of my week!
Having been in Devon with my sewing machine easily accessible, I dug out my material stash, a book on simple sewing patterns and got making! I love the finished object – unfortunately you see it looking slightly crumpled as it's spent a few days in my bag, but it's probably the prettiest thing I've ever made. The lace is vintage, and the pocket deviated from the instructions by using a gathered pocket to create more space. I wanted to add a utility belt type attachment…but one step at a time, right?!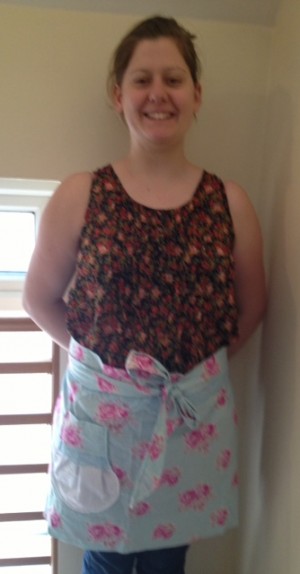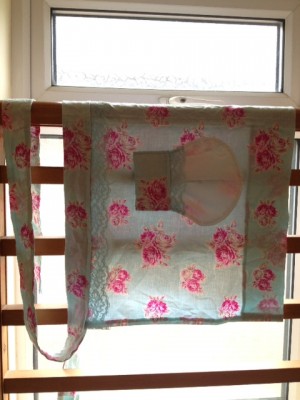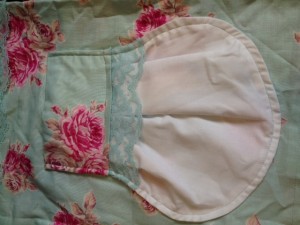 Secret Item…WIP
This WIP is a present for someone who reads my blog regularly, so I'm not going to say what it is or who it is for. However, here is a close-up of the lace pattern, which is the most complicated I've ever done – and also fantastically engaging and fun to do. I never thought I'd be a person who would say something like that, but hey! Sometimes, knitting just speaks to you.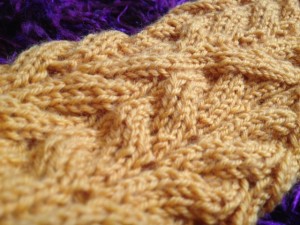 How are you getting on? Feeling inspired by anything recently?
Much love,
Corrie xx