Happy Good Friday! I'm currently in Wonder-Gran's house in Devon, wearing my completed Scrunchable Cowl (which is called "I solemnly swear that I am up to no good" on Ravelry!)
JS and I arrived on Wednesday night, shortly after I posted the mammoth post about Wool House, and have been completely relaxing. Wonder-Gran has decked the house out in daffodils, and the feeling of spring is definitely in the air…although the chill of winter has not left yet. The whole clan will be here from tonight – I can't wait to see what high-jinks we get up to.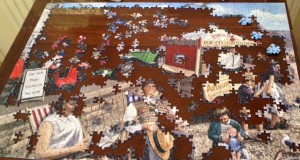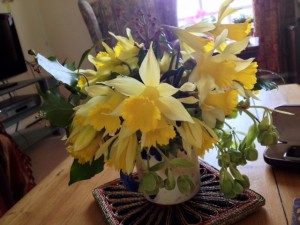 Scrunchable Cowl
I started this on Tuesday, after receiving a gorgeous skein of turquoise hand-dyed aran yarn from SixSkeins. I won the Made in Home giveaway, the prize of which was this yarn – a blend of baby alpaca, merino and bamboo fibres. The yarn was absolutely to die for – gloriously soft, a beautiful blend of colours and just crying out to be knitted IMMEDIATELY.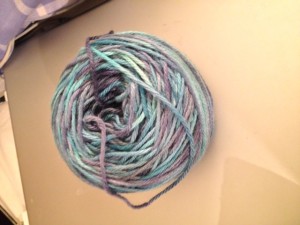 The pattern for Scrunchable Cowl was written specifically for some hand-spun yarn, and I thought it look like a wonderful pattern to fit the yarn – as well as leaving me some leftovers to play with. I cast on straightaway, and was off.
The end result is great – it fits well (although I might have preferred it to be slightly tighter) and the colours of the yarn are brilliant. I try to stay away from blues as they don't normally go well with my colouring, but I think these ones are a good match. The dying is done absolutely exquisitely – I can judge this as I've had my own, very amateur, attempts at dying yarn.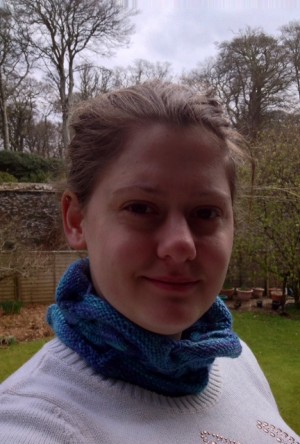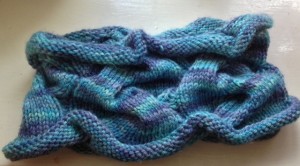 I'm very grateful to Nat of Made in Home, for offering the giveaway, and to Steph from SixSkeins for sending me the yarn. You can buy some of your own on Etsy! I can't recommend it more highly, I think it's the best yarn I've ever made a garment out of!
Much love,
Corrie xx