I promised this FO Friday yesterday – and here it is! Fingerless Mittens for TJB, the best pianist in my life, a violinist, and a man with cold palms…
TJB's Mittens
I joke – the reason I had to make the fingerless mittens was because I made him a hat last year, and I wanted to use the same yarn. I only had one ball, and it wasn't enough to make a pair of fingered mittens. It worked perfectly.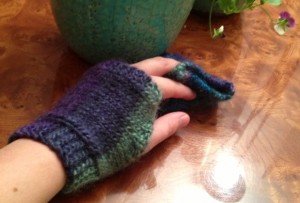 The pattern is "Sideways" by Sydney Crabaugh. I have to say that this is currently my favourite pattern. It's not complicated at all – but it's so unusual, because the stitches go the opposite direction to that which you are expecting for mittens. Additionally, it takes about two hours to make, if you put your mind to it. It is the most rewarding, excellent pattern if you need to make a quick present for someone.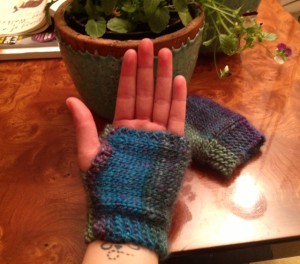 You may remember that I did this for JS' Gran a few weeks ago because nobody told me it was her birthday. I started on the train to orchestra, and by the time we got back from orchestra it was done.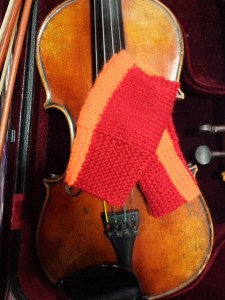 The yarn for TJB's mittens is Patons Colourful Twist, and this colourway is Ultimate Mix. I love it, too. It knits up like a dream, it's an aran yarn so it knits up quickly, it is warm, soft and squishy, and the colours are so, so gorgeous. I wish I had stacks and stacks of it so that I could have a Colourful Twist project on the go all the time! I would put it in a box for me to take out whenever I was feeling slightly rubbish. That's how much I love it!
This is probably the project I have loved the most since I knitted Grumpy's Harry Potter.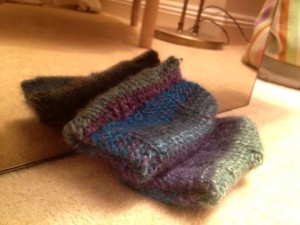 I'll give them to him the next time I see him – TJB, if you read this post, get excited! (Although I might steal them until then!)
Do you have a project that you've got to the end of and thought "actually, I really loved that a lot", even though you didn't expect to?
Much love,
Corrie xx