I had a comment from someone the other day, following my WIP Wednesday post about wanting to finish a pair of socks for Wonder-Gran. They thought I was being extremely ambitious to knit a pair of socks in three days. I thought they were being so so so silly!
I just spent all day panicking about finishing the socks. I then spoke to Wonder-Gran on the phone and she told me she wants me to give them to her when I go down next week for Easter (she doesn't know it's a pair of socks, just that it's a hand-made item). I thought I wasn't going to manage it.
But…
Wonder-Gran Socks
They are done! I think I dropped more than a stitch when grafting the toe of the second sock, but I managed to patch it up a fair amount. I certainly made sure that there won't be any stitches running off with her when she wears them…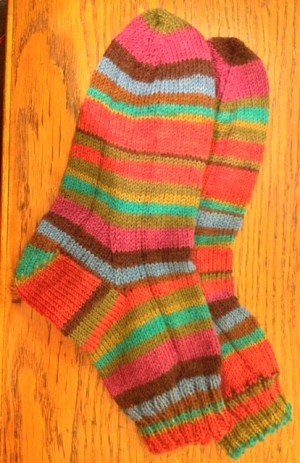 I'm not any more fond of this colourway than when I started, but I am really pleased to be able to give them to her.
Resolution Yarn
I also managed to finish off the Resolution Yarn. There are 224 yards of it, in glorious Cheviot cream. I was going to play with it and dye it, but I decided against it for a few reasons. The first is that it's the last cream fibre that I have left and I wanted to make sure that I have some cream handspun in my stash.
The photo is terrible – but it's still drying so I'll get some money-shots when it's daylight and all dry and nice.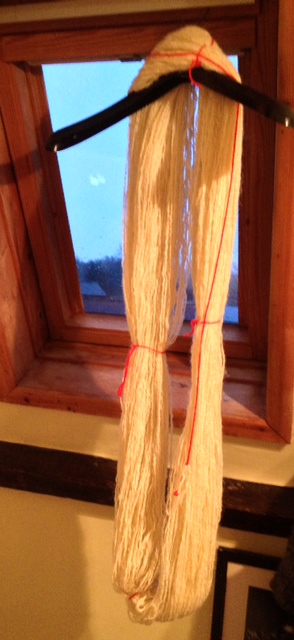 I'm normally a colour girl – if you follow the Plutonium Muffins Facebook page you'll probably get a good idea of how true this is. However, I bought a pattern at the Spring Knitting and Stitching Show last weekend that has turned me on to the power of cream yarn.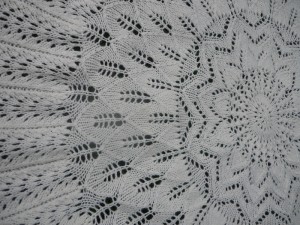 If you want to buy a copy of this pattern, it can be found here. Ruth and Belinda do not sell this pattern on Ravelry. I've sent them an email, but hopefully you will be able to see it, fall in love and get it! I will make this shawl one day, and I will use my own cream handspun.
How's that for a resolution!
I'm linking up with Tami and Fiber Arts Friday this week. Head on over and check them out!
Much love,
Corrie xx