I thought it would be nice and inspiring to do a series of posts on craftspeople who make me want to open my craft-box and get working. The first one, a metal artist called Ford Hallam, came to my attention at a work-lunch.
A metal-worker of the Japanese style, and based in South Africa, Hallam made an "Utsushi" — an imitation of a lost masterpiece — in 2009. A film was made about the process, which took several months. Shot by Brad Schaffer, this is an incredible video of a truly awesome artist.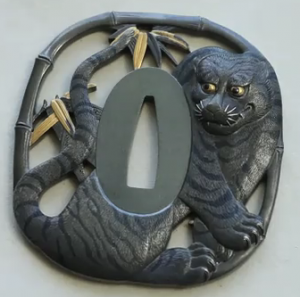 I had never heard of anything like this before – and it also got me started on learning about crafts that are not as 'simple' as knitting. I got handed two sticks and a piece of string and before long had managed to produce a square of fabric. Give me a piece of metal and some tools? I would have no idea.
The making of Ford Hallam's Utsushi
So I've said the word 'utsushi' several times, with no explanation. From Wikipedia:
The Japanese term, Utsushi (写) can be translated as, appropriation, emulation, inspiration, attribution, etc. However, the word Utsushi encompasses the meanings found in all the terms mentioned. An Utsushi can be a work where an artist is inspired by a traditional motif and incorporates the design in a work of art or the artist is emulating a masterpiece of the past to surpass the original subtly.

In Japan today, the meaning found in the term Utsushi is slowly fading and being misinterpreted or wrongly associated with the term, mozo (模造) which means to copy or reproduce. Utsushi is simply not copying or reproducing a masterpiece or motif from the past. Instead, Utsushi promotes a dialogue between the artist and the masters of the past, connecting past, present, and future.
I invite you to take 30 minutes out of your day to watch and get inspired. This is amazing.
Much love,
Corrie xx