Last week was my first proper crafty Friday Inspirations – this week is the next, with Battersea Dogs and Cats Home supported by DeadlyKnitshade who has designed a pattern for a blanket to support dogs and cats looking for a home.
I am a huuuuuge animal lover! I have always had a pet – at the moment it is, of course, Archie, the bad, bad bunny. I will get a cat or dog as soon as I can – and preferably from somewhere like Battersea.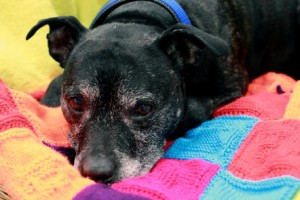 Battersea Dogs and Cats Home
Back story – Battersea Dogs and Cats Home which is just down the road from me, was founded 150 years ago by Mrs Mary Tealby, to care for lost and abandoned dogs. Animals that have come from the home have included a medal-winning WWI dog, a mischievous lurcher called Red who released a lot of the other animals in the home, and Larry the Cat at Number 10 Downing Street.
The home now cares for 10,600 animals per year, and one of the most recent requests for donations has been from knitters for these blankets. I'm definitely going to make one myself – and if you are a knitter, I urge you to as well!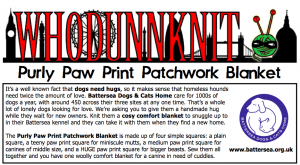 Is there any interest in a knitalong on this? Let me know – I'm in the process of making a Plutonium Muffins Ravelry group, and I'd love this worthy cause to be one of the first things we do.
Much love,
Corrie xx