Steff Bomb was the featured seller on Etsy in October 2010. I came across her when I was involved in a huge trawl through Vimeo watching delightful videos. This is just a sped-up video of her sewing up a plush toy. I love it though, this was exactly was I was looking for this week.
I love the toy she produces. He's incredibly cute! Enjoy.
This is how I make a carrot! from Craig Shimala on Vimeo.
Why this video in particular, though?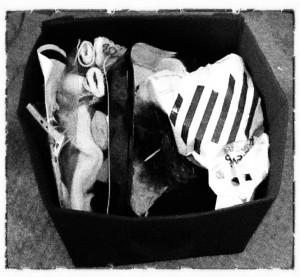 This week, I've been concentrating on my WIP baskets (of which I have many) and trying to finish up all the projects that have been hanging on for ages. This is all in aid of the new leaf that JS and I turned over last weekend. I was analysing why I had so many nearly-there projects hanging around, and I realised it's because I hate the process of finishing something. This is crazy – half the fun is a new, fresh product; but I'm such a perfectionist, that this really gets in my way sometimes.
I made a load of tiny bunnies and guinea pigs for a friend, Les, in October — but when I sewed on the hair-ties that was part of them, I decided I hated them, and they were shelved.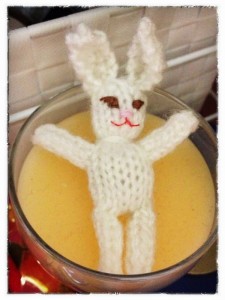 I started over on that project last weekend (did you miss the 'cute or evil' discussion?) and in the process of digging out all the hair-ties I had bought, unearthed the original bunnies/guinea piggies. I decided to send them to Les anyway — they would only sit in my baskets annoying me otherwise — and I unpicked a lot of the work I had done previously, and redid some of the sewing.
I also added eyes, which was one of the things that pissed me off so much in the first place.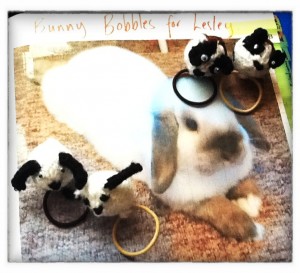 I am starting to feel the love for these little 'bobble' bunnies again — now that they are finished in a way that makes the perfectionist side of me feel satisfied, I don't mind them so much.
It was an interesting insight into the way that I work, that I hadn't realised before.
Anyway, more on them another time — for now, enjoy Friday, and maybe see you over the weekend!
Much love,
Corrie xx
---
PS I know I said I was going to be posting less in the future. Blogging, like knitting, is somewhat addictive. Hope you don't mind!