The "Beast from the East: Mach 2" hit the UK this weekend and everything got literally frozen. For those of you who don't live here and are under the illusion that the picturesque postcard image you have in your head of thatch cottages covered in thick snow, rolling white hills and annual blizzards is the norm, don't be fooled. The last time we experienced snow like this was in 2011/2012, and I can only think of a few other times from the age I moved to the country (at 11) that we actually got the experience the snow. For many it was a novelty and a joy – for me it's been something of an irritant, but has had the bonus effect of getting my knitting mojo truly fired up for the first time in quite a while.

I took the opportunity to take a walk around the harbour yesterday morning when I should have been driving down to a snowed-in Devon, and took a few photos. Now that I live about a minute away from the riverside, I realise how much I've missed being by the water the last few years. Expect a lot more watery inspiration posts and photos in the future!
Bristol Harbourside: Frozen
The walk I decided to do was the route I normally run, although the chances of me actually running this time were zero to none. I wrapped up in a bit of homegrown fashion to make sure I was toasty warm, and set out in my walking boots.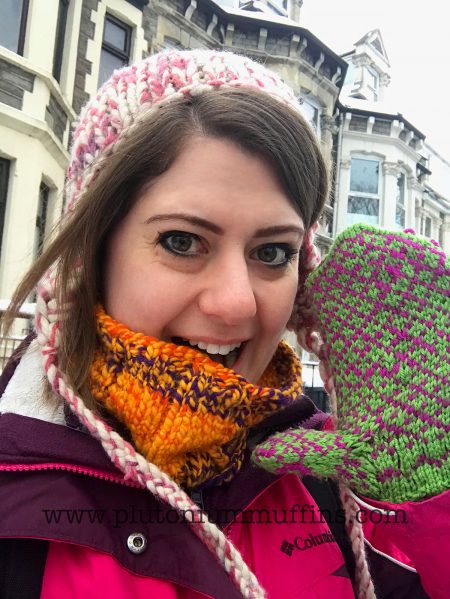 Hat: "Quick to Knit Earflap Hat" by Melody Griffiths, knitted in my very first ever handspun, Oxford Downs shearling wool hand-prepared and spun on my Ashford Traditional
Cowl: "Bank Holiday Cowl", my own design and my own handspun in merino from woolyknit
Mittens: "Rayna" by Rita Taylor, knitted in Artesano Superwash Merino
I got really excited by the science of water, and the geometry of the shapes the snow created, so there's a bit of a commentary to each of these photos. I hope you enjoy them!
Bridges
Walking out of the house and turning left, there's a bridge that when I lived the other side of Bristol, I'd often run past but never crossed. It reminded me massively of Narnia and Georgie meeting Mr Tumnus as I turned onto it and saw an old style lamp in the snow. The snow was also falling really heavily and visibility was really bad. It was pretty magical!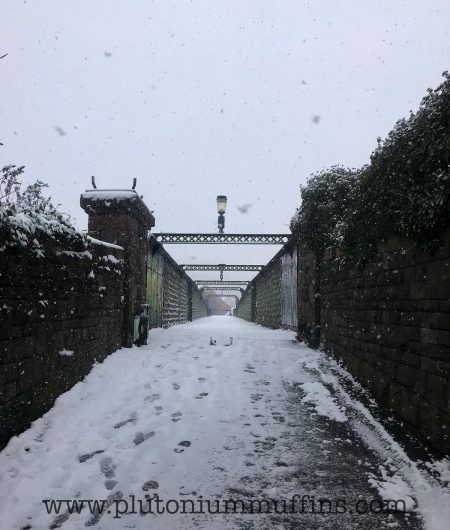 There's another bridge that you have to cross to get to the north side of the harbour, and it's really narrow. I've only ever crossed it at a run before, so it was nice to amble along and really look at the lock that I was crossing. It was half open – I'm not sure why, because when I ran here just a day later the gates were completely open (bonus photos of that at the end of this post). This was the most bleak moment in the walk. It was freezing cold and it felt like there was absolutely no colour in the world at this point.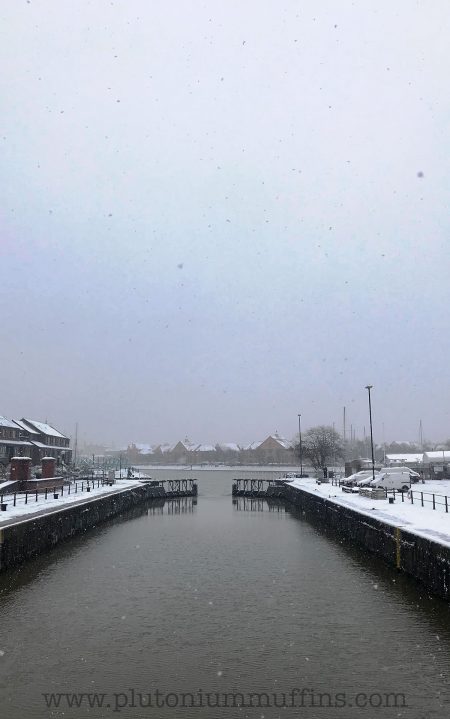 Next up was yet another bridge. The geometry of this one always fascinates me – I think it would make a fab stitch pattern either in cross stitching or knitting, and I think I could design a really cool fairisle pattern in these shades. Watch this space!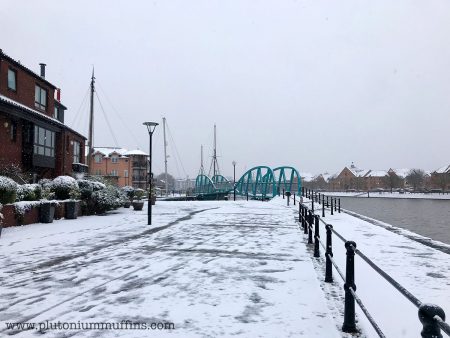 SS Great Britain and geometry
One of the big landmarks in Bristol, and a huge tourist attraction (although I've not been to it yet…) is the SS Great Britain, a Brunel-designed steam ship that used to travel the world. It is always majestic, and was particularly so in the frozen city.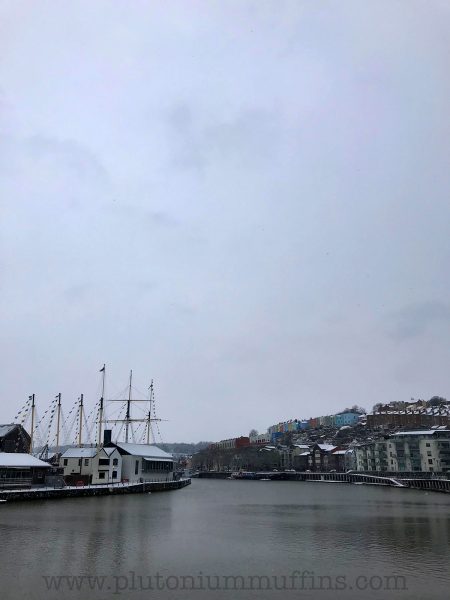 The Harbourside walk here is a lovely walkway that got the materials scientist in me all excited. It's constructed of a combination of cement, cemented gravel, and old bricks. Half of it is suspended over the water while the rest is built on solid land. The areas suspended above the water were completely solidly frozen because of the cold air circulating underneath the walkways.
The bricks were the most fascinating however – the stone of the bricks retained more heat than the cement keeping them in placed, so the snow on the bricks melted while the cement stayed white. I could have taken a dozen more photos like these two.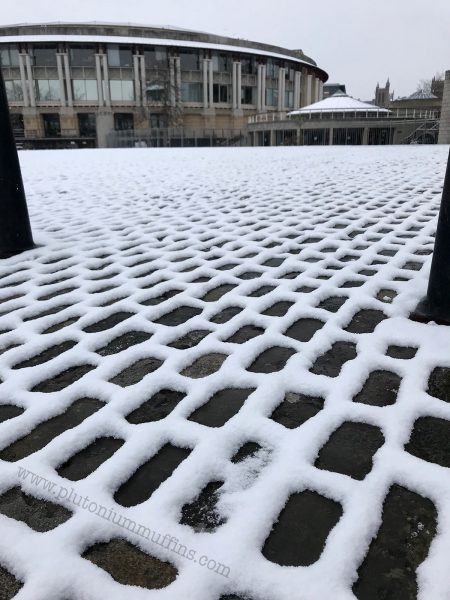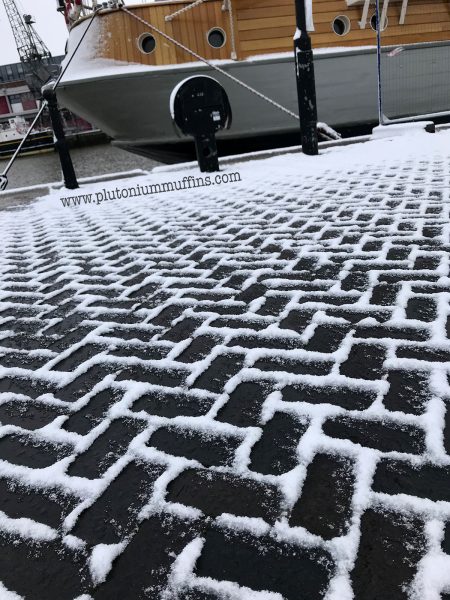 While we are on science, how is the snow on the below railing? I cannot figure out why it's gone all curvy like this.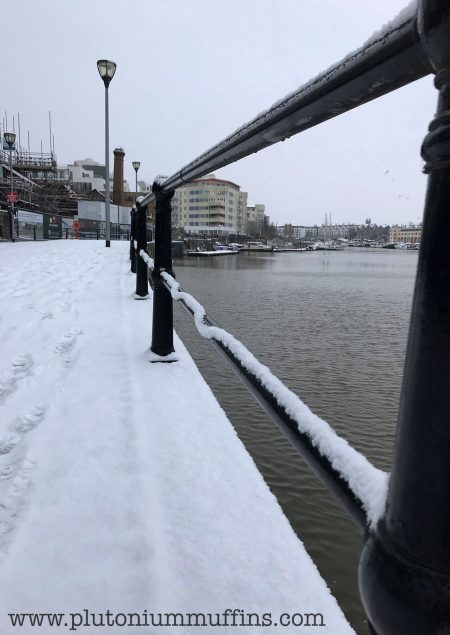 Walking past some of the boats docked at Hannover Quay, I loved the shapes this bike was pulling in the snow.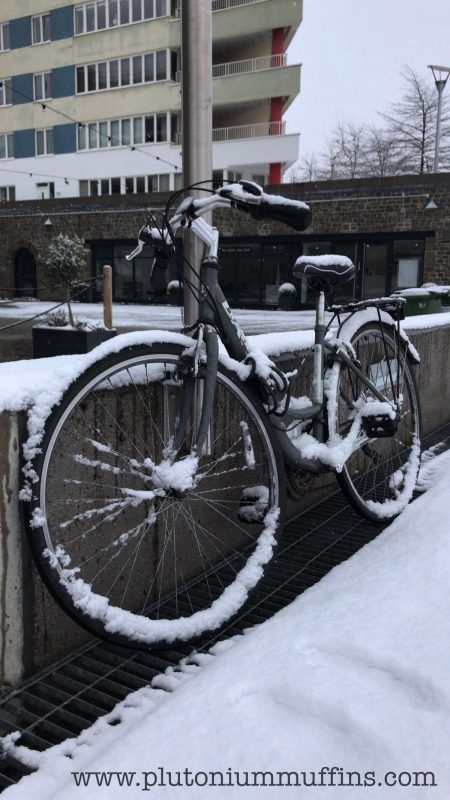 I crossed yet another bridge, this time Pero's Bridge, which is adorned with love locks. Mostly I love the sticker that you possibly can't even read in this photo, which reads "You are nice", a delightful little tickle to the ego as you go about your day.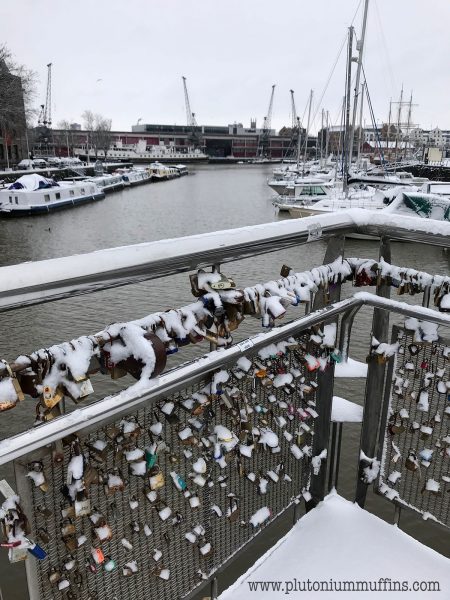 Churches and parks
Once I'd got myself around the harbour it was into Central Bristol just in time for the bells of St Mary Redcliffe church to start ringing for Sunday service. I stood on this bridge and listened to them toll for a good five minutes.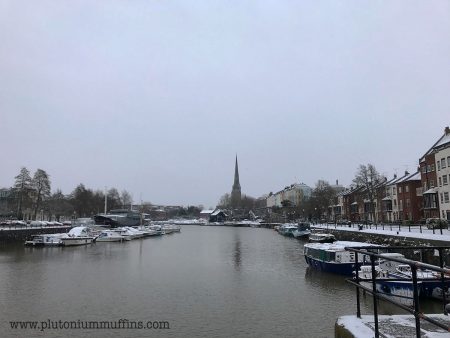 I then walked around the quay and past one of my favourite pubs in Bristol, the Ostrich. We've spent more than a couple of evenings enjoying the sunset over the water with a pint in hand – this time I was more interested in these absolutely freezing ducks huddling on a slipway. They probably thought spring had well and truly set in last week, so this must have been a rude surprise.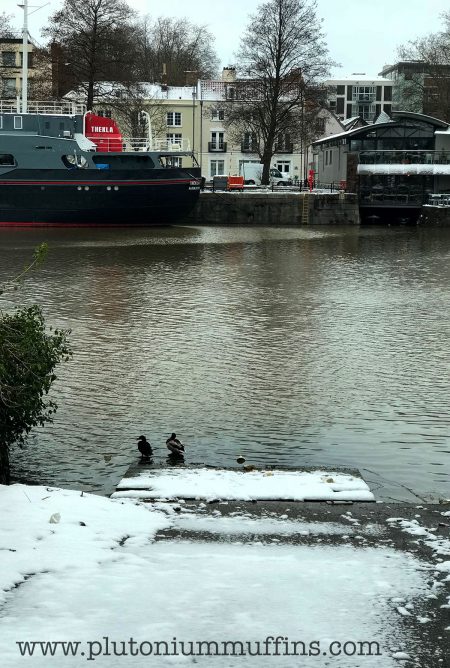 It was then time to go through a couple of parks – Temple Gardens and Queen Square. The blackness of the trees against the white had my geometry sense tingling (I don't care how nerdy that sounds, I was mostly wishing I'd brought a sketchbook and some charcoal with me!)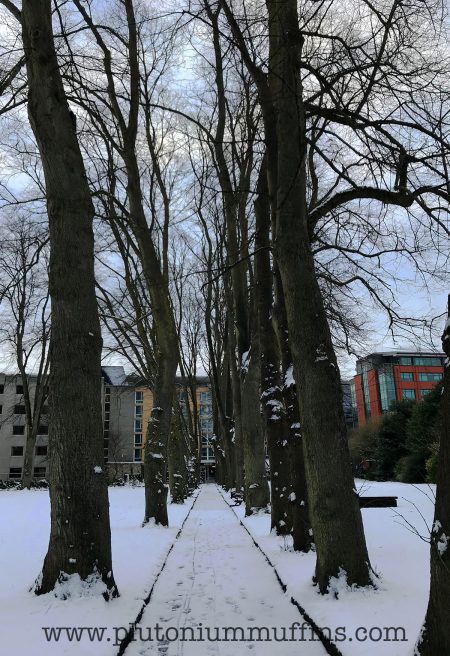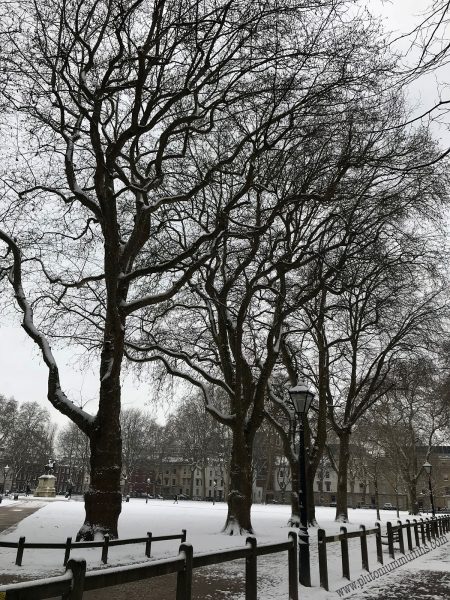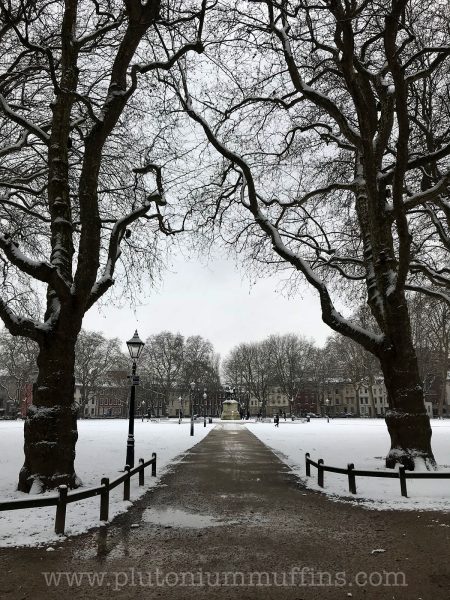 Cafe time
I ended the walk with four hours in one of my favourite coffee shops, Society, working on a writing project I recently started followed by an hour of knitting. Then it was up to a bakery coffee shop, Mokoko, for one of the best hot chocolates I've had in years and a chat with John. Note the Dr Who scarf in the background – he finally found a day cold enough to wear it!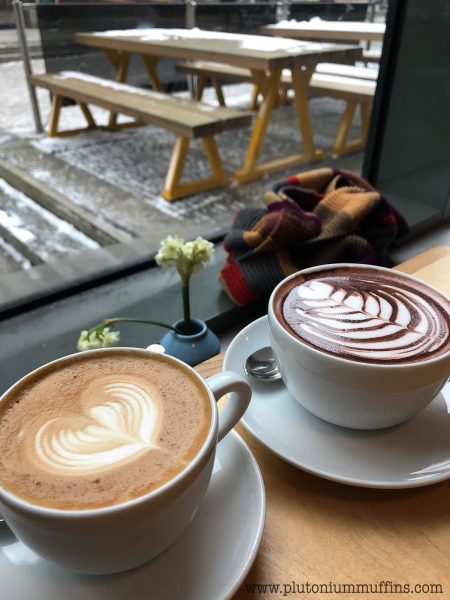 It was a lovely day, and a good way to distract myself from missing being with my family. I'm sure you'll be seeing these views in other weather – if you'd like to keep up to date with my wanderings, I update my Instagram story most days. You can find it here!
I'll leave you with views of some of the same places just one day later. I can't believe the difference!
Much love,
Corrie xx