I have finally, finally, after just ten months, finished Gigantic Blankie! Hurrrah, super happy Corrie – for now! I am still debating knitting another one and joining them either through picking-up stitches magic, or plain ole needle and thread. I think it will probably stay on its own for a while, though.
Presenting Gigantic Blankie
I started this back in October last year as a stash-busting attempt. It certainly busted a lot of stash! And turned into the most incredible blanket, with colour combinations I would never have thought of, a lot of funky fur and some great blue sections. It turns out I was pretty obsessed with blue when I first started knitting, because I used all the acrylic I bought back then and boy was there a lot of it!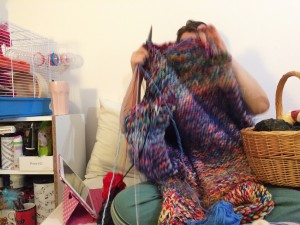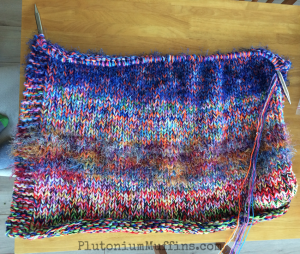 The blanket is nearly the width of a single bed, and the length of my double-bed. It is fantastic for sitting underneath on my rocking chair while I watch countless animal documentaries and get on with some knitting! I love it. The stitches look fantastic, it is wonderfully heavy and there is no 'right' or 'wrong' side – the right side of the stocking stitch is great, and the colour combinations on the wrong side are to absolutely die for!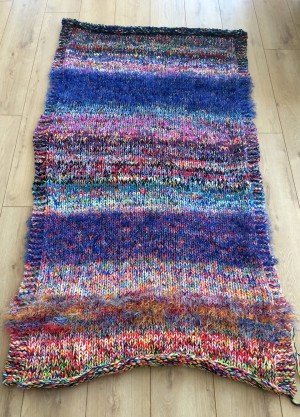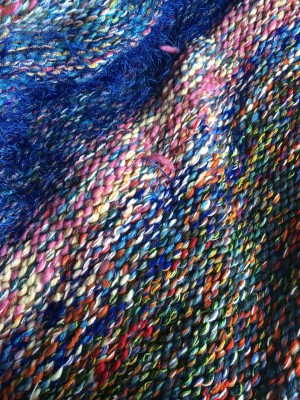 It's also a fantastic insulator for when one wishes to record a podcast episode!
The options I have now are varied. I had suggested picking up stitches along a long edge and doing a set of perpendicular stocking stitch – that would have been rather impractical, though, and the lovely Vix of Vittoria Segreta suggested knitting another one the same as this and picking up the edge stitches as I went so that it got joined together as I knitted. I could also just leave it as a sofa blanket – the extension would happen if I wanted it to go on the bed.
I've just organised my stash (more on that later) and set aside two buckets of yarn for the blanket. However, I want to just enjoy it for a while, so if I do work on it again it will not be for some time. I told John that I was going to give the blanket yarn to charity to get it out of the way, and his response was "No you can't get rid of the blanket, I love that thing!" Something got a little lost in translation obviously!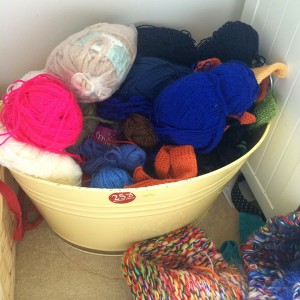 Anyway, the blanket is staying and the yarn for the second is going to two lovely ladies from Knit Night, as well as one of my grans who is currently knitting blankets for Battersea Cats and Dogs Home on my recommendation.
I have another FO but I'm going to spread out the fun as it seems I will not be finishing anything else EVER for a really long time at the rate the Icon Dress is going.
Much love,
Corrie xx