10th January 2013 – THIS GIVEAWAY IS NOW CLOSED! The winner is Megan P. You will have received an email about this, congratulations! Much love, Corrie xx
I am pleased to announce that it is time for the next Plutonium Muffins giveaway. This time, in celebration of the first blogoversary, I am going to do one of my birthday boxes. What is a birthday box? Well…
The Plutonium Muffins Birthday Box
The PM Birthday Box is going to be a knitters special*. I'm going to put a rough list of things here – but depending on the winners location and personal preferences, it may change. For example, one of the first things I will put in there will be edibles of some description – however, if you live in Australia or somewhere else where food imports are restricted, this will obviously be impossible.
Without further ado, the List.
One 50 g ball of Kidsilk Haze in the winner's choice of either marmalade, jelly or cream**.
A set of bamboo knitting needles in the winner's choice of size.
A variety of miniature balls of yarn for knitting into hexipuffs or similar.
A small pass-the-parcel magic ball.
To add to the box, as I do in all the birthday boxes, you will also get:
Something to whet your appetite, handmade and delicious.
Relaxation sensations – a spa remedy to chill out with.
Aromatic pleasure, in a form that will be useful to you.
Something pretty; a delight to look at.
It has been difficult deciding what photos to take for this – as most of the goodies depend on the winner's preference, I don't really have specific things picked out. The contents of the box WILL vary, so please don't take them as gospel! (The crocodile brooch belongs to my mother. You ain't getting it!)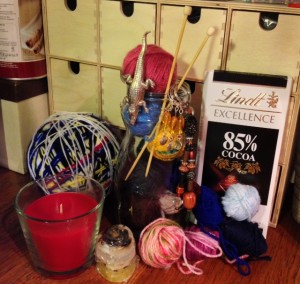 I am excited about this, I love preparing these packages and I can't wait to put it together. So how do you enter?
Entering the Giveaway
Leave a comment on this post with one way of relaxing that makes you really, really happy. For example, mine might be this.
Putting my feet up with a bunny on my lap, hot cup of Earl Grey tea next to me, wrapped in a warm afghan and listening to the iMakepodcast while doodling in my ideas book.

Mmmm a nice cuppa tea (Copyright Liz Steel)
Or my other favourite…
Being really, really stressed and anxious, and wanting to hide in my bed, but forcing myself to get up and have a shower. The moment the shower turns on, the day begins again.
The giveaway is open to everyone from anywhere, and will close on the 10th of January, 2013(!) The winner will be contacted via email or Ravelry, so please make sure you leave contact details. I will be away from the 20th of December to the 2nd of January, so will not be able to answer questions during that time – but please feel free to leave any, which I will answer outside of this period.
Much love and very best of luck,
Corrie xx
* I am aware not all of you are knitters. If you give it a go and you win, but you don't actually want any further paraphenalia, I would be happy to make it your-hobby-specific. After all, I work in a hobby shop now, I must know all the things!
** This giveaway is kindly sponsored by the Stash Trunk, and will not, unfortunately, extend to colours beyond this. If you would like an alternative yarn and you win, I will be happy to discuss options with you.