The winner of the Klee Collection was John! You have been emailed. Congratulations!
Any regular readers of my blog will be well aware of the fact that I am a huge fan of East London Knit, the company run by Renée Callahan from her East London base. As well as knitting more than a few of her patterns, having more in my queue, and visiting her studio last year, I am now super pleased to be able to offer you a full copy of her new collection!
This one's a doozy – stick with me, grab a cuppa and lookit the pretty pictures! I'm thrilled to be participating in a blog hop on this one – it was kicked off over at Curious Handmade, went over to A Yarn Story, and today you have me! Head over to Blacker Yarns tomorrow, and Yarn in the City on Friday to read more about it.
East London Knit
For those who have never heard of her, here's a little background for you. Renée is American (from Seattle originally) and now lives in The East – my studio visit has a rather poetic description of East London in it (if I do say so myself) and can be read here. She studied fashion design at Central Saint Martin's College and started hoarding knitting machines and yarn…and the rest is history!
As well as constantly designing beautiful and useful knitwear with great combinations of colour and texture, Renée loves to enable new knitters by teaching them, both in the hand-knitting department and using machines. Her studio is no longer where it was when I went to visit, but she is still based in East London and you will definitely see her around and about if you come to events in the Big City.
OK, on to the good stuff.
The KLEE Collection
The Tate Modern held an exhibition of Paul Klee's work a few years ago, that Renee visited and was inspired by! Paul Klee (1879-1940) was a Swiss German artist whose art defied classification – he worked with a huge variety of mediums, canvases and styles, and interpreted developments in art in his own way, creating over 9,000 pieces in his lifetime. You can see how Renée would be inspired by his art…I find it so engaging and can look at each piece for ages, you could put what I know about art on the point of a 1mm knitting needle…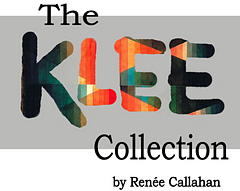 The collection she has put together has six pieces – three pairs that are made up of a garment and an accessory. Each is named for the piece of art that they were inspired by. In Renée's own words:
The Klee Collection is a gathering of knitting patterns close to my heart. Although I trained as an art histori­an, I rarely get a chance to see even a fraction of the amazing art on offer in London. A few years ago the Tate Modern held an exhibition of Paul Klee's work and it was like visiting an old friend. The inspiration to design my first collection came quickly and I have named each of the designs after a painting by Klee."

Each design features unique geometric lace knitting inspired by the strange and wonderful shapes that run like a language through Klee's work, providing interest and detail on extremely wearable garments. Selfish knitting at its best, this collection is intended to be worn and loved for years to come.
Angelus Novus – cardigan and shawl
I just love the look of this cardigan – it is not your typical 'straight up and down' cardigan with buttons and a button band and a fairly traditional 'cardigan' look. Instead, it has a wraparound appearance, with an absolutely gorgeous lace pattern on the back. Although I have not knitted it myself, it is reported to be quick and fun, and the lace pattern memorable, which is always helpful.
Angelus Novus from the front – Renée has secured it with a giant safety pin here, genius. (photo by Juju Vail)
It starts with a garter tab cast on, which if you've never tried it, is a little piece of magic. I learned to do it for Naloa and I am hugely in favour of this method, although it was a bit fiddly. The front can be worn open to give a 'waterfall' effect, and it can be closed with a single closure. The shawl has elements of the lace back from the cardigan, and is triangular.
The samples have been knitted in Blacker Swan Falkland Islands Wool, a thick DK weight which makes the shawl super cosy, and the cardigan knits up nice and quickly. Have a look at the painting, below, and see if you can see which areas inspired elements of the design…I think I can see a few! It would suit heavier yarns as well…just make sure to check your gauge!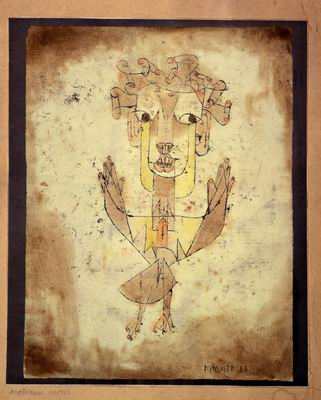 Twilight Flowers – sweater and gloves
A pullover sweater knitted in sport weight yarn, this beautiful garment has small amounts of lace detailing, which apart from looking great, also has something else to offer. Have you ever found the perfectly variegated yarn that you have known you must knit with, but been unable to find a pattern with interesting enough construction elements in it to make knitting it pleasant? Well, this is the one for you!
This slideshow requires JavaScript.
Elegant fingerless gloves accompany the pullover, with a nice long arm to them, which I love. They look absolutely timeless, and I can imagine you would feel incredibly sophisticated wearing these. I must cast them on. Immediately.
The samples are knitted in The Uncommon Thread yarn, in the everyday Hemlock colourway. This is dark with subtle pops of olive green – absolutely stunning, and a great combination with the pattern. I could well imagine using something a bit more colourful too…watch this space.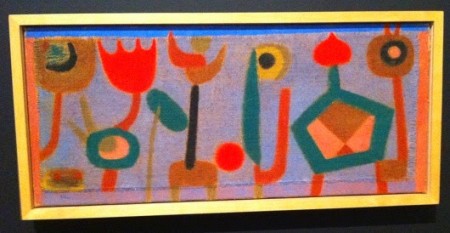 (Look, the painting has orange in it. And yellow! You know how much I adore those colours….)
Angel in the Making – pullover and shawl
For the final pairing, Renée has gone for my favourite colour combination in this sample, which instantly draws me to it. Those of us who have fingering weight yarn in our stashes will want to get involved with Angel in the Making – particularly if you love seamless knitting, as this is one of those! With a round yoke and a garter stitch detail carried up the side of the sweater, the attention to detail is just exquisite. The colours make my heart sing…have I mentioned that already?
This slideshow requires JavaScript.
It has a great amount of stocking stitch, with just the a touch of delicate lace in the contrasting colour yoke – absolutely stunning. The shawl is another great make, with that beautiful lace pulling the two together. It takes just two skeins of yarn, which means that I know where that pink and blue Uncommon Thread I've been looking for a pattern for for years is sorted!
The samples are knitted in Walk Collection Cozy Merino Fingering in Nightshade and Lipstick.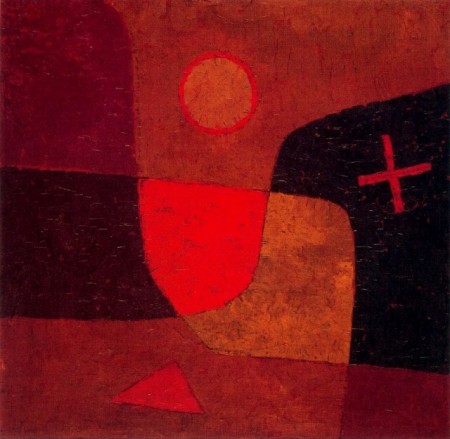 Out now!
The KLEE collection was released on the 29th of October and is now available to buy from Ravelry. The full collection is £15 and each individual pattern is £3.50. It's a direct digital download, and you can get it here. Alternatively, you can enter to win a full copy, right here right now!
The Giveaway CLOSED
If you'd like to get your needles into a full set of these patterns, please leave a comment below, stating which of them you would like to knit most, and which is your favourite piece of Klee artwork. The artwork doesn't have to be from these three – if you know of him and can recommend other pieces for me to go have a look at, I would love to know!
I will close the giveaway on the 18th of November at 5 pm GMT. Up to three extra entries can be obtained by sharing this on social media with the hashtag #kleeforme – if you don't tag it, I won't know you shared it!
Anybody can enter as this is a digital download – you do not have to be a member of Ravelry to enter, that is just the selling platform…although I do recommend joining if you haven't already, as it is GREAT.
Good luck and may the odds be ever in your favour! Don't forget to check out the Blacker Yarns blog tomorrow.
Oh, and I know you're wondering…I don't know which piece is my favourite, I thought it was Angelus Novus in the cardigan when I was writing this up, then after looking at the pictures I really, really liked both versions of Angel in the Making…and those Twilight Flowers gloves are just spectacular. I think in terms of the thing I'm most likely to knit, I'm going with the Angelus Novus cardigan…but watch this space!
Much love,
Corrie xx
Picture References
All photos of the KLEE Collection taken by Juju Vail and provided by East London Knit
Angelus Novus artwork: licensed by Creative Commons: Paul Klee [CC BY-SA 3.0 (http://creativecommons.org/licenses/by-sa/3.0)], via Wikimedia Commons
Twilight Flowers artwork: http://chrisnthat.blogspot.co.uk/2014/06/for-arts-sake-1-line-is-dot-that-went.html Posted with permission
Angel in the Making artwork: http://www.allpaintings.org/v/Expressionism/Paul+Klee/Paul+Klee+-+Angel+in+the+Making.jpg.html