Merry Christmas! I'm super excited to be back to blogging – my holiday from it was a breath of fresh air, and I return with a Christmas gift for you all!
I had a super Christmas, with gifts a downplayed thing this year – I did give my mum a pair of Cadeautje, my dad some boot cuffs/wrist warmers, and my gran a bright orange Capucine. I was fortunate enough to receive some photography equipment and a lovely book on wire-working (as if I needed another craft to sink my teeth into). This guy also found his way into my pile – isn't he gorgeous! I also got some photo-editing software for my iPad which is just fantastic, so now I have no excuse for poor photos around here…
The Giveaway: A Christmas Gift
As well as being a gift for ye olde festive season, this is also a small celebration of Plutonium Muffins third birthday! We actually celebrated this on the 5th of December, with a big glass of mulled wine and a mince pie. I can't believe it's been three years.
Anyway, moving on. I was out looking for some books for my Etsy cards just before Christmas and I popped into a charity shop to check out their classics. I always check out the craft books when I'm in charity shops (you know…just in case!) and I found a serviceable copy of Anna Tillman's "Knitted Socks: Over 25 Designs for Fab Feet and Cozy Toes for the Whole Family". I snapped it up as quickly as I could.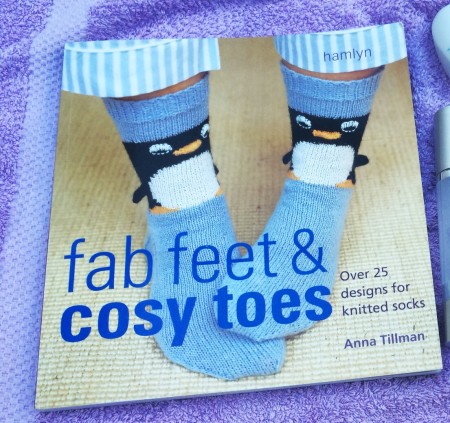 I have had so many queries about where I got the pattern for my Solomon's Temple socks, and they come from this book. Found on Page 47 under the heading Zigzag Socks, they have been a great way to add some interest to a self-striping yarn which I didn't want to knit as a pure vanilla sock. I couldn't resist the opportunity to give someone a copy! When I say serviceable, I mean to say that it is very good – certainly in better condition than my copy, which has been through the mill and back again as it's gone in and out of my bag a number of times.
Apart from the zigzag socks, there are some brilliant patterns in the book – including pigs, penguins, teddy bear sock buddies and a plethora of lace and cables. My plan is to work my way through each pattern this year – more on that later. Check out the full list here.
Here's how to enter, then. Leave a comment on this post by 5 pm GMT on the 12th of January 2015 and you will be entered into the draw via random number generator. If you share the link to this blog by Facebook, Twitter and/or on Ravelry, each unique post will earn you (up to three) extra entries.
The winner will be announced on the 13th of January. To qualify for the prize you must leave your contact information, and if I get in touch with the winner and they do not reply within 14 days, I will redraw the winner.
THIS GIVEAWAY IS NOW CLOSED.
I will share a photo of the finished socks on Friday so you can get a good look at them. Good luck!
Much love,
Corrie xx