14th Feb – This giveaway is now closed! The winner of the bag was Giselle, who has been notified!
A few months ago, I went to the pub. This in itself is not so abnormal – however, on this night I met a lovely lady who saw me updating Plutonium Muffins and asked what I was doing. We got chatting and she discovered I was a knitter. I discovered that she was a talented seamstress. This was Karen, who runs Nadalittas. Before the night was out I had checked out Nadalittas, talked about it on the Plutonium Muffins Facebook Page, and she had promised to send me a bag.

Nadalittas
Nadalittas is a shop for Karen's upcycled creations, bags primarily, made from largely vintage fabrics. She designs her bags herself, and her style is influenced by designs from the 1940's to 1970's.
I received my bag in the post just before Christmas. I popped my work stuff into it without thinking too hard and just like that, it became a fixture in my life. The bag is Brilliant.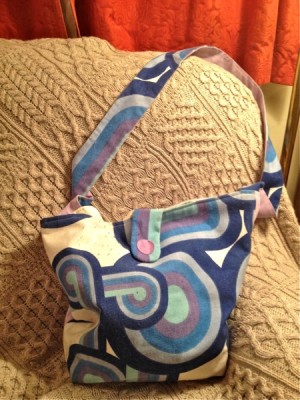 First of all, it's gorgeous. Karen didn't really ask me anything about myself or my tastes – she may as well have done. The main colour of the bag is purple, and the vintage design is beautiful. It's bright and a one-of-a-kind piece. The blues and whites in the design also appeal to me. The geometry of the piece is one of the best things about it.
Additionally, the bag is basically a Tardis – normal bag-sized on the outside, and absolutely huge on the inside. I am not kidding – I have walked around with a 400 g ball of yarn and my 45 cm long needles in it, along with all of the usual paraphenalia of my usual life – an umbrella, a few pairs of gloves, sweater, countless receipts, a bag of chocolate, a folder with my work stuff in it, car-keys, pill-bags… No sweat, the bag swallowed it up, was comfortable to carry, and all the pockets inside it ensured I didn't lose my keys.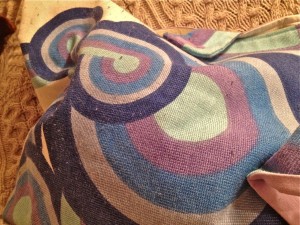 So, why am I telling you all of this? My bag is one of the best knitting bags I've ever had, and you need one too! The winner of the giveaway gets a choice of the bags available in Nadalittas on the day it closes.
This bag will be brilliant for more than just knitting, so if you just love bags, you should still enter!
Entering
How do you enter? You simply share the link to Nadalittas on any social media site, and leave a comment here to let me know you have done so. Leave one comment for each time you share the link. There is no limit on the number of times you can enter. However, do not use the link to spam, if I check any of the evidence you provide and I judge it to be of excessive nature, you will be disqualified from entering the giveaway at all.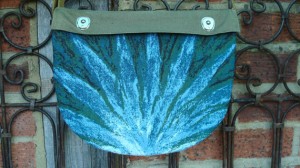 The giveaway is open to everyone from anywhere, and will close on the 14th of February, 2013. The winner will be contacted via email or Ravelry, so please make sure you leave contact details. You will choose your bag, and I will get Karen to send it to you.
Good luck!
Much love,
Corrie xx