A few weeks ago the team at Turtle Mat asked if I'd like to take part in a Christmas Stocking challenge. They've done blogger craft campaigns for a couple of years, and I was keen to get involved. A few days later, a box arrived filled with some of the loveliest craft supplies. I was good to go!
Stocking Inspiration
I left the box in my craft room for the last couple of weeks while I've considered what to do. I've found it a little hard to get into the Christmas spirit, but on Thursday at work I was challenged to decorate a gingerbread house. While sitting in the kitchen decorating it, inspiration struck. I was going to do something with the essence of gingerbread.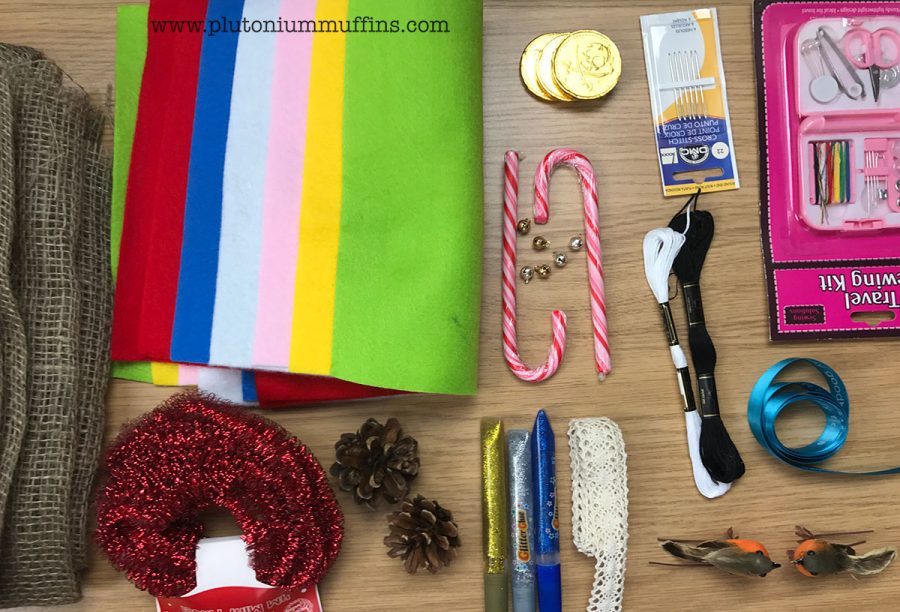 As all ideas do, it evolved into something I wasn't really expecting. I started out with the gingerbread house idea, which turned into something akin to the old woman who lived in a shoe, which then morphed into what I ended up with, a festive little house on a stocking that we will be able to hang for years to come.
The hessian that I was provided became the base, and I sewed it to some blue fabric to give myself something solid to work on. I then sewed the two halves together so that it is actually a working stocking that I might even use to gift John some things next weekend! With embroidery thread, glue gun in hand and all the bits I was provided by Turtle Mat (as well as some of my own), I created something that I think is really rather cute.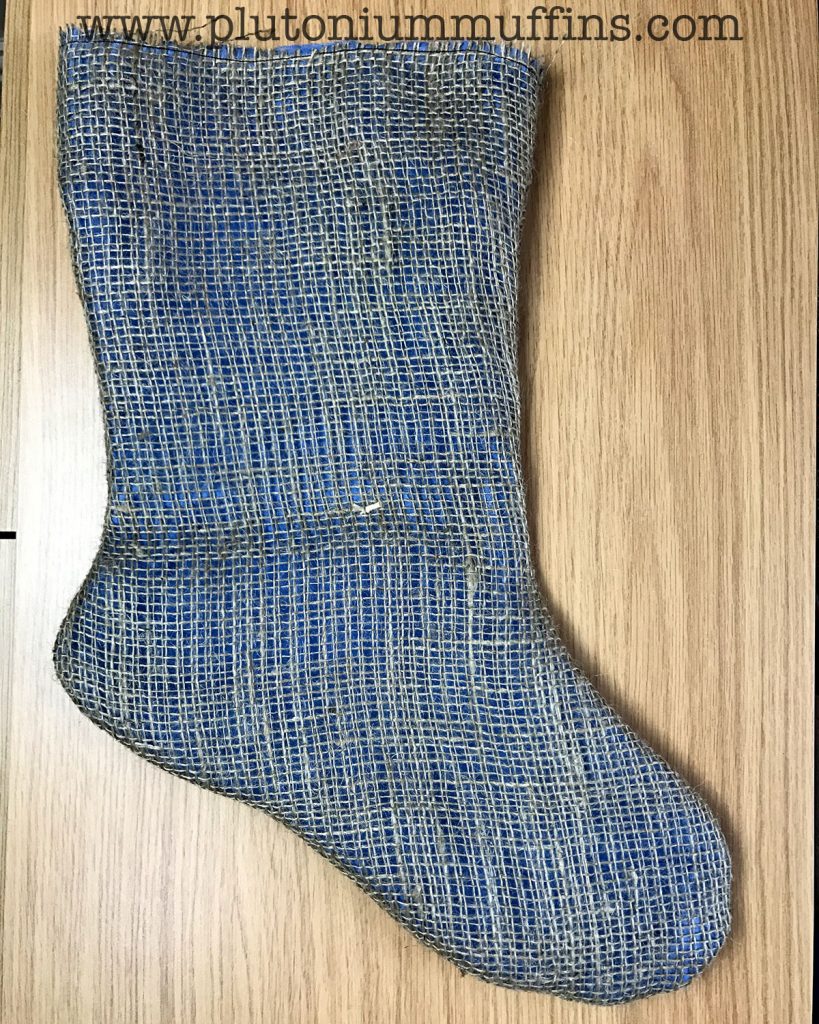 The Finished Stocking
The edible bits, two candy canes and three chocolate coins, are removable. Who says gifts can only go on the inside of the stocking?! I was more restrained than normal and only put one bell on it in the form of the little Santa peeking out of the window… Believe it or not, there's actually a whole face under that red felt that makes up the window. I didn't like the look of the edge of the window the first time I did it, so it had to get covered. I think it makes it slightly cuter!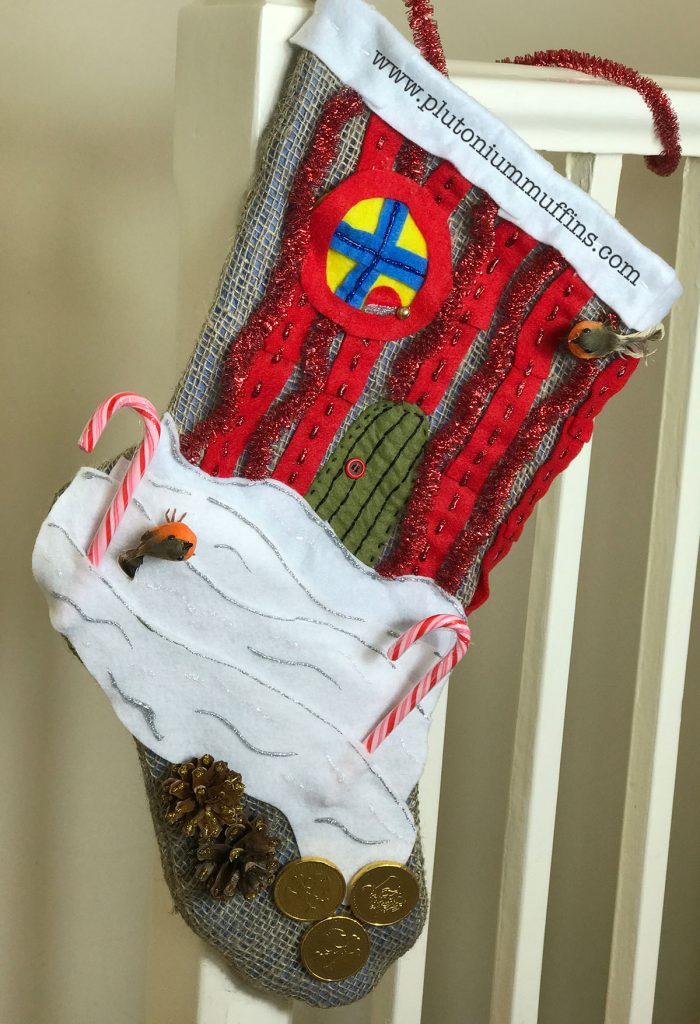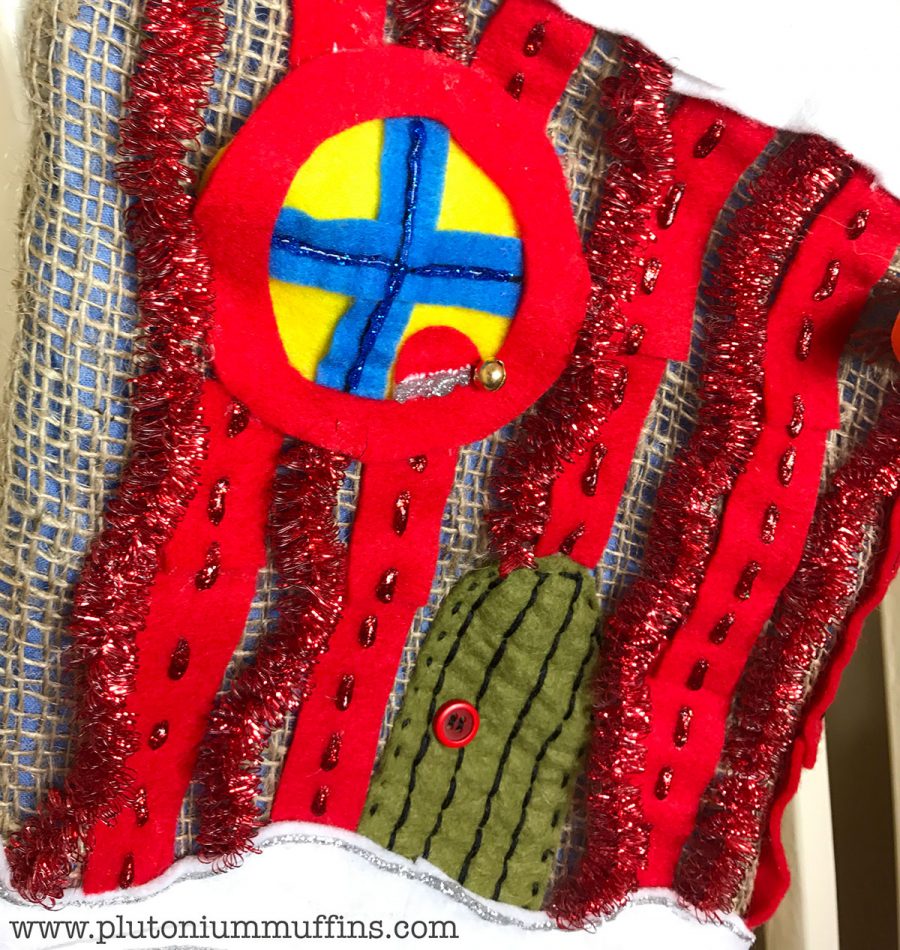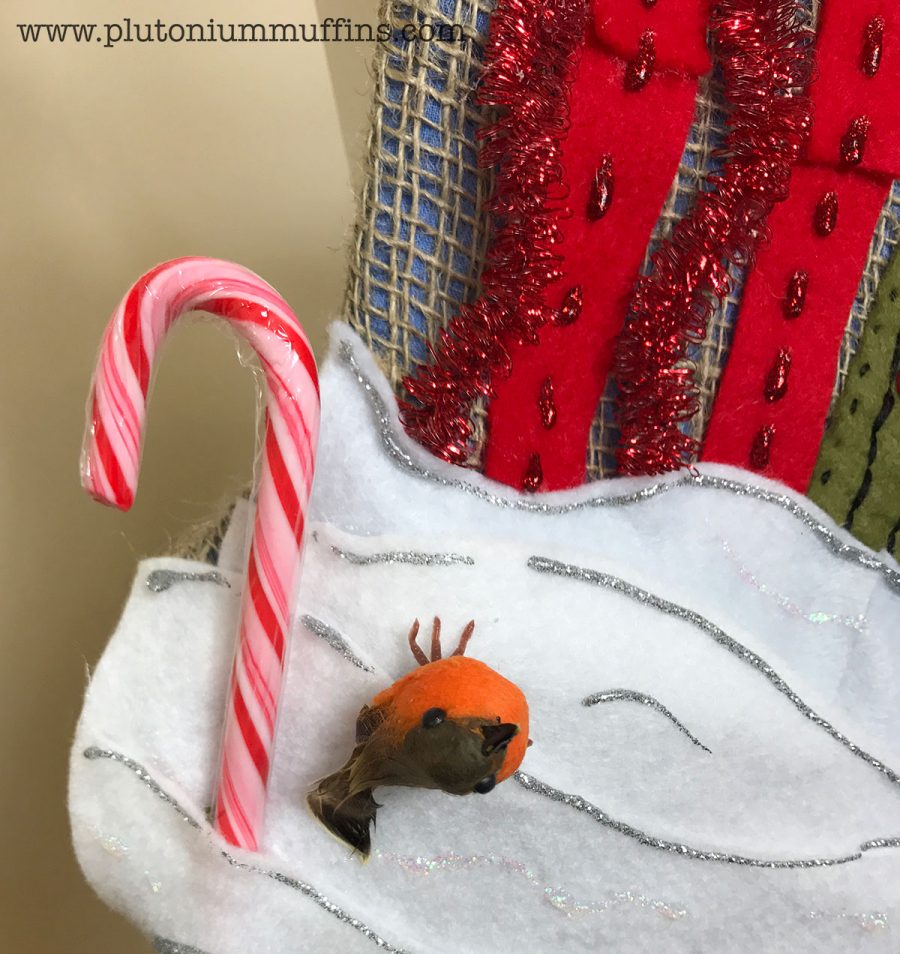 My favourite bits are the two robins and the pine cones, which I just had to cover in glitter. I had great fun, especially as I free styled and let things come to me as I played. I'm usually a 'plan it all out in minute detail' kind of person. It's been a refreshing day just messing around with some crafty bits! I covered up all of my stitching with glitter glue and then regretted it straightaway. You win some you lose some!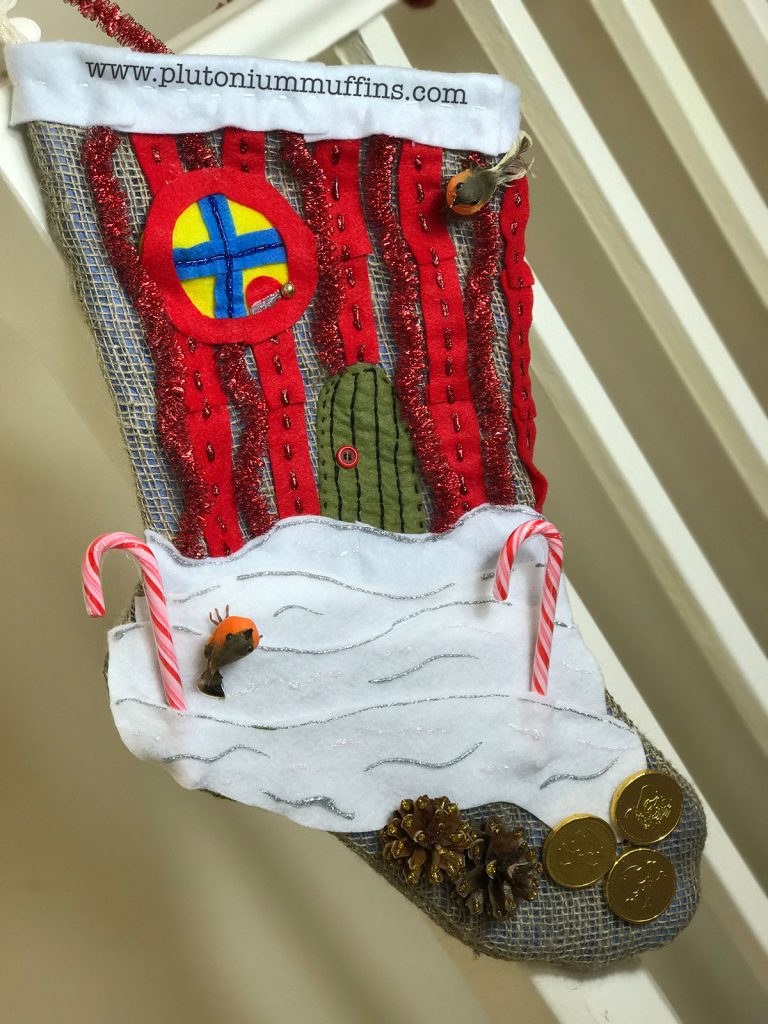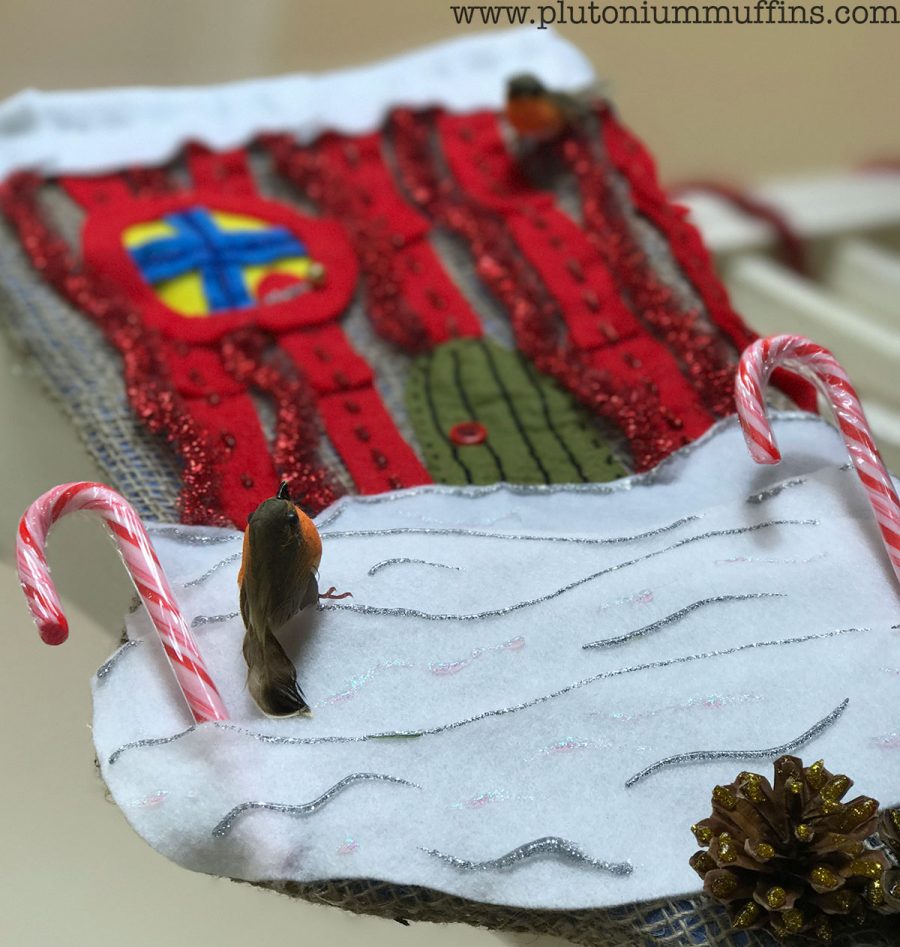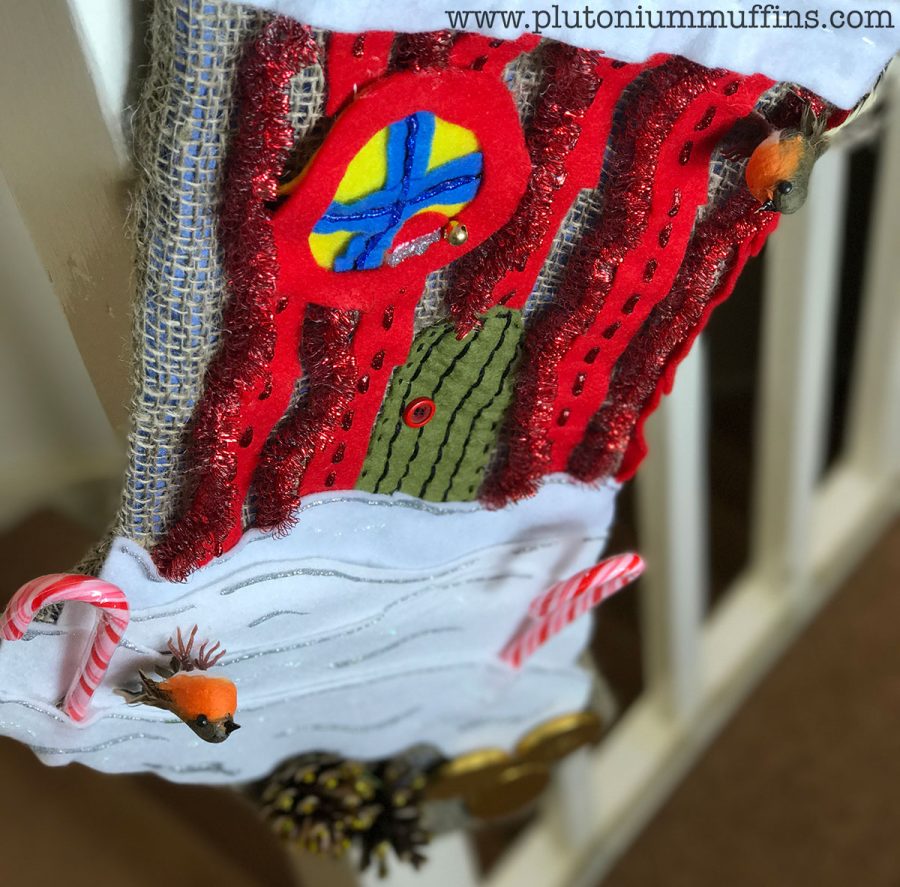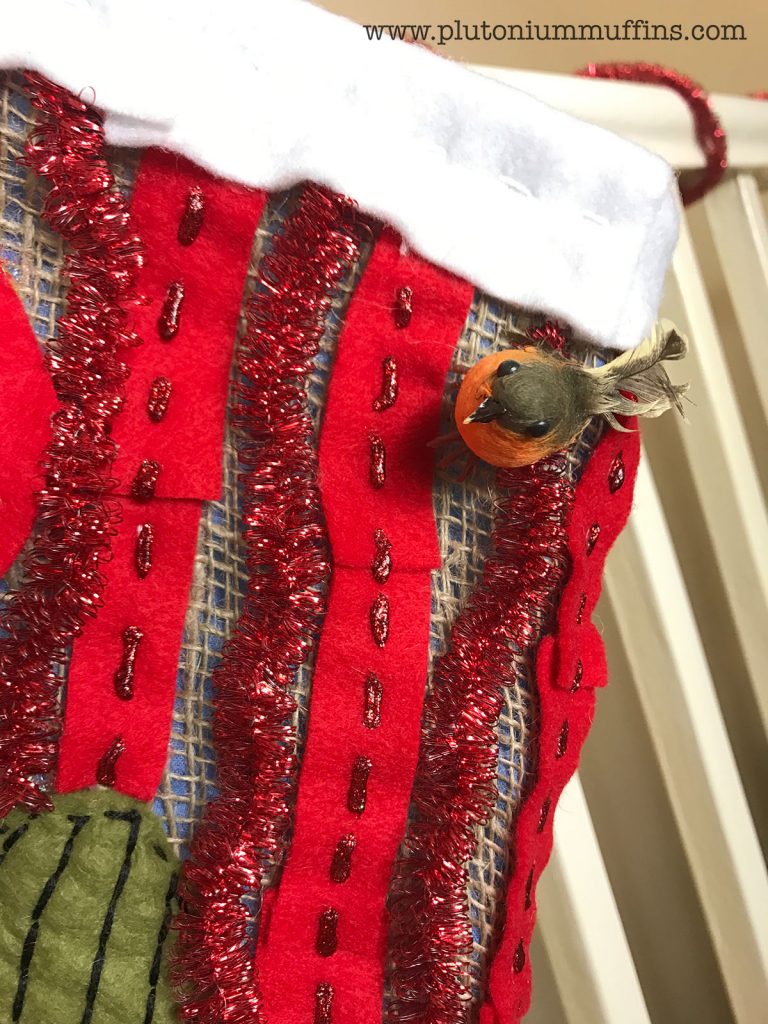 I can't emphasise how much I loved this stocking, both from a 'grab some craft bits and go nuts' point of view, and for the finished product! If you find yourself with several hours free next December, grab some scraps of fabric and some spare decorations, and go nuts! You might be surprised by what you produce.
Much love,
Corrie xx