I have a finished object – a little hedgehog! Sorry, it's not knitting, but cross stitch instead! I am still working on my knitting, but it's all top secret at the moment as I am doing Christmas gifts…surprise, surprise.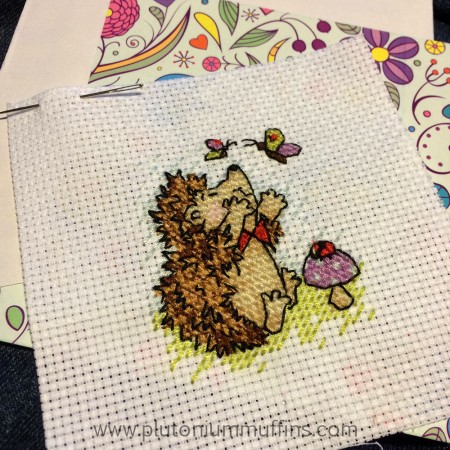 A Birthday Hedgehog
I bought "The World of Cross Stitching" by Immediate Media from Sainsbury's a few weeks ago, and got a free card kit with it. This kit is from the same publishing company, but associated with the sister publication "Cross Stitch Card Shop" – I don't know why the kit was in a different magazine, but I'm not going to complain!
I can't find a reference to this pattern anywhere online – I can't even tell you who the designer is, but I don't think I'm too mad about that, as I didn't enjoy stitching it very much…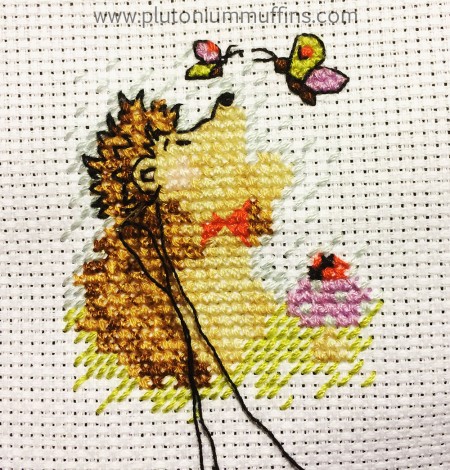 Although the picture is very cute (I particularly love the ladybird on the toadstool), the outlining was an absolute nightmare! There were a few fractional stitches in the stitching itself – and then when I got to the backstitching, I nearly cried. There are barely any sections that are not outlined using the actual full stitch holes in the Aida fabric, and it was very difficult to pierce the fabric supplied – particularly with a very blunt needle that was supplied with the kit!
So, it's a finished object that I don't love – but I finished it in time for John's Grandma's 95th birthday, and I was so excited to be able to give it to her when we had a big family lunch this weekend! I had to get creative with mounting it, as the glue I found in the cupboard was a little old. I haven't appreciated that the work isn't done when you've finished the stitching as much as I did this weekend!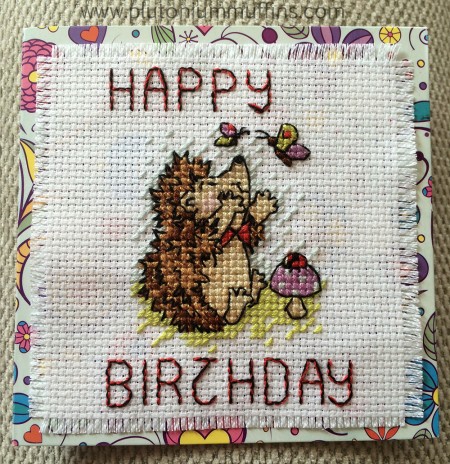 I'm working on a nice big cross stitch at the moment, with a beautiful dragonfly on it – watch out for an update of that soon!
Much love,
Corrie xx
PS like chocolate? Enter my giveaway for a free gift hamper full of luxurious chocolate…closing on the 21st of October 2015.