Happy November to all of you! I heard my first Christmas song on the radio this morning as I finished up my history scarf…disgusting!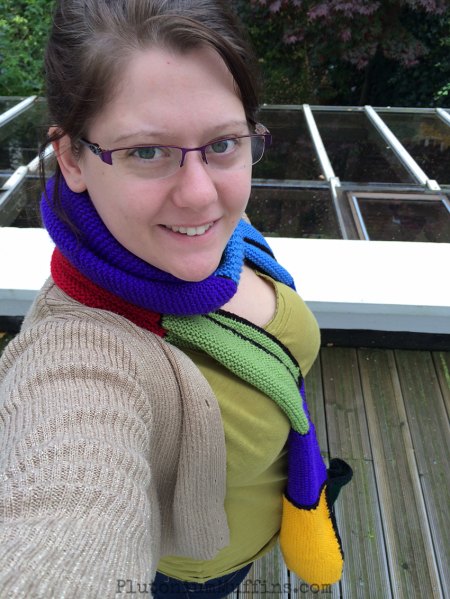 November Resolutions
I want to do a quick set of Resolutions for you – I will recap my October ones soon but for now, these are mine for this month:
Make scarf for JS
Make three more Christmas presents
Short and sweet but fairly big again…before you get too excited about the big reveal for how I got in October I will say that it was my biggest failure of a resolutions month since we started. Le Sigh!
Join the group on Ravelry and stick your blog below on Mr Linky if you write a Resolutions Post!
FO Friday – History Scarf
Bit of an odd one this one – it's the history scarf. You've never seen it – I didn't even know it was going to exist before Wednesday night. I got out the patchwork blanket I've been working on with my gran for years, expecting to start sewing it up again, and I discovered a pile of oddly sized squares.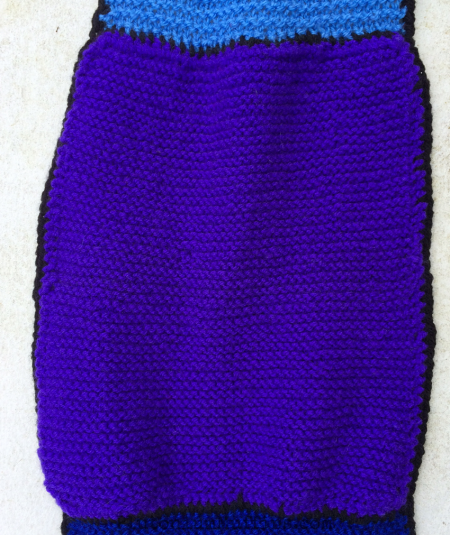 After a minute of thinking, I realised they were my first ever swatches, or 'tension improvers', done by an enthusiastic Corrie when I realised my tension was awful and decided I needed to have a go at sorting this out.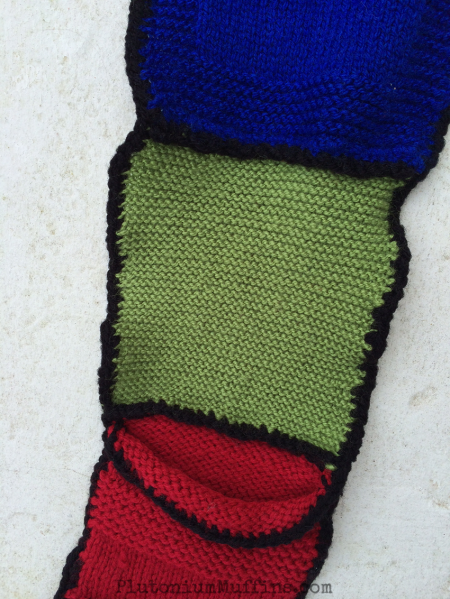 They didn't fit in the blanket and I didn't know what to do about this, but as I sat on the sofa having had a big discussion about how it's getting colder and it's now scarf weather, I had my flash of inspiration.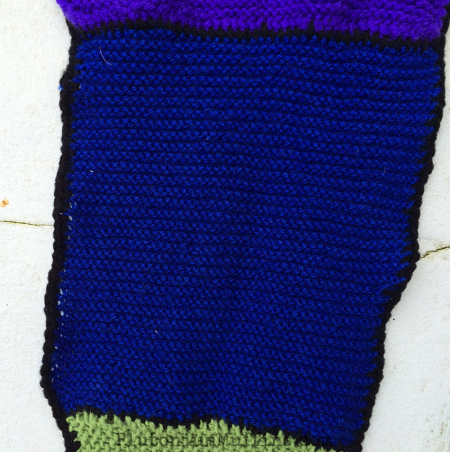 I am truly awful at crochet, and in the spirit of the squares, I decided to crochet them together to try improving my crochet skills, as well as giving it a lovely border.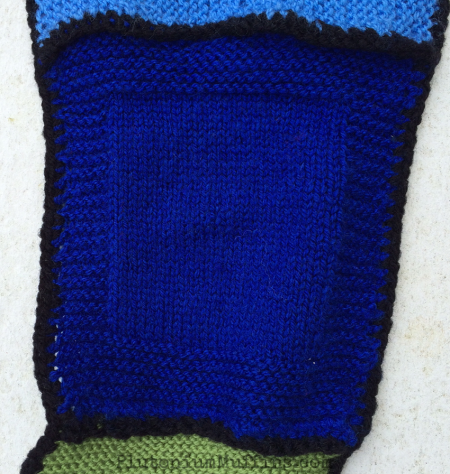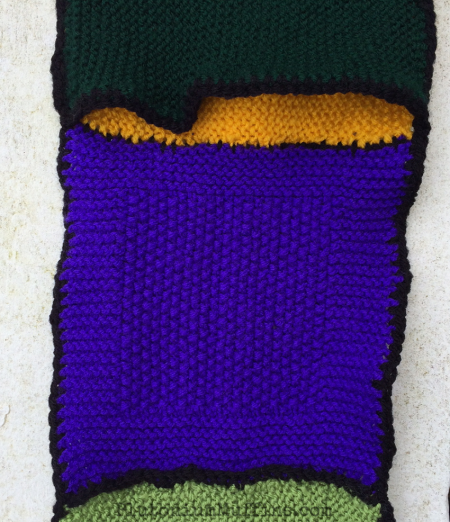 I love the final result. It is no high-fashion piece. It has holes and it has very strange tensions in places, even a few areas where I seem to have got bored of going one way in the middle of a row and have reversed direction. However, I started work on this thing so many more years ago than I care to remember and it is a massive part of my history now.
We love this story by reader @plutoniummuffin, on a scarf that's been 14 years in the making! http://t.co/ejr8L3mCX9

— Let's Knit magazine (@Letsknitmag) November 1, 2013
— Let's Knit magazine (@Letsknitmag) November 1, 2013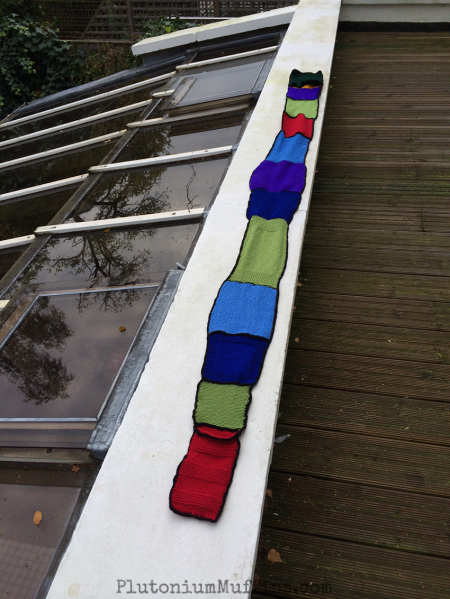 I can say with some confidence that I have an even tension now, and the first steps towards that were taken with my scarf. It is the best length scarf I've ever had and I even put pockets for my hands in it. I *love* it.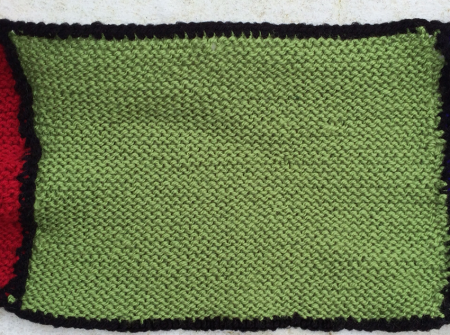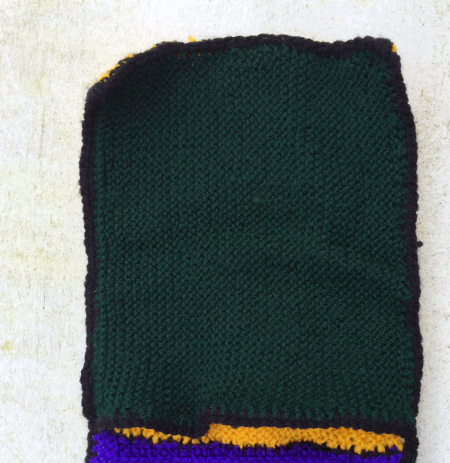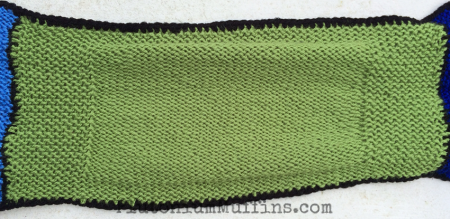 I'd also like to show you a series of 'selfies' which I thought were hilarious.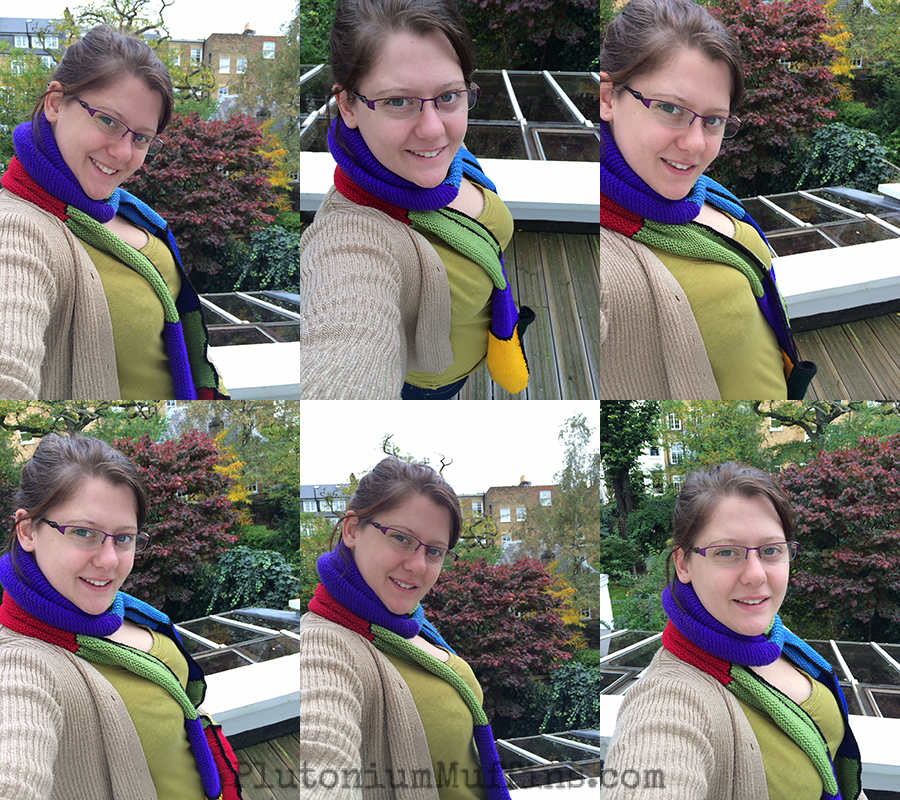 Has anyone else found that when you are concentrating on trying to photograph what you are wearing to show off the knitting, all other thoughts go out the window and you end up with a truly wonderful and disastrous series of photos?
Much love,
Corrie xx