After my long and involved post yesterday about how I am going to be working on Erquy, Garland and a few 'long-term' WIPs, you may be surprised to learn that I have cast on a Hitchhiker! Despite the contradictions, I am actually counting this as a long term project – I bought this yarn from America about a year and a half ago, intending to jump in on the Two Knit Lit Chicks gradient shawl knit along. Unfortunately, by the time the yarn actually got to me (cross-continental shipping is a pain in the backside!!) the KAL had actually finished, and I never started.
The yarn has been sitting in the stash trunk ever since, and I am thrilled to say I have finally cast it on!
There is an update to this post here.
Hitchhiker
It seems that most people I know who are seriously into Ravelry, have knit or intend to knit themselves a Hitchhiker. It's primarily a garter stitch project, with the only other stitches being a single purl on each row, one type of increase, and casting off. I elected to do this shawl after Unravel – one of the girls we met up with there was wearing hers and it was gorgeous. I'd been admiring it from photos online, and I was sold after that.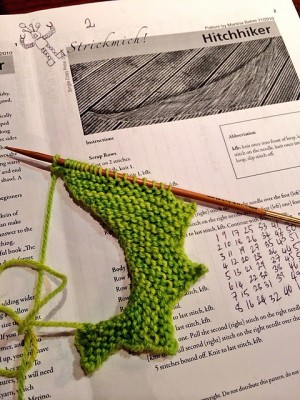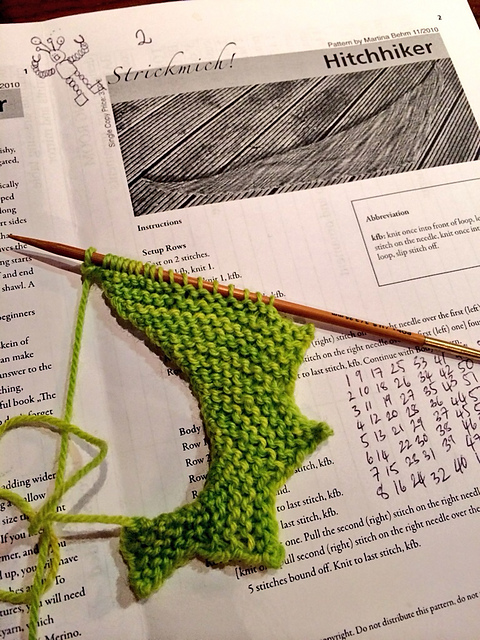 Isn't it interesting how a project you've been eye-balling for ages can be made or broken once you see it in person?
Anyway, I cast on one evening when I was feeling relaxed and ready for some easy-going mindless knitting. I very quickly realised that this was not mindless knitting. It's only an eight row repeat pattern, but I got incredibly confused and lost my place very quickly – eventually ripping back the whole thing and actually writing out a chart to keep track.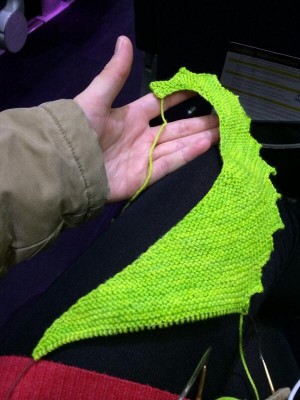 I recommend doing this (the shawl AND writing out the chart)!
I'm now in Berlin, with plenty of down-time after work and so forth (I am at a trade show), and have brought the Hitchhiker and Garland. I hope to make good progress on both!
Much love,
Corrie xx