I have been really getting into the homemaker spirit recently, with many happy hours being spent on the websites Gumtree, Ebay, Argos and IKEA browsing furniture and imagining ways to make home more comfortable.
Mental health issues aside, it's always nice to have a comfy home, right? In fact, a pin that I added to my profile in a spate of "I want all the things" has become my most pinned pin on Pinterest…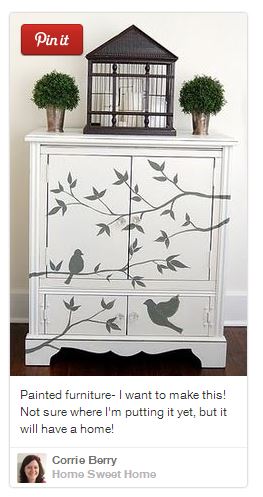 Homemaker rocking chair
While I've been rearranging the flat with abandon, I made a chair-sized space in our room which needed something I could sit in and knit while reading or similar. Ever since that day I have been searching for a rocking chair or small easy chair.
I finally found one this weekend – advertised as an upcycling project on Gumtree, it was just a 6 minute drive from our flat. At £20, I couldn't say no. I picked it up last night and brought it home.
It is rather bigger than I thought it would be, and it sits very low, which is fantastic for my short legs! The seat is nice and wide – there is no constriction of my child-bearing hips (ahem) and the vertical poles at the back are nicely placed so they don't hurt my spine.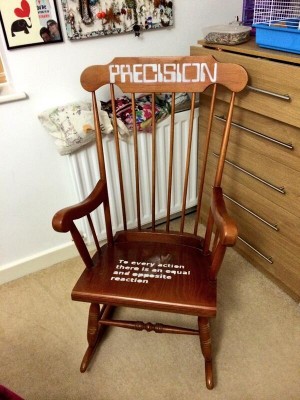 It does need some work rather badly – this stenciling has got to go – and I haven't decided if I'm going to paint it white or just sand it and then varnish it. I could also use my Dremel to put some beautiful designs in it…what do you think?
For the moment, I have found a good way to free up some storage on my book-cases, and hide the slightly offensive sight. They look happy, don't they?!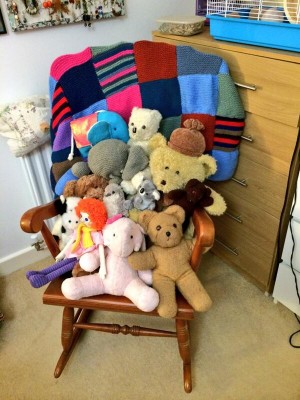 Much love,
Corrie xx