I hope you all had a fabulous weekend. I spent the weekend in Glastonbury with my orchestra — we performed a concert for the Paddington Farm Trust, and raised around £300 for their charity! It was really good fun.
I spent much of the weekend knitting some legwarmers, and when I got back, I was very unprepared for the city-life of London!
Hospital Hat
I actually wanted to talk about a hat I knitted during a hospital appointment last week. It took me about half an hour, using a set I got with Let's Knit magazine over Christmas. The yarn was specially distributed with the magazine, and the pattern is lacy with 9 mm needles.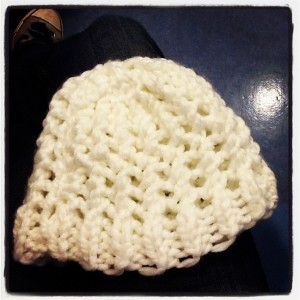 I say the Hospital Hat took about half an hour. I am not kidding. The yarn was gorgeous, soft and beautiful. However, I didn't get enough yarn with the magazine, so part of the reason it was so quick was because I actually ran out of yarn. I was well into the swing of things, and a bit regretful that I had to stop so quickly.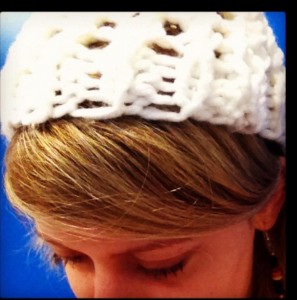 I love it, although the hat is a bit small for my fat head. I'm going to knit some flowers that I will sew onto it, and hopefully get some sort of thing to get it to stay on! Does anyone have any ideas of something to hold a hat to the head?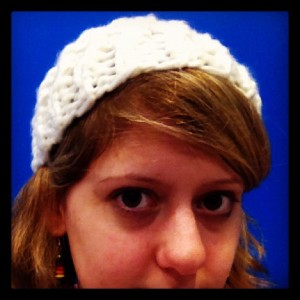 I have been wondering recently whether or not people ever actually knit the things that come out of the magazines? I have so many packs of yarn that I get free, and sometimes (especially if the pattern is for a baby garment) I just don't fancy knitting the items that are suggested. Luckily, I can make hexipuffs out of the yarns. I never run out of ideas on what to do with spare yarn!
Much love,
Corrie xx