I have a confession to make. When I'm really involved in a project, I don't eat properly – which means that pretty much all of the time, I don't eat properly. This is largely a knitting problem – you know what? It's difficult to eat messy foods while knitting. Actually, it's hard to eat anything.
I started a big discussion on this on Ravelry a few months ago. The thread can be found here.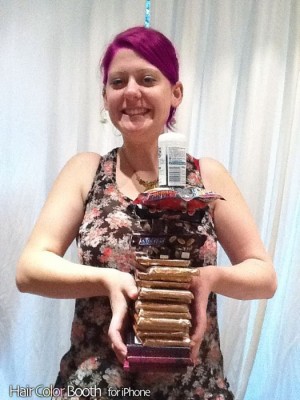 Today, I may have found a solution. You see, one of the problems is also cooking. I don't really do junk food, or microwaveable food, or anything similar. If I eat, I make it myself…or I eat chocolate. I invented (in the loosest sense of the word) a tasty new pasta dish today that took about five minutes to make. It was healthier than chocolate, and contained all the things I normally neglect to eat…
Plutonium Muffins Pasta
Don't worry, there is no plutonium nor any muffins in this pasta! I like the alliteration of Plutonium Pasta, though…
Ingredients (for two people)
250 g fast-cook dry pasta (I used Penne)
1 tin tuna in spring water
Handful of frozen peas
200 ml cream
Handful of grated cheese
Method
1. Boil water and place in a pan on the hob, along with fast-cook pasta. Walk away and knit a row or two on your latest project.
2. Return when pasta has cooked and drain it. Place the pasta back in the pan along with your peas, cream and tuna. Put it back on the hob and stir as it heats up to avoid burning the pasta.
3. When steam starts rising, turn the hob right down and put your cheese in the mixture along with salt and pepper to taste.
4. Mix it up and serve! Would go well with white wine, a cup of tea or even a pint of ale…
I'm not kidding. It took me at most five minutes of actual standing in the kitchen time to make this. I never eat fish, I struggle with vegetables, and I hardly ever eat lunch – at all. This is a break-through, and if I had been feeling less lazy, I would have put a can of sweetcorn and probably some other frozen veg in as well.
I hope this helps you eat a bit better, I know it will me! Variations of fish would probably go down really well…I'm totally trying it with salmon next time.
Much love,
Corrie xx