If you were paying attention yesterday (oi, you in the back row!) you would have seen my post about some of the accomplishments my people have been making with respect to the June Resolutions they all set. You can join the Monthly Resolutions group and get in on the action HERE.
I do have an accomplishment to boast about today – I managed to sell a book on Amazon! I'm de-cluttering again (for the millionth time…) and I have resolved to have just two boxes of craft things when we move (again) in September. That includes books…so a (so far quite small) proportion of my collection has gone up for sale and can be browsed here…
Farmers Market Bag
This project by PixieishBlonde had me giggling because of the awesome buttons! Aren't they amazing? They are place-holders until she gets some she likes, but to be honest I would commission a ceramic artist to make me buttons exactly like that!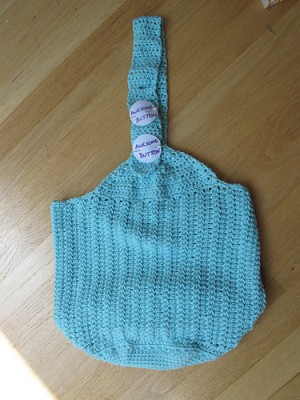 The bag is crocheted, and I can't get over this stitch texture. I felt so proud of my granny square blanket – but this reminds me that there is still so far to go!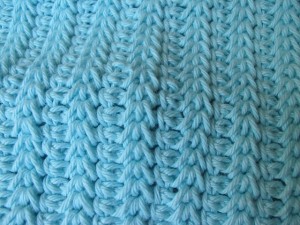 There are a lot more photos on the project page, including an incredible spiral piece. I suspect it's the base of the bag, but I would hang it on my wall. It's so geometrically satisfying!
Charity Pieces
Everyone knits for a different reason, and a lot of people do it for charity. One of our members, bigbandbrenda posted this photo, which includes six hats, four pairs of mittens and three snugs (which are apparently for babies!) all of which had been made in June. The post was made on the 6th of June – that is terrific output!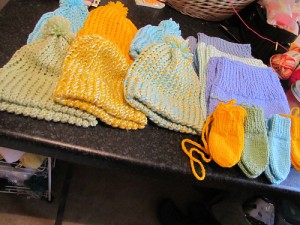 I love the colours and the pompoms on the hat – who doesn't love a good pompom – and I can't wait to see what else happens this month. This is such a fantastic thing to do and the generosity and compassion for fellow humans that she shows absolutely warms the very cockles of my heart.
</gushing>
Celebratory Socks
The Celebratory Socks by yarnie52 have to be one of the best socks projects I've ever seen. The stitch definition fantastic, and that pattern is incredible.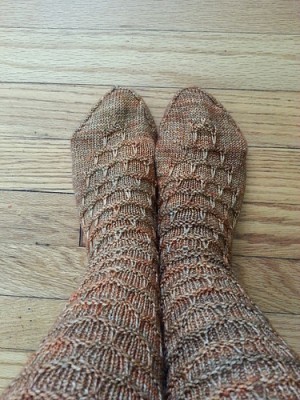 The socks (project page here) were to celebrate yarnie52's submission of a portfolio for the Master Hand Knitting Level 1 to the TKGA, which is an incredible achievement. I have thought about doing this a number of times, but the financial and time requirements have put me off, so I am in awe. There is more information here.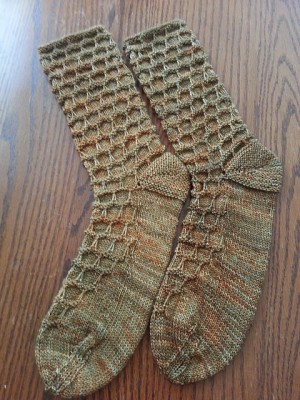 I also love that the pattern reminds me of Sheldon! I had forgotten about that particular project and am going to knit some costumes for Sheldon…
Other accomplishments
There are many other accomplishments in the accomplishments thread in the group – some of these include:
Cleaning out a car on the hottest day of the year
Organising book-cases
Measuring mill ends
Finishing a woven prayer shawl
Knitting for a partner who is less than impressed by cleaning… (more info here…)
That's it from me for this week! I'm off to Kent for the weekend to look after our old friend Tommy the Dog, and I'm looking forward to doing nothing but sun-bathing, knitting, walking in the gorgeous woods and watching the football! (Yeeeeeah, England!)
Much love,
Corrie xx