It's official! I've decided to do a knitalong, which I intend to start knitting on the 15th of June (this Friday). So far I have a grand total of…zero…people signed up! I'm incredibly disappointed, but given that I only decided to do it last Friday, maybe that's to be expected.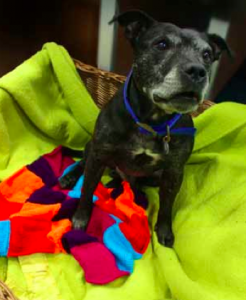 A brief summary of the BDCH (Battersea Dogs and Cats Home) can be found in last weeks Friday Inspirations, and the pattern for this knitalong can be found here. Designed by DeadlyKnitshade (who sometimes masquerades as Lauren O'Farrell), it is a patchwork design with a number of paws on it, from tiny to big. They are designed to be given to pets looking for homes while they are at the centre, then taken with the pet in order to make sure they have something comfortable for their new home.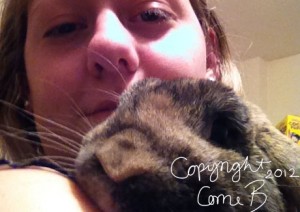 The project itself is very close to my heart. I've traditionally been a rescuer of animals, from fluffy rabbits to bedraggled bush-babies, abandoned squirrels to young, fearful kittens. Despite limited space we currently home bunny and guinea-pig, and I have been told NO MORE PETS by JS. So, it's nice for me to get involved in a project which will directly help a poor animal requiring a bit of TLC.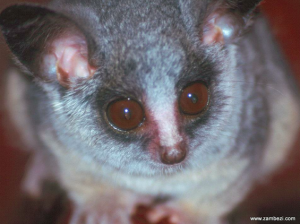 The blanket itself doesn't look too complex. I've attached a picture from the pattern itself, courtesy of the BDCH and/or DeadlyKnitshade, and for someone with limited time and experience knitting patchwork stuff, it couldn't be simpler. It requires knit, purl and sewing, and that's it. I'm choosing my colours at the moment, and am making myself wait till then to start actually knitting so that I don't give up on my current commission, which I have done before and learnt my lesson in that respect.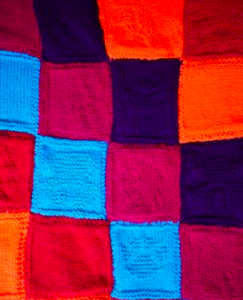 If nobody joins me, I will be deeply saddened – but will knit it anyway, and post progress up here and on the Ravelry thread in the new Plutonium Muffins Ravelry group. I'll also keep the Plutonium Muffins Facebook updated! I do urge you to give it a go though, especially if you have run out of projects to do for the summer.
I anticipate I will be done by July the 11th, which is perhaps slightly ambitious, but there is a good reason for it that will be explained at some point in the future.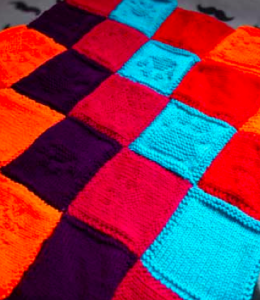 So, are you in? If you're not, and even if you're not a knitter, please, please, please pass the details on so that I can have a community to work with, and so that the lonely animals at the BDCH can have more blankets and you can have that warm, squishy feeling of having done something good!
Much love,
Corrie xx