My local yarn shop, Loop was the third yarn shop on Team Romney's route and I think we were lucky to find any yarn left! There was a confluence of three groups as we arrived – what a collection of yarn-crazy knitters.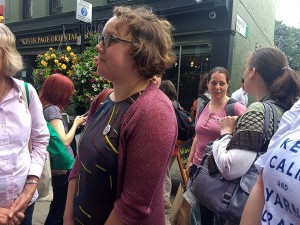 Loop
Located in Camden Passage, a little side-road just along the way from Angel Tube Station, Loop is an unassuming shop from the outside: entering it takes you into a magical world of luxury yarns, knitting equipment and knitted samples that the hard-working staff seem to produce in no time at all. It's quite easy to miss, so keep your eyes peeled if you ever go in search of it. I forgot to take a photo of the amazing window display! Argh! Here's a stock one.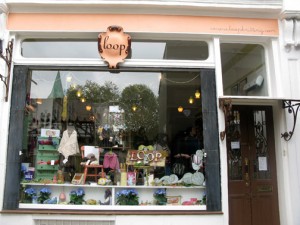 With two levels, the bottom of the shop is dedicated to the finer yarns and all of the equipment – from gorgeous Freia Ombre Lace, to the coveted Uncommon Thread in a variety of super bright colours. Loop also stocks Chiagoo's, and as a result has become my regular for whenever I need replacement equipment – I used to have to wait for the various knitting shows, an unwelcome interruption in project work.
Upstairs, the bulkier yarns are found – double knitting upwards, as well as a large workshop table and all of the books you could possibly want! There is also a little sofa for the weary knitter to take a load off. There are so many bits and pieces around the place, whether they are knitting materials or quirky decorations, it is a veritable Aladdin's Cave – I find new things every time I visit.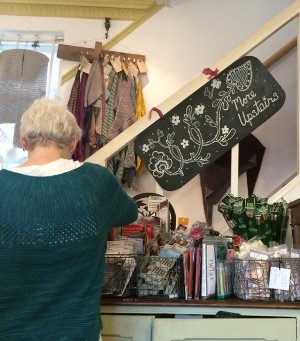 The mind behind Loop is Susan Cropper, and she seemed to be in seventh heaven with all of us buzzing around on the Yarn Crawl. Team Romney seemed to go into overdrive and I managed to restrain myself, while enjoying the sight of my teammates with yarn literally tumbling out of their arms. I was proud to enable them; my knowledge of where certain brands were located coming in very useful!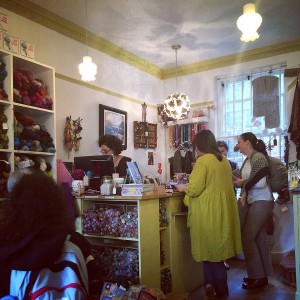 The decoration of Loop is one-of-a-kind, with this amazing cabinet full of antique bits and pieces that are all available to buy for great prices downstairs. There are a large number of the most incredible buttons below and around the till, and some of the crawlers enjoyed digging through these and finding the perfect accompaniment to projects. Custom-designed needle charts were also popular, while I admired a set of blocking wires that had just come in and dreamed.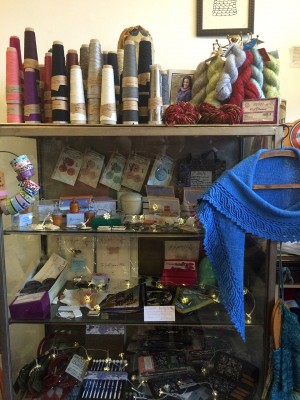 Samples dotted all over the place, crochet blankets, use of a swift and ball-winder, and a wonderful atmosphere made Loop a great third stop in the day. The staff were happy to see us and I enjoyed the chaos!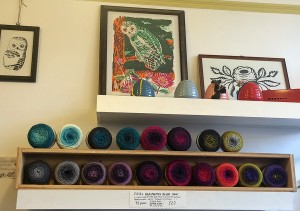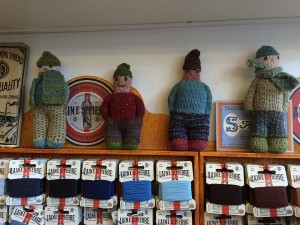 With Loop ticked off the list, the team went on to Wild and Wooly. I did not make it with them; I wanted to see the shop and was saddened not to get to it on the yarn crawl Saturday, so I intend to go visit it myself one day very soon!
That is not it for the Yarn Crawl blog posts, though – there will be a giveaway for you all tomorrow, so don't forget to come over and investigate it!
Much love,
Corrie xx