I've decided I'm going to knit a shawl! This is a long-standing ambition of mine, as shown on my Ravelry page. I said I was going to do a new giveaway today, but I am going to the Weald of Kent craft show tomorrow and I might find something more topical than what I have to offer at the moment…so, watch this space! If I do find something else, the book I've got reserved for you at the moment all will be given away next month.

It's in the Bag – Knit 'n' Caboodle Shawl
When I was at Towersey Village Festival a few weeks ago, JS took me around the craft fair. It was full of 'normal' festival stalls, which never really inspire much by way of DIY fibre-craft — but I did find the Knit 'n' Caboodle Stall this year. They had some absolutely gorgeous displays, and lots of delicious, delicious yarn around. Most striking was a big multi-coloured shawl in all the colours of the rainbow, which you could buy as a kit.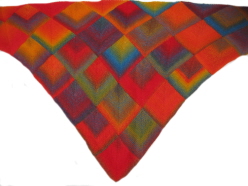 The kit was assembled with your choice of yarn, and the pattern with needles included in the price. Unfortunately, the shawl* which really caught my eye was £30, which was way beyond budget. (Have I ever mentioned my stash is too big and needs to get much smaller?) JS dragged me away, and we carried on partying.
Drawn back to the stall the day after, however, I spent a bit more time perusing the kits. JS hadn't joined me this time, and I spent a good fifteen minutes fingering the various yarns and dreaming about what I would buy if rich. In this time, I discovered another shawl**, with a beautiful variegated yarn that was one skein. Best of all, the kit was £10 — pattern, 5 mm circular needles (although knit flat) and I got to choose the colour scheme of the yarn.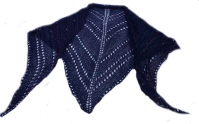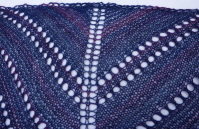 I went for green, naturally, and carried the kit around me for the rest of the festival intending to cast on and finish it while we were there. I was too busy working on the jumper, though, and it got forgotten.
I'm nearly at the end of the knitting stage of the Dragonfly Jumper now, and my next project will be the shawl. I will call it the Towersey Shawl, and with the completion of it, one of my knitting goals will be realised.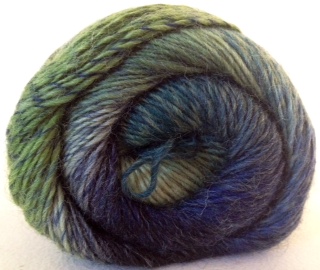 Hurrah!
What were your resolutions for your knitting this year? Mine was simply "knit something for myself", which I will meet with the completion of the Dragonfly Jumper.
Much love,
Corrie xx
* The colourful shawl was the "Zauberball Shawl"
** The kit I bought was the "Shawl from One Ball"