October took me a bit by surprise, apparently – I have only just realised that today is the first! This year is flying by, I'm sure it was May like, last month. Anyhoo, time to set my Resolutions down in writing for those of you who aren't on Ravelry, and if you don't listen to the podcast…this is going to be short and sweet, I got me some knitting to do!
If you're interested in joining the group on Ravelry, check out Resolutions Monthly here.
October 2014 Resolutions
I have set myself a few resolutions this month – and they're not all crafty, either.
Finish Icon Dress – a stretch goal, but feels doable at the moment. I'm about 6 inches into the second half.
Knit the only Christmas Present I'm doing this year – I still have to finish up some spinning before I can get this done, but on track! I also have to pick a pattern…
Get started on rainbow fibre (spinning) – very excited about this! I'm going to be playing with colour for the first time.
Sell more STUFF – lots of things listed on eBay, hurrah. This is partly an effort to declutter, and I still have a few pieces of furniture to go on. I'm looking forward to getting rid of it all.
Learn a tune a day – I'm putting together a list of tunes to learn and have got the music book out already. I'm very much looking forward to the outcomes of this, the podcast will benefit!
I'm feeling like October is going to be a good month. John bought me the below notebook, and it's going to be instrumental in shaping my life for the next year or so – looking forward to filling it with ideas!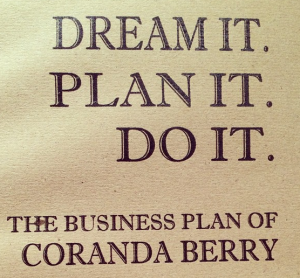 September 2014 Resolutions recap
I had three resolutions in September, and accomplished all of them:
Work on My Favourite Things KAL – success! Got loads done and put it to one side in favour of Icon Dress

My Favourite Things as it currently stands.

Knit at least two inches on Icon Dress – I blew this out of the water!

The first half of the Icon Dress

Decide what to do about legwarmers – I'm going to frog them. I just don't love them!
So, a successful month, and tonnes to look forward to in October! I can't wait to see how it all goes.
Much love,
Corrie xx