I have spent this morning going through my Ravelry queue (again) and deciding what project to cast on next. I've just finished the two biggest projects I've worked on for a while (the Towersey Shawl and the Dragonfly Jumper, watch this space for FO Friday!), and am now looking for my next victims.
I'm normally a fairly monogamous knitter – I have a few UFO's at the bottom of my pile, and I'm slowly working my way through them, but the time has come to tackle the next project. Or, set of projects; I've been commissioned to make a wall-hanging, two sets of mittens (one for a birthday present, but the recipient knows about them), and a shawl for my darling Grumpy, who just started a PhD and has a very cold office. I'm going to be travelling a fair bit in the next few weeks, and have decided not to travel with big projects anymore – so the mittens will be joining me in travelling, and the shawl will be a work-from-at-home job.
Project 1: Wall-Hanging
Following the Burgh Island wall-hanging I did for my parents, Wonder-Granhas asked me to make one for her. This should be big (as in, A0…eek) and be a farm scene with plough horses, chickens, ducks, sheep and a farmhouse. I rather suspect my main problem is going to be drawing skills – so I took a photo while on my walk last week which will become the template for the scene. This is just at the bottom of the house, and I'm going to substitue the out-buildings for the farm house we live in at the moment, as it's prettier.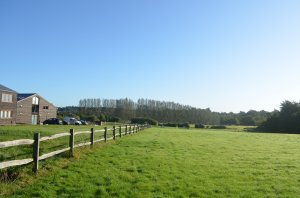 I have a board on Pinterest going for this – check it out here. Any comments and suggestions (particularly on the issues of weight and dying my yarn) will be extremely welcome!
Project 2: Mittens for Sleepy
That's right, another Dwarf has requested knitted items. The specific request was for mittens. He wanted something bright and floral, so I've picked out these two patterns from Ravelry, and need to get him to choose his favourite.
Pattern 1: Vinterblomster Mittens by Heidi Mork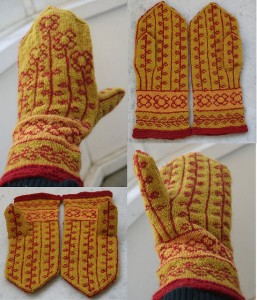 Pattern 2: Something Floral by Miranda Grant
I would also like him to choose the colours in my chosen yarn – probably Artesano Merino Superwash DK, as it's a lovely yarn and I want to love the project as I make it. Does anyone have any better ideas?
Project 3: Mittens for TJB
I made TJB a hat for his birthday last year – my own pattern, known as the "It Looks Like the Sea" hat.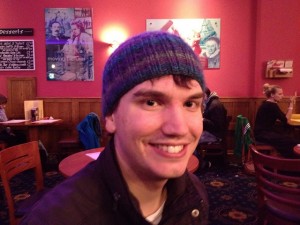 He expressed a desire for matching mittens. Luckily, I have a spare amount of that yarn that will hopefully stretch to mittens, and if it doesn't I will choose a complimentary set. My favoured pattern is Sideways by Sydney Crabaugh, as it is fingerless, which will make my yarn go further! Also, TJB uses a touch-screen phone and is a keen violinist – he may need to use his fingers.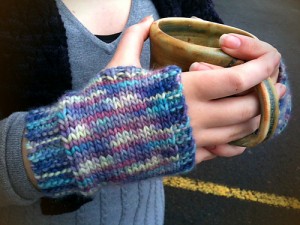 I love the design of these, and hopefully he will overlook that they aren't exactly mittens!
Project 4: Grumpy's Shawl
I have the added benefit of the pattern Grumpy chose in that it can be used in a KAL! Specifically, iMake's "Color Affection" KAL, which I wanted to join but couldn't justify buying the yarn for myself! With Grumpy's choice made, I purchased Color Affection by Veera Välimäki and am ready to go as soon as my yarn arrives.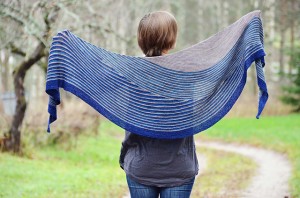 I think I'm the only person in the world who hasn't done a Color Affection yet, and I can't wait.
What are you going to work on next?
Much love,
Corrie xx