I had a moment of…I don't know, OCD, fitful-tidiness, anxiety-induced organisation mania…the other day. The result was a number of perfect balls of yarn, which JS and I both took an inordinate amount of delight in. I think the sentence that JS used went along these lines.
"I can imagine how satisfying it would be to be a cat that could play with these all day long."
Yarn Balls and other clutter
I start my new job tomorrow. Hurrah! I'm nervously excited, and have been driven into a crafting overdrive. I've completed two projects that have been hibernating for a while, and I've deciding that I will frog another one. I told JS off for leaving books lying around the other day, and decided that it was harsh of me not to have a tidy of my craft corner (I'm always going on about clutter).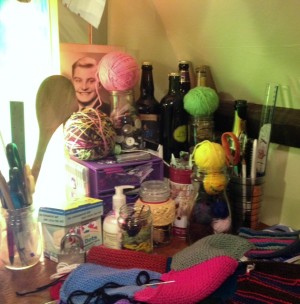 The result has been a lot more yarn-winding, a bit more craft-room organisation and just generally a bit of a clean up. I moved my stash trunk from the foot of our bed to the foot of my craft desk. I threw out some jars that I'd stained with dyes (just don't ask). I recycled about a trees worth of paper (one of my most hated tasks, there must be SOMETHING I can use paper for, something!) I dusted and wiped clean and restacked my magazines.
I found a solution to the jar hoarding problem in this arrangement.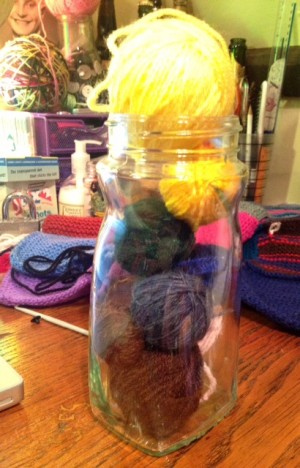 We also have a number of huge scrumpy jars lying around which I've been gazing at dreamily. This one contains coins, but wouldn't it be awesome if we could somehow cut a hole in it that would allow one to store balls of yarn in? I think this may be my next project after Christmas.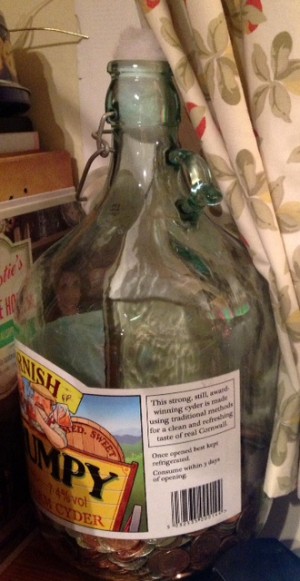 Anyway, I now feel ready to start the next phase of my life. I have a fully sorted stash. My WIP basket only has WIPs in it (as opposed to loose bits of string, pockets of rabbit food and the odd dirty sock). I have a red bag full of finished objects that are intended as Christmas gifts, or have yet to be posted.
I have a list that I've posted on my wall with the things I intend to make as Christmas gifts – and even the deadlines for each (various people are going away for Christmas…by which I mean, I'm going away for Christmas and I will have to complete all my gifts a week before the actual date).
It's been a lot of work. But my brain feels so much better as a result of it, and I'm not going to spend all the time I'm at work worrying about it.
How do you organise your crafting corner?
Much love,
Corrie xx
Post Script
As I type this, JS is sitting on our bed, appearing to meditate. He's probably thinking about his new project – he's joined the world of bloggers too!