I've been trying to learn about photography, looking for knitting patterns and abusing my sewing machine, which is going to need a holiday. As a result, I haven't actually knitted a single stitch for about a week, and I'm starting to feel that my Resolutions for May could quite possibly not be met this month – even though I deliberately tried to be fairly restrained.
We have started a group on Ravelry for Monthly Resolutions – check it out if you are interested, we are going to build ourselves a little community I reckon!
Photography
Most of the photos for Plutonium Muffins are taken on my iPhone – I have a 4S and the camera is pretty good. However, it no longer cuts it when it comes to commercial photography for sales. Wonder-Mum has given me use of her DSLR, and I'm trying to learn about lighting, ISO settings and…umm…other things that I'm not sure about yet.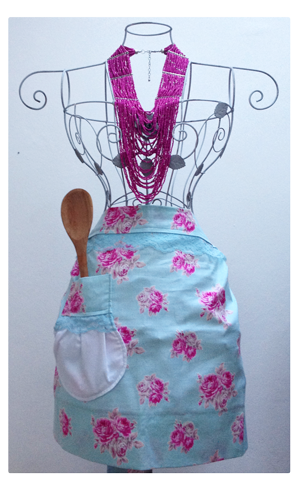 I can't show you any sample photos as I've cleverly left the camera at 'the other house' at the moment, so I'll try download them tomorrow. Here is one from my iPhone, of the fabulous mannequin that we found yesterday. Isn't it gorgeous? I'm in love with it, and everytime I walk past it I put something different on it. Things for the fair on Saturday are shaping up!
Knitting Patterns
I'm planning to put together knitting kits and I've spent a long time on Ravelry looking for patterns that a beginner could use to knit, that isn't just a square. I've found a few, but I haven't had time to knit them at all. Could anybody recommend any for me? I want to get the younger generations down in Devon knitting, but kids get bored of squares. Little help?
I thought these bunnies might be cute, and they are squares, but alternatives are always welcome.
How are you all doing? I feel so isolated and miss my little community of bloggers and friends. My internet is so bad that I can barely load anything, let alone read the blogs I'm missing out on!
Much love,
Corrie xx