Wool Week runs from the 5th to the 12th of October this year, and being in London, I am fortunate to have a lot of events available to me to celebrate! I have also decided to host a PicKnit of my own, which I am sure some of my non-knitting friends will be attending as I have promised to teach them all how to knit. This will be open to everyone, though, and details are at the bottom of this post.
Wool Week Events
The 5th annual Wool Week in the UK is being kick-started by the Wool Ride on the 5th of October in London. This starts in Potters Fields, and takes in many of the famous sites in London. Find out more here.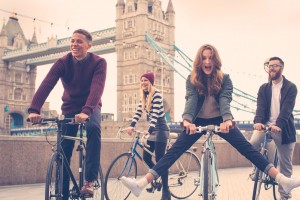 There will be a digital exhibition of the Wool Collection in Fashion, show-casing a number of fashion brands from both womenswear and menswear collections. This will be on the Campaign for Wool website from the 6th to the 12th of October.
A number of high-street stores will have events running – John Lewis on Oxford Street will have masterclasses from industry experts such as Erika Knight; Brora in Sloane Square will be hosting a scarf knitathon; DAKS are offering a 10% discount on all products during the week. The full list is here.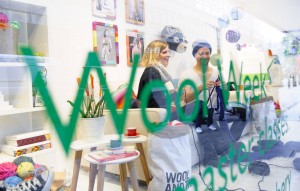 The Wool Collection: Interiors will be running in Southwark Cathedral from the 5th to the 12th of October, from 10am to 7pm every day (closing at 8pm on Thursday) and is a free exhibition. This showcases over 50 wool interior pieces highlighting the practical functionality of wool.
One Wool will also be on show over Wool Week; this is based at The Design Centre, Chelsea Harbour, and will feature fabric, furnishing, floorings and art. The online gallery will be at www.onewool.com and is the biggest online collection of wool interior items in the world.
Lovewool is the platform that I will be using, in the shape of a PicKnit. What is a PicKnit? It's basically a gathering of wool-lovers, and there are a number of them happening all over the UK.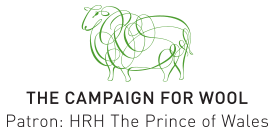 PicKnit at Plutonium Muffins HQ
The Plutonium Muffins HQ PicKnit will be on Saturday the 11th of October 2014, and will be at my flat on Holloway Road. It will start at 3 pm and is open to all – provided you RSVP!
If you already know how to knit, bring along your current WIP and perhaps some nibbles, and see you there. I'd love to meet you, and will be providing a plethora of refreshments, some sheep-shaped muffins.
If you do not know how to knit but would like to learn, bring an open mind and some nibbles! I'll provide equipment but you will not be able to take it away with you, so if you want to learn and take your things back, please go to a shop that sells yarn and needles and purchase 4.5mm knitting needles and some double-knitting yarn (preferably wool) in the shade of your choice. Debbie Bliss does some great, affordable British wool and is a well-known and trusted brand.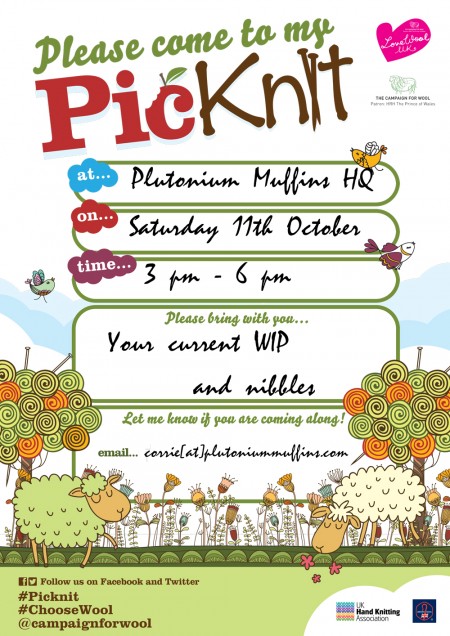 If you reach 6 pm (the stated finish time) and decide you haven't had enough, common Saturday night activities in the John-Corrie household include watching Dr Who, spinning, playing board games and much hilarity, all over a bottle of something. If you would like to join in, you are more than welcome. Please bring your favoured (alcoholic) beverage if you are of that persuasion – if not, a currently teetotal Corrie will have a selection of soft drinks for you.
So, that's that! Do not forget to RSVP, we have a small flat and if a hundred people decide to come, I may have to book out the nearby community space. This would be awesome, the more the merrier – shoot me an email on corrie[at]plutoniummuffins.com.
Much love,
Corrie xx