I am extraordinarily pleased to announce that I have published the knitting pattern for the Customisable Gadget Case!
Please open this pattern in Adobe Reader to allow the interactivity elements to work correctly. This can be downloaded for free here.
How was the Customisable Gadget Case conceived?
For Christmas, JS asked me to knit him a laptop case. He had two criteria:
He wanted it to have ribbing (I was impressed that he even knew what this was).
He wanted an Apple logo on it.
I went off to Zambia with this in my thoughts, and knit the entire case while I was away. I was basically doing some trial and error; and I came up with the original. I didn't want to do normal ribbing, so I did mistake rib-stitch, as I prefer this in terms of keeping my interest while knitting for a long time.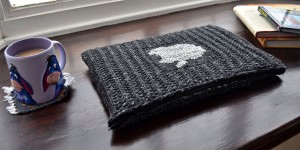 When I returned from Zambia, JS suggested that I write the pattern down and share it with all of my readers. I decided this was a fantastic idea, and wrote down the pattern, which I had recorded while I was away in case I made any mistakes. With the pattern written, I wanted to try something different; after all, I had made JS a laptop case, I didn't really want one, but I wanted to knit something else.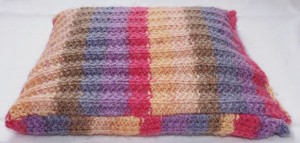 The Customisable Gadget Case was born as a result of this. We are an engineer (me) and a mathematician (JS), and we sat down for a night and worked on the maths. It took an entire six weeks to get this right – with test-knitters and trial and error (I ended up knitting five iPhone cases before I was happy!)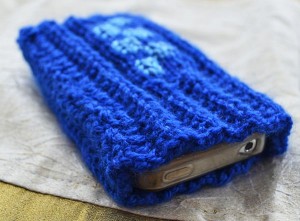 Where can I get the Customisable Gadget Case?
I've now published the pattern on Ravelry. It's free. I used to sell it, but to be honest, I now don't know how I ever justified this to myself…so you can just click, download, put your data in and get knitting!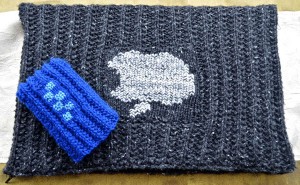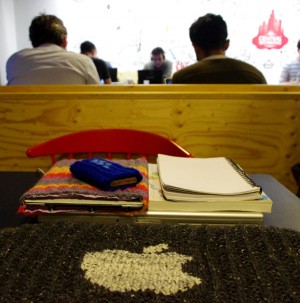 Please do feel free to leave feedback. It can be found on Ravelry, or you can leave a comment on Plutonium Muffins or send me an email (info [at] plutoniummuffins.com).
I loved making it, I learned a heck of a lot, and I love the pattern. There will be more of these in the future!
Much love,
Corrie xx