I'm pootling along with my two-at-a-time socks and Garland, so I didn't want to post anything yesterday as there's not much progress for an update…instead, I decided to show you all some of the progress the people in Resolutions Monthly have been making on their June Resolutions!
Hefty Chihuahua Sweater
This is by Raveler tsaria, and knitted for Wiggles the Chihuahua. Isn't it adorable? I love those cables. The project page for this is here, and includes some cute pictures of Wiggles! You can also find the pattern on the page.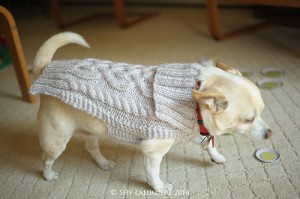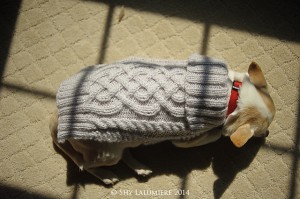 It only took tsaria a week to knit!
The Zoomies
The Resolutions Monthly Moderator SugarAngel made this incredibly bright and cheerful blanket, brilliantly called "The Zoomies" for a baby. Scrolling through the project page shows a really fantastic progression as the blanket grows!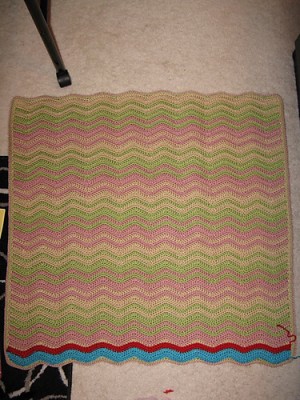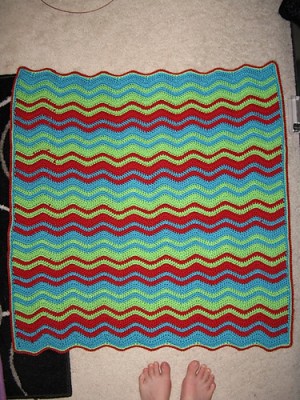 This may be the next crochet pattern that I try…someone, get pregnant quick so I can make you a blanket! Heehee.
Another nice ribbed sock
moo2moo's amazing pair of socks really caught my eye. They look scrumptious! Apparently her daughter's do not rate them…they have no idea, do they?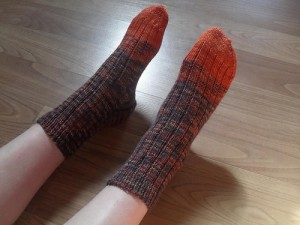 I think that they look at bit like the embers left over in your fire just before you're going to bed – bits of grey and black everywhere with a peep of the brightest red at the bottom.
More Resolutions, more!
There are a lot more accomplishments in the Ravelry group – I will give you all a recap of some more tomorrow, but for now, why not join us and show us what you have accomplished!
Much love,
Corrie xx