Doesn't the idea of a Sherbert Cushion sound delicious? Well it's very soft and squooshy and gorgeously coloured, and in my opinion is as delicious as yarn and stuffing can get. It looks lovely on our (new) sofa!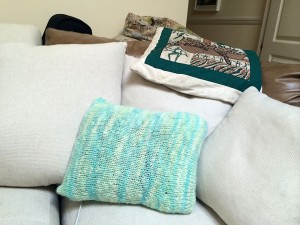 I will try do a nice post on our new flat soon – I'm sure you can imagine exactly how many boxes are lying around at the moment…
Sherbert Cushion
It's getting a bit boring doing this whole recap thing – one day I'm going to invent a fun way of doing it – maybe I'll start doing FO top trumps! That's actually not a bad idea…watch this space…
The yarn was Cheviot fibre, spun using rolags I had hand-prepared myself from a fleece I received with my spinning wheel. It was love at first sight – and then we had a disastrous attempt at dying which ended up with me even more in love with it than I was before! Despite the disaster, a video of which can be found here.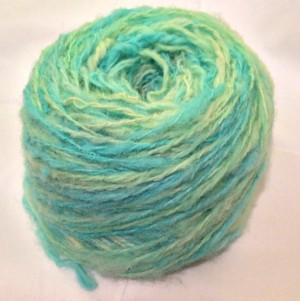 I am sure this dye is not colourfast. Hopefully the cushion won't be going for any baths anytime soon – but it will be something to think about for the future, in any case. We tend to be a bit clumsy around here with liquids, so maybe it's a good way of trying to train ourselves to be less clumsy!
From the state of it in the ball, I was convinced the yarn would be fairly scratchy and horrible when I knit it up, but I didn't let that deter me and the knitted fabric is surprisingly comfortable. I don't think I would want a jumper out of it, but as a cushion is it perfect. It's a little rough, but very warm and soft. This is probably due to my poor spinning skills at the time, and the fact that I spun it woollen, so it's a bit airier and fluffier than the recent yarns I've spun.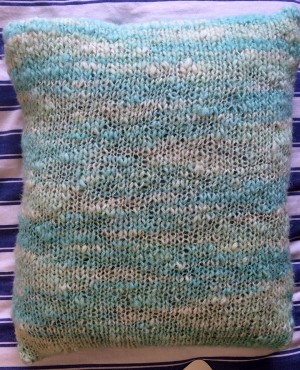 I love the self-striping effect (I couldnt really remember how I dyed it, so that was a nice surprise) and the colours are very 'me' – although the bit which in real-life looks like a dirty cream was supposed to be green. I refer you back to the dying mishap again!
This is a finished object that is going to stick around for a long time and be very much a part of my life for years, I hope. I'm super proud of it – and am raring to go on my next handspun, as soon as my new yarn scales arrive!
Much love,
Corrie xx