I thought that I ought to write up a blog about the Space Invader Mitts, as I have not mentioned them once, and they are probably the project I liked the most last year! I made these for JS, as I decided he needed a suitably nerdy Christmas gift following the Tetris Scarf.
I was casually flicking through Knit Today, the November 13 issue, trying to find a hat pattern that I could knit with the remnants of yarn from the Tetris Scarf, when it fell open (figuratively speaking…I was working on my iPhone) on page 50. My disbelieving eyes beheld a plethora of patterns for Space Invaders accessories…well, a hot water bottle, mitts and a phone cosy. I was sold.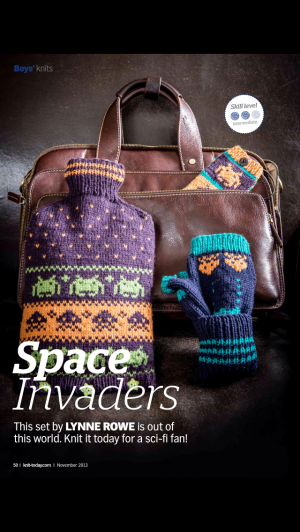 Space Invader Mitts
The pattern uses DK yarn – I went stash-diving and found three balls of merino that I thought would go well, and cast on that very night. It was quite tricky knitting them without JS noticing what I was doing. Luckily, I had plenty of time at knit night and while commuting, and they were done well in time.
I worked from the colour charts and knitted them up in fairisle. I carried the yarn along even when a row had no colourwork so that there would be no dodgy places where it went thick and thin. When I had sewn them up, I was SO pleased that I had done this. They are toasty warm and I love them.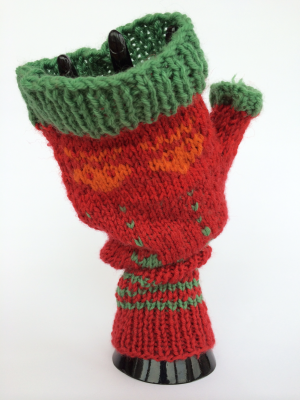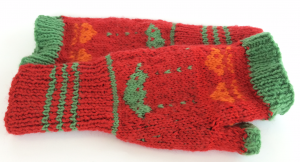 I did have to do some creative dye-lot matching, as I ran out of red yarn halfway through…cue panic-buying a 'similar' red in Loop and striping the reds to hide the join. You can't (really) see it in these photos, and JS hasn't noticed…success!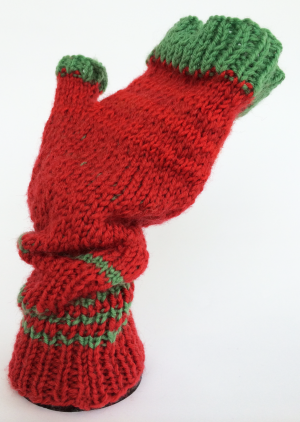 RSI update
A bit of improvement on the pain front today – not feeling quite so miserable! Finding it really trying having to type everything left-handed though…nevertheless, another post on coping with RSI coming soon.
Right, that's it from me – have a wonderful weekend.
Much love,
Corrie xx