When I was at a folk festival a couple of weeks ago, one of JS' family friends saw me knitting his birthday socks and asked if I could make some Susocks – socks for his wife Sue! The criteria was "Size Six, bright and warm". After my trip to Spin a Yarn (see the giveaway post!) I had a new skein of bright aran yarn to turn into bed socks, and I took to my task with pleasure.
Susocks
The pattern for the Susocks comes from the book "Knitted Sock Sensations" by Louise Butt & Kirstie McLeod. The "Winter Wonderland Socks" are thick, warm and snug socks, which I decided would be perfect for bed-socks. I didn't change the pattern at all, which is unusual for me, and it was an incredible quick knit.
I used Monsoon yarn, variegated in shades of purple and red, with a composition of 70% acrylic and 30% wool. I did initially want to get 100% wool yarn, but I decided to make the socks a bit friendlier for washing, and this yarn is machine washable. Result!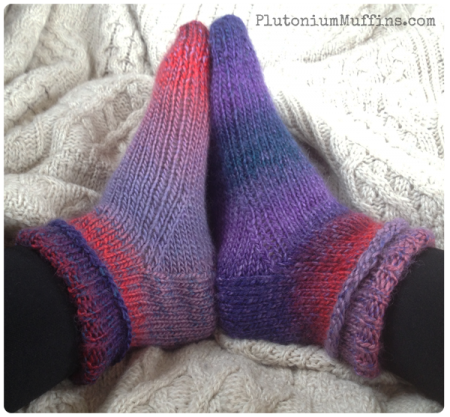 I cheekily bought some extra yarn…so I'll be able to make another pair of these and as the socks I've made for Sue are so lovely and warm, I may just have to make some for myself! I suspect that Wonder-Mum would like some as well.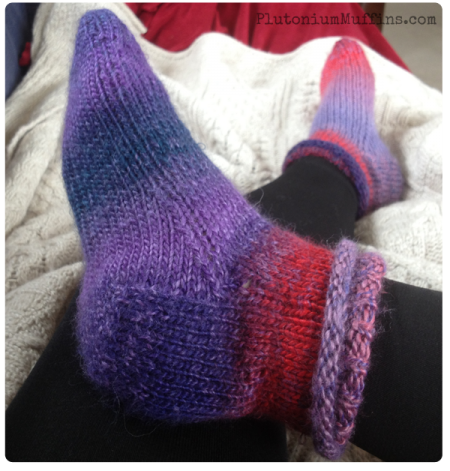 Finishing Techniques….what did I learn?!
Following my lesson at Spin a Yarn with Claire Crompton, I was excited to be able to practice with picking up stitches! If you've ever knitted socks, you'll know that you have to pick up stitches along the gusset (I did top-down). I tried so, so hard to pick up my stitches exactly as Claire showed me, and I was absolutely devastated to discover that in both socks I had holes! This has never happened before, and it would appear I've learned nothing new.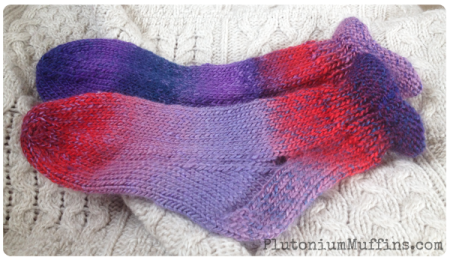 I'm not going to give up – I will definitely try again, and for now I sewed up the holes very neatly!
Much love,
Corrie xx