I am absolutely thrilled to say that the Tetris Scarf is finished – exactly fourteen days after I started it! Now that is hard work, if I do say so myself.
I'm off to a spa this weekend, and cannot wait. My friend Hot Wheels and I are setting out on our adventure tonight and will return on Sunday. JS has even given me a bit of money so I can *really* enjoy it. I love these guys. Except there are no sensible photos of the two of them that I can put up, so you will just have to imagine…
Tetris Scarf
All the pattern info etc can be found in this post, I'm not typing it out again just for funsies!
I finished weaving in the ends last night, and pinned the scarf out on the ironing board to steam the heck out of it. I always knew, academically, that stocking stitch fabric rolls, but boy was I unprepared for how much it rolls.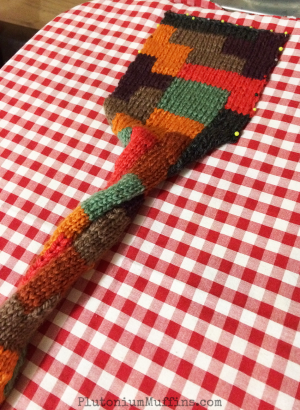 It took me about 45 minutes just to unroll all the curly bits. I had been wondering whether I should put a garter stitch border on it, and, perhaps stupidly, decided not to. The scarf was steamed to almost literal death. Then, slightly scared of it, I sprayed it with water and pressed it under a cloth.
And then I left it pinned out for over eight hours, just to teach it a lesson.
This morning, I unpinned everything and to my horror it curled a bit. I mean, it is nowhere near as bad as it was, but there is definite evidence of curling, as shown in this (once again embarrassing selfie of Corrie first thing in the morning) photo.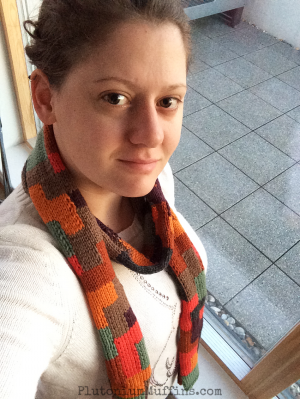 I don't think JS minds too much. His criteria when I bought the yarn were:
Not too scratchy
Not too expensive – but not too cheap either
Soft
Autumnal colours
Doesn't smell funny
I'm pretty sure I nailed four out of the five of those. It's pure wool and cost £50 to buy the yarn – but I have at least half of it left, so that would make it £25 which I call not too expensive, but not too cheap. It's reeeeeally soft and I love the colours. It definitely, definitely doesn't smell funny.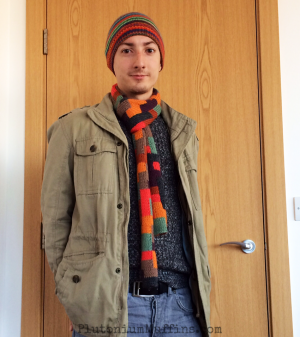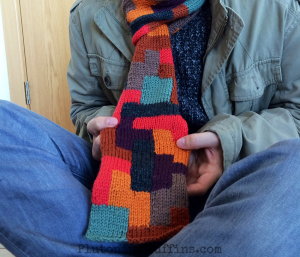 Unfortunately the comment when I asked him if he liked it was:
Love it, it's a bit scratchy on my neck but I assume that'll soften when it's washed.
So, blogosphere. How do I explain to my beloved that it probably won't be 'washed' as such and that it is probably going to be 'a bit scratchy' forever? I am devastated about this. I'm hoping it's just because he isn't used to wearing pure wool. Right?
Next time, the garter stitch is going in, but for now I'm going to try and be a bit adventurous and possibly back it with fleece. This will mitigate the scratching (right??) and the curling. Hopefully!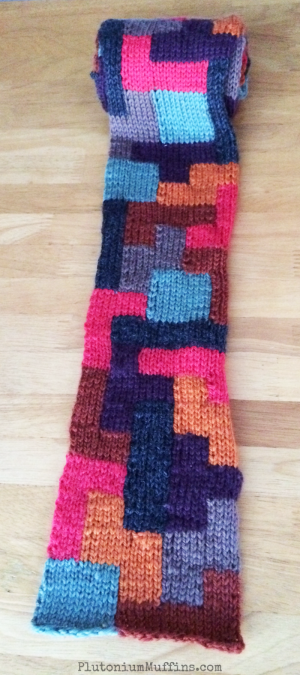 What are you making?
Much love,
Corrie xx
PS LAST DAY for the giveaway today. It will close this evening and I will do the draw tomorrow…so last chance to enter!