I have finished my March socks, called the Angel socks as I got the yarn from SugarAngel on Ravelry as part of a Secret Santa swap! I cast these on March 1st, and they were my 'go-to' project at Edinburgh Yarn Festival as the other project I had taken was lace(ish) – no good for chatting!
The Angel Socks
I did mention these in my Friday post, but I got round to taking photos today, so I thought I'd show them off – it makes a nice change from event and shop reviews, in any case! The pattern is from Stitch Style Socks: Twenty Fashion Knit and Crochet Styles
, a book which is now out of print, but available second-hand on Amazon or wherever else you are lucky enough to find it.
I chose to do the "Ribbon Socks", because this pattern is a toe-up pattern, and SugarAngel had already halved the skein so I had exactly half of the yarn to work with for each sock – I could just keep going until I ran out. I tried out Judy's Magic Cast On for this first time. I love this technique. I found YouTube most helpful for the tutorial – I'll embed the video I used at the bottom of this post. Instead of leaving eyelets for the ribbon that they wanted me to thread through, I decided not to do that and just knitted straight stockinette for what is essentially a lovely vanilla sock.
The yarn is Premier Yarns Serenity Sock Weight Solids – you will not be able to get this colourway because SugarAngel dyed it herself. The colours are so incredibly unusual – I would never have bought these colours, but I think I have been converted now! The yarn was nice and soft, the socks are incredibly comfortable, and I am super thrilled with the knitting.
I was turning the heel on my second sock while in Edinburgh, and umming and ahhing about doing it. In fact, I faffed so much that by the time I did turn the heel, I got a round of applause in the Podcaster's Lounge because everyone had been hearing me talk about it so much! It was then extremely fast to just whip up the cuff, and I sat in a gallery in Edinburgh with a cup of tea from the coolest tea-pot ever to finish. These will forever be my Edinburgh memory socks.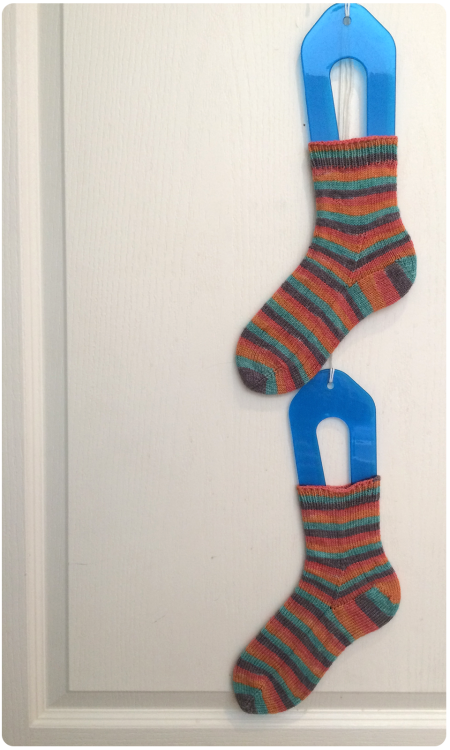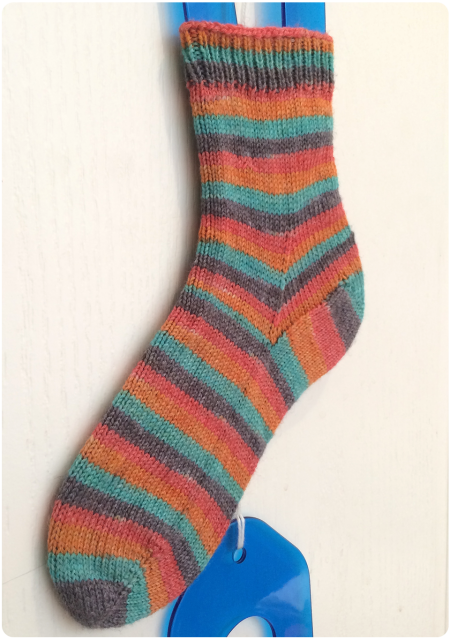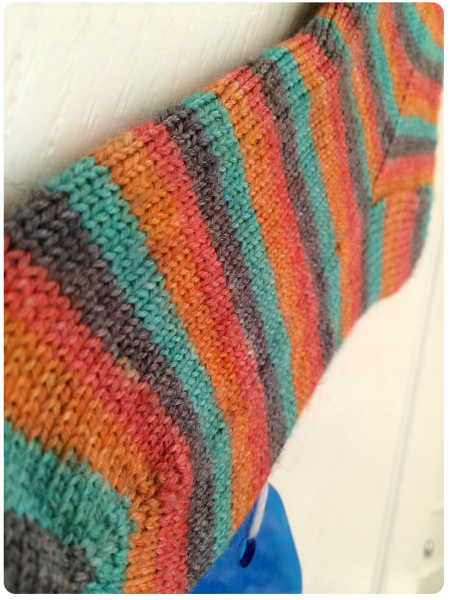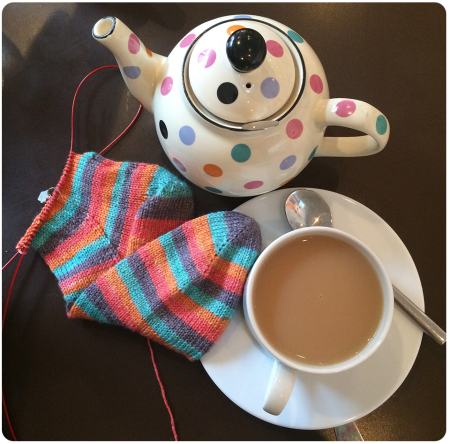 I am now suffering from a lurgy – still – and am going to head back to bed with some podcasts, knitting and a big cup of Lemsip. I'm sick of getting colds and coughs and fevers – literally!
Much love,
Corrie xx