As mentioned on Wednesday, I had to quickly design and knit a garter-stitch project for some knitting kits I'm putting together, so I decided to do a head-band. The market is tomorrow morning – if you're new around these parts and wondering what the heck I'm talking about, I'm a vendor at a market for the first time ever tomorrow morning!
Set-up is at 7 am. Am I ready? Not yet, still working on the website and pricing, as well as photos…I had to give in with my ambition to take amazing photos, and simply use my iPhone as always, because I had a big argument with Wonder-Mum's DSLR and we decided we were never going to sort it out.
Here's a sample photo for you – I still think they're OK, even if they're not taken with the *best* technology!
Garter-Stitch Head-Band
This is the garter stitch head-band! It's really simple – I cast on 20 stitches, knitted until it was the length of the circumference of my head when stretched. The FO unstretched was about 15″, and fits my 22″ head just right.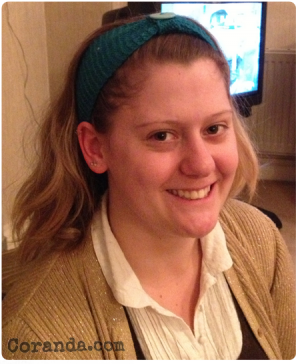 I sewed on the cutest button, which I stole from Wonder-Mum's stash. I'm writing up the pattern to put into PDF for Ravelry now, but it's honestly so simple that anybody who wants to make this and knows even a little about knitting can just make it up as they go along. I'll let you know when I publish it – it will be a free pattern.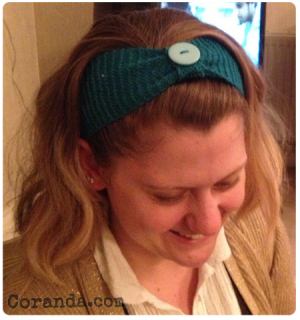 It took me an hour and a half to make; it was a wonderful Knit and Natter project.
I knitted it in Rico Baby double knitting on 4 mm needles. The colourway was Petrol, which I swore I would never use when I worked at Hobbycraft, and now I've decided that actually I quite like it. I chose it because it matches the apron I will be wearing tomorrow, so I can wear it if the weather is cold. Judging by the rain outside at the moment, it will be awful, so cross fingers!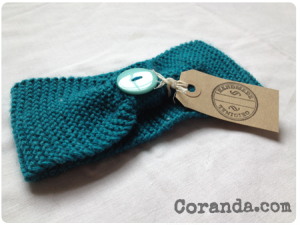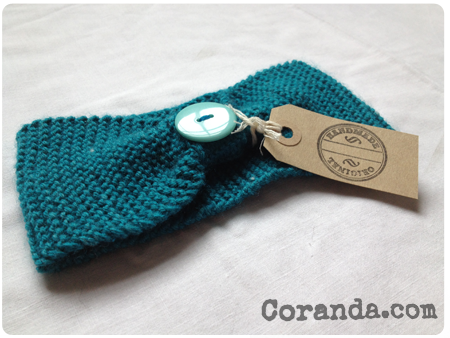 That's all from me for now. Check out the link-ups for more FOs!
Much love,
Corrie xx