Part One of the low-down on the Spring Knitting and Stitching Show 2015 can be found here. This part is where Corrie goes crazy and takes over three hundred photos. I promise, I'm not going to show them all to you now! I will split my wanderings over the show into two halves, and hopefully this will make it more manageable for all involved.
If you would like to find out any further information about any of the vendors or what I got up to, please feel free to contact me on corrie[at]plutoniummuffins.com.
The full story of the Knitting and Stitching Show is spread over parts one,two, three and four.
The Spring Knitting and Stitching Show: Part Two
Whilst spending some time on the Sincerely Louise stand, helping out Louise and generally chatting to people who found her faux taxidermy highly amusing and inspiring, I also got to go around and check out the rest of the show. There were lots of lovely vendors, some old friends and some new ones made. I was very restrained and only bought one ball of green acrylic yarn, for a quick project I promised a friend a long time ago – so no stash to talk of, but lots of interesting people to share with you.
I have already told you about Toft, Belinda Harris-Reid and Purl Alpaca, so head over to Part One to find out what they were up to.
Ann's Orchard Beadwork
This was the neighbouring stand to Sincerely Louis, run by the fascinating Emma. With kits and supplies to make up bead pictures and works of art, I spent some time cooing over her designs. My favourite design was definitely Bob the Penguin – closely followed by Bert the Mole. You can check them all out here.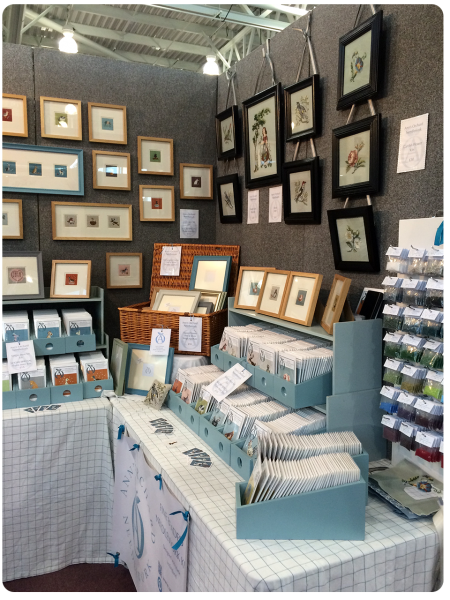 Emma used to study the science behind potatoes, and was really interesting to talk to. Not only that, the company was so called because the land the home of Emma and her family is built on was given as part of Anne Boleyn's dowry on the occasion of her wedding to King Henry the Eighth! I loved talking to her, and can't wait to see what she comes up with next.
Black Sheep Wools
I did not take a lot of photos when I visited Black Sheep, but I enjoyed looking at their display for the first time this year. The bulk of their stand is generally made up of lots of yarn in a big pile – fun if you're looking for a bargain, but I was trying not to tempt myself. I loved the colourful blankets they had pinned up around the place, and also some mugs they were selling.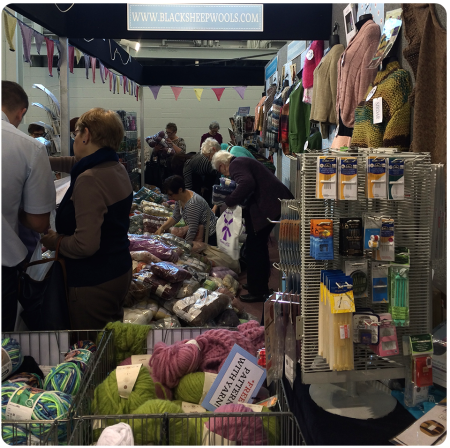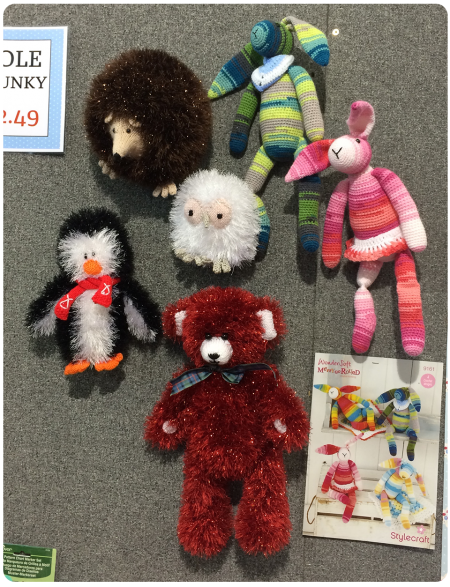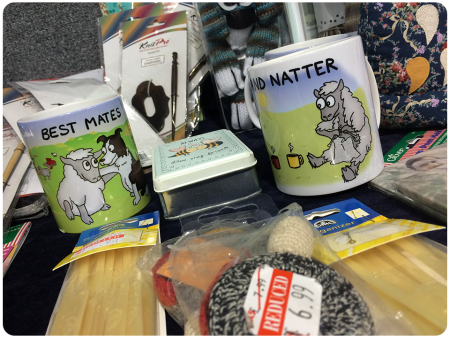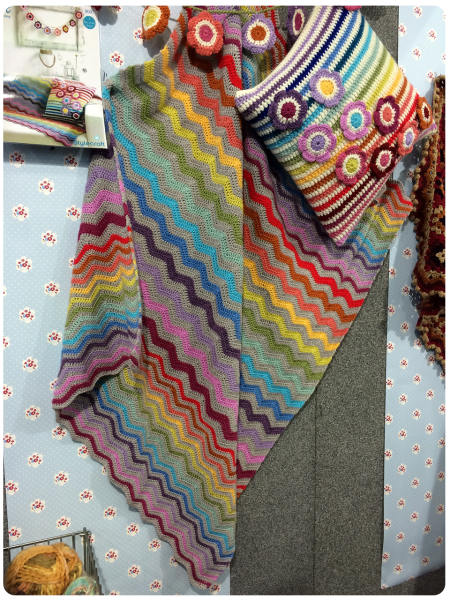 Black Sheep are a stalwart of big exhibitions, so if you go to a 'large' show, you're bound to find them there. Otherwise, they're also online here.
Little Gem Knits
Next up was Little Gem Knits, an exhibitor who I was really interested in because of their felting kits. I don't know how well you can see in the photo, but they have some fabulous landscapes with the most incredible combinations of colour! There were also a number of African scenes, which always draws my eye. The guardian of the stall was needle-felting some giraffes, which tickled me.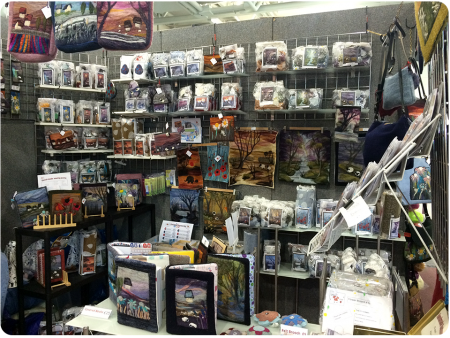 Don't be confused by the name – they deal more with felt than with knitting. Find out more here.
international feltmakers association
Sticking with the theme of felt (can you tell I was inspired by my purchase of Jenny Barnett's book?), I also visited the IFA to find out more about this side of the world of wool. I was just in time for a demonstration on how to make a gorgeous felted flower – something I am certainly going to have to try myself!
The chat with the ladies was inspiring, one from New Zealand who immigrated to the UK a very long time ago and got involved with the IFA as a way to stay with a community, and the other a felt-maker who has literally covered her house from top-to-bottom in glorious wool creations.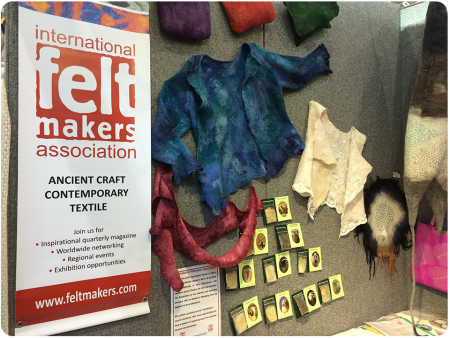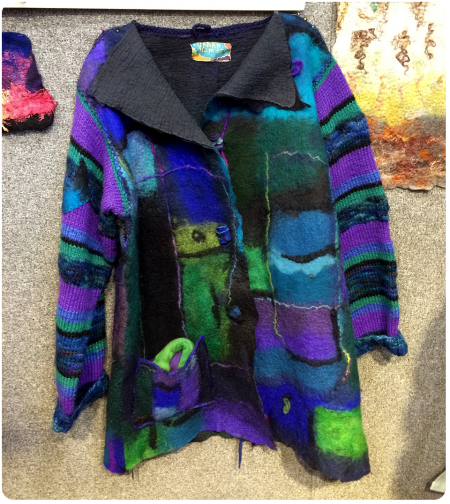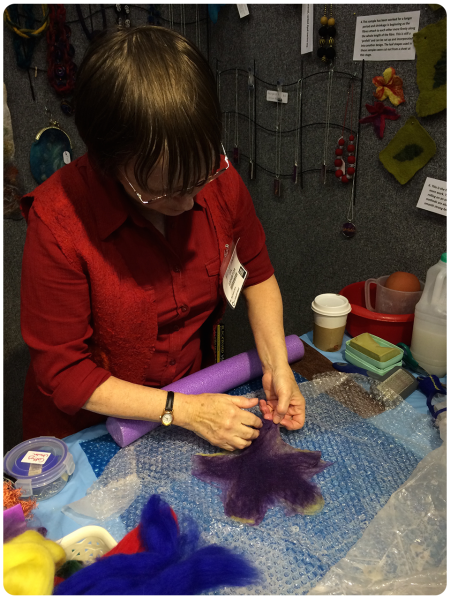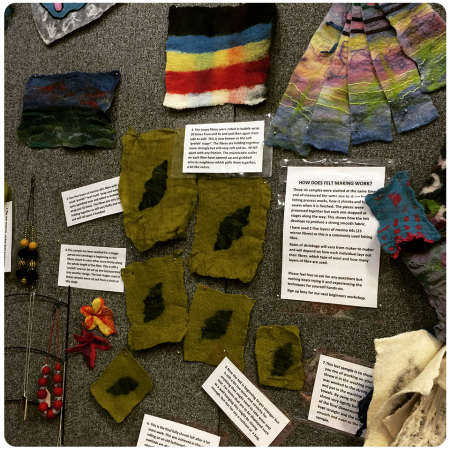 You can find out more and join the association here.
---
Although I've written up a lot of the other vendors, I've lost my steam a little for now and I'm going to head off and finish a scarf I'm knitting for a commission! (And get a cuppa, that's important.) See you tomorrow!
Much love,
Corrie xx
The full story of the Knitting and Stitching Show is spread over parts one,two, three and four.