If I were to say to you that there's something in the water, what would you think?
This year has seen a mega baby boom at my work! There are several great things about this and one sad one. I'll break with tradition and start with the sad thing – it means that a lot of my favourite people at work are leaving for a year! Cue sad Corrie, slightly offset by the fact that there are going to be a lot of young'uns to craft for.
Reveal over the water
Sometime this summer I walked to get some lunch with one of my lovely friends (J) from work, and on the way we paused on the side of one of the canals. I can't remember what we were talking about, but for some reason I said something about getting pregnant, and she revealed "well actually, I am!"
I was bowled away and after the initial shock had worn off, very excited. When we returned to work I snuck to one side and suggested to one of my other friends (M) that we should crochet a blanket for the baby. She was really keen on the idea, but there was one problem – M had never crocheted before. Undaunted, we bought the yarn and when it arrived, spent a few hours on a Friday after work going through the process.
Another flaw in the plan was that M's sister was also pregnant, and due much more immediately than J. Full of enthusiasm for the new craft, M decided to first crochet a blanket for her new nibling, and then do her half of the blanket we were going to do together. It took an astonishingly short amount of time, and the results of her industry were this gorgeous blanket that looks slightly different to this colouring when you remove the brightly coloured blocking mats from behind it.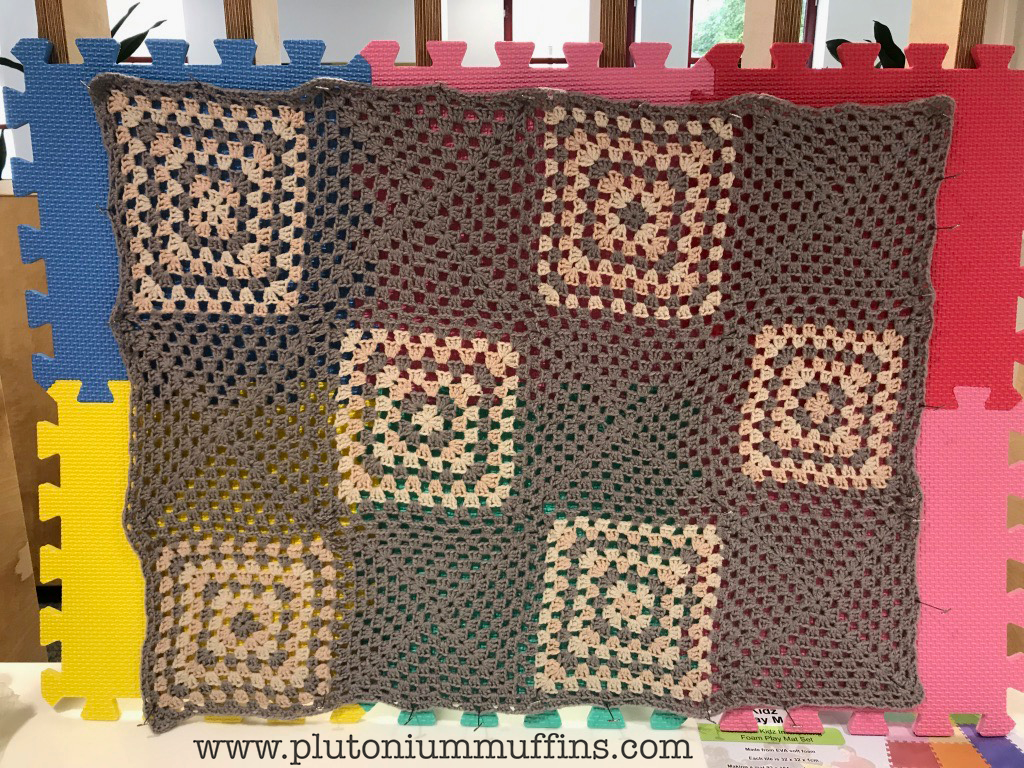 We then had a few months to complete our squares and blanket, and in true "I've got loads time" style, left it until the night before J's last day at work to finish the blanket with a good blocking. However, we did manage to finish it, and it looks absolutely brilliant if I do say so myself.
The granny square pattern is one that lives in my head following the Knitting and Stitching Show a few years ago, and the yarn we used was Sirdar Snuggly DK in Lemon (252), Whisper (313), Oatmeal (344), Eeyore (460) and Happy Hippo (469). There are about two balls of each colour overall, and the blanket came out a really good size for a newborn without absolutely swamping them. We are still waiting for the happy arrival (the due date is today!) and I'm looking forward to seeing the little one wrapped up in our efforts.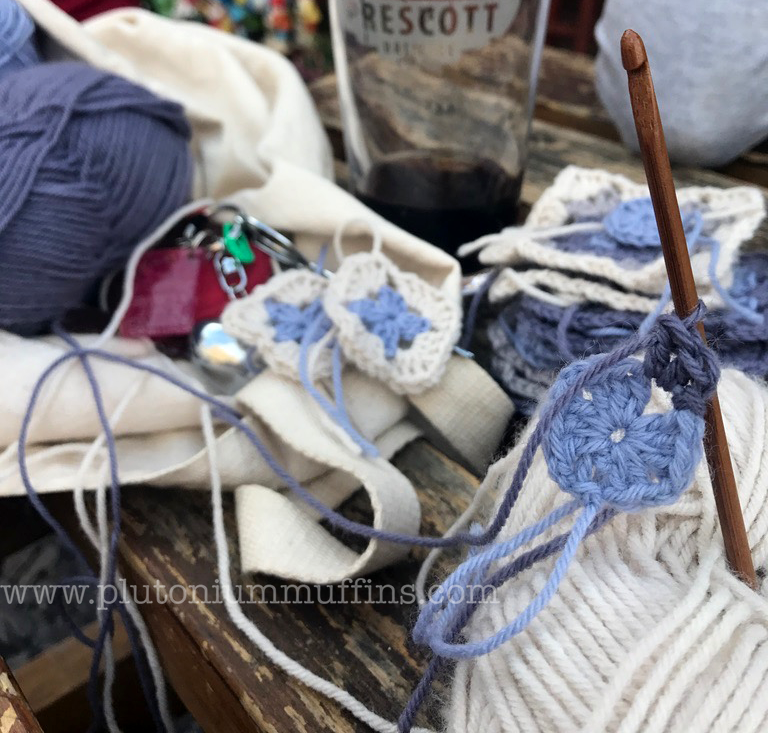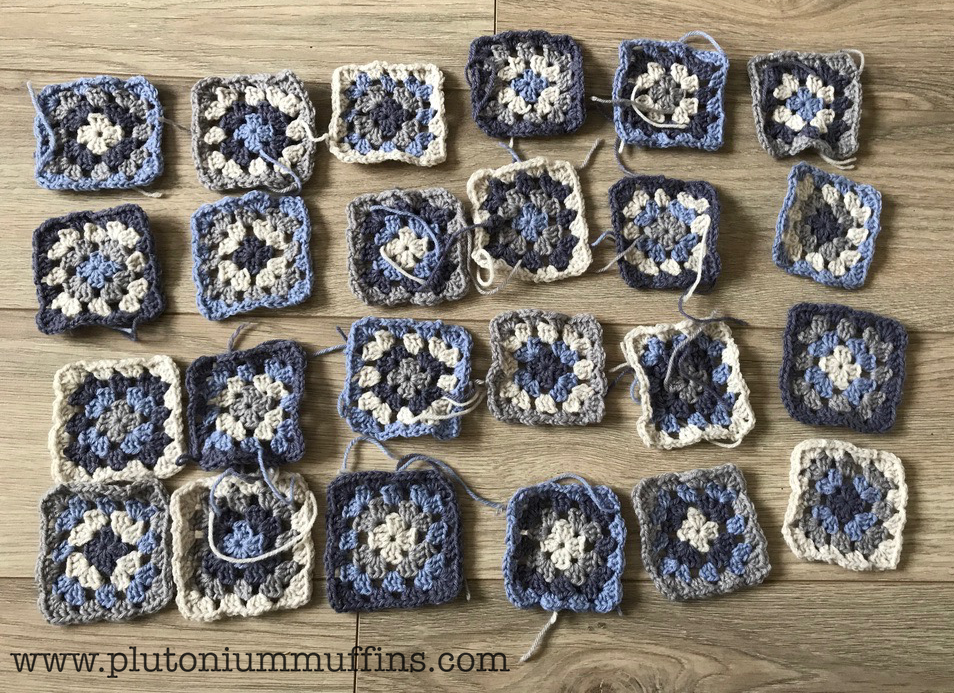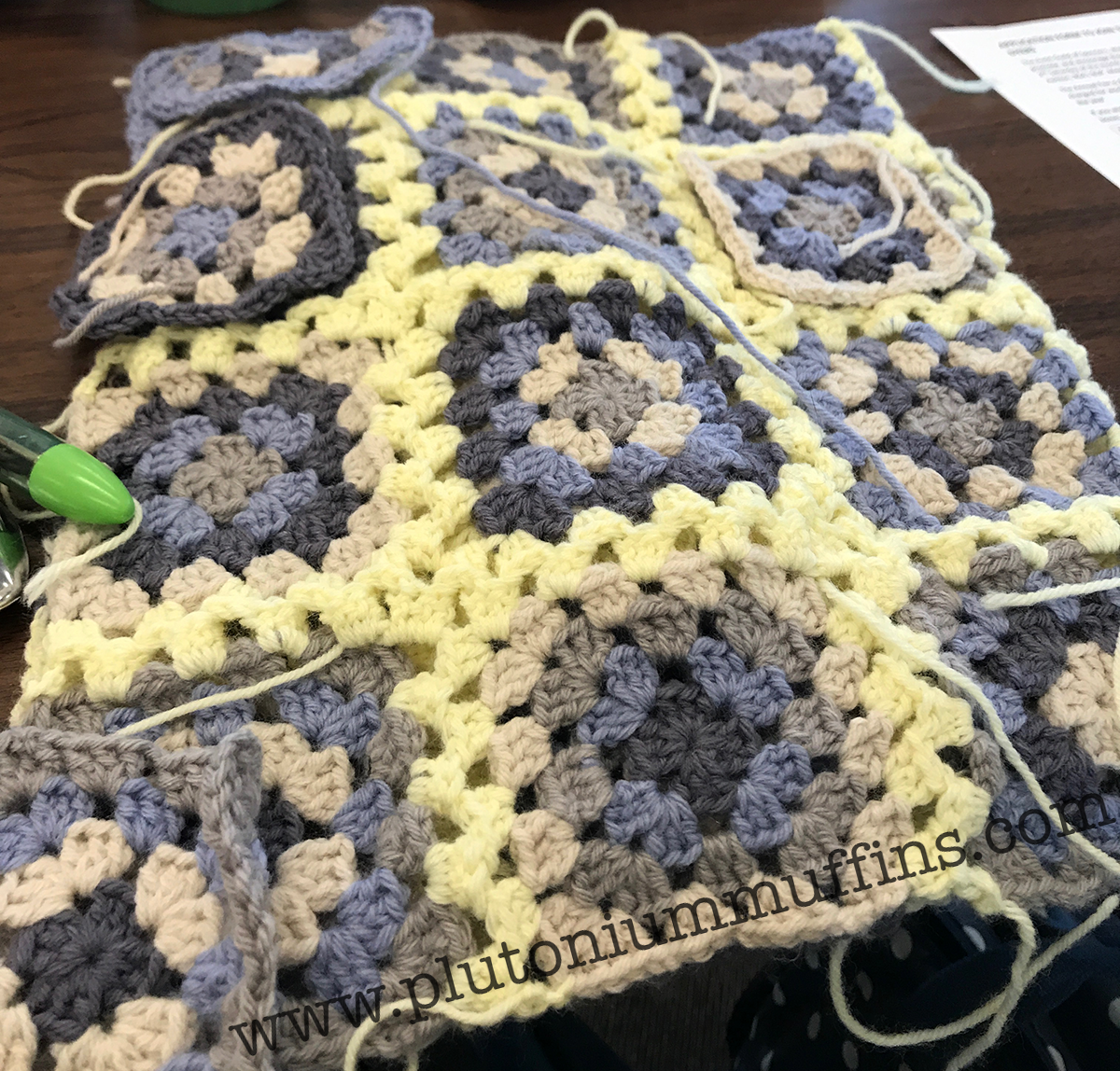 With four other pregnancies in my life, I'm definitely staying away from the office water, and picking up my needles!
Much love,
Corrie xx